Edinburgh International Festival interview: Korean pianist Yeol Eum Son gets heroic
For her EIF debut, Mozart specialist Yeol Eum Son will tackle a heroic theme with the help of Beethoven and Bizet. Ken Walton met the acclaimed South Korean pianist
Yeol Eum Son's Edinburgh International Festival debut recital at the Queen's Hall on 15 August is hardly a leap into the unknown. After all, it's only a matter of weeks since I caught up with the South Korean pianist in Fife, just as the deafening applause from her dazzling solo recital at the East Neuk Festival eventually dimmed to a pianissimo. "I enjoyed that," she exclaimed. So did we all.
That was a very different programme from the one she has planned for Edinburgh, which centres on the theme of "heroes". But like the colossus that is her recent marathon recording of the Mozart Sonatas, most of what she touches with her nimble dexterity and probing musicianship turns to gold. What really had the Fife audience buzzing was a fiendishly difficult sonata by Nikolai Kapustin, notable for its frenzied jazz idiom and unrelenting virtuosity. It transformed this outwardly mild-mannered 37-year-old into a wild-eyed whirling dervish.
Is the late Ukrainian-born composer Kapustin one of Son's heroes? "I did get to know him before he died [in 2020], having come across his music from recordings around 2007, then I played some of it in the Tchaikovsky Competition in Moscow in 2011. He heard it on the radio and we later got introduced and kept in touch. I would tell him whenever I was playing something of his." Son even got herself jazz lessons, "just to get to know the grammar and idioms more," she says. "It's a very different language, and it's really hard!"
For the Queen's Hall, Son will again exercise her wilder temperament, focusing this time on 19th century showpieces from the seismic extremes of Beethoven's "Hammerklavier" sonata to later Romantic flowerings by the likes of Bizet, Czerny, Liszt and Alkan. "Like me, these are all people who adored Beethoven as their hero," Son explains. "Czerny and Liszt actually studied with him. I was asked specifically for a programme somehow expressing the nature of heroism. I think this will do the trick."
It also gives Son an opportunity to reinforce her relatively recent mission to learn the later Beethoven sonatas, among which she's not alone in considering the Hammerklavier Op 106 as the pianist's mightiest Everest. "I really don't know any other piece that is more about human heroism than this," she says. "I clearly remember when I first played it, in 2016, falling instantly in love with it, but appreciating that every time I revisited it I would discover something different." She hasn't played it since before Covid.
Is she daunted by Beethoven's seemingly impossible metronome markings, particularly the climactic hair-raising fugue, which, if his indications are accurate, should go like the clappers? Son giggles mischievously. "It makes complete sense to do so if you can, and as in the whole of this sonata, Beethoven always presents you with writing that only the piano can make sense of. Yes, it's fiendish and expresses a musicality almost to the point of being orchestral, but at its core it is thoroughly pianistic, thoroughly do-able."
These days, Son is based in Germany but she still visits South Korea regularly, where she is an honorary ambassador of the Seoul Arts Center, and where she remains indebted to the strong musical culture that supported her early development. "I was never aware of any particular structure that existed to encourage young musicians," she recalls. "It's just that people love music in general, feel very close to it, whether pop or classical. When I was little, half my class were learning piano – about 20 out of 40 – so it was something we were always used to."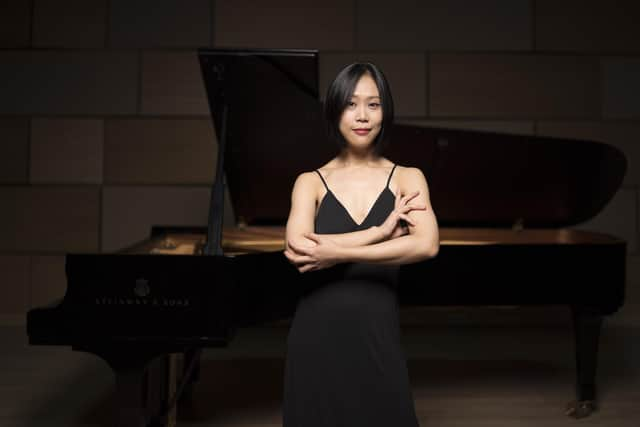 Besides success on the concert platform, Son spent six years as a popular columnist on one of South Korea's best-selling newspapers before retiring in 2016, amassing such a huge following that a published anthology of her journalism sold out within two days of publication. "It's out of my system now," she insists, having firmly closed the book on that activity.
So it's back to playing, and such mind-blowing performances as she delivered in Crail in July. As for that crazy jazz number, could she be persuaded to give Kapustin another blast in Edinburgh? "It's not in the programme," she cautions. But keep the applause going and who knows? She might just oblige.
Yeol Eum Son plays Beethoven, Bizet, Liszt, Alkan and Czerny at the Queen's Hall, 15 August, 11am. www.eif.co.uk