Edinburgh International Book Festival reviews: Celebrating the Life and Work of Joan Lingard | Gordon Brown: In Conversation
As the EIBF continues to celebrate its 40th anniversary, moving tributes were paid to the late Joan Lingard, an influential board member and enthusiastic guest. Plus: some fiery words on poverty from a former PM. Susan Mansfield reports
There was warm reminiscing about the beginnings of the Edinburgh Book Festival on Wednesday at an event celebrating the life of the novelist Joan Lingard. As well as being the author of more than 60 books for children and adults, Lingard – who died in July 2022 at the age of 90 – played an "instrumental" role in the early days of the festival, which celebrates its 40th anniversary this year.
She was also the festival's longest-standing guest, attending every year and liking nothing better than an enthusiastic audience of young readers and a lengthy signing queue.
Wednesday's event was hosted by Jenny Brown, the Book Festival's first director, who described how Lingard, as a board member, established the principle (still followed today) that all writers at the festival are paid the same, from first-time novelists to Nobel Laureates. There was a moving tribute by two of her daughters and memories from her agent and friend Lindsey Fraser, fellow writer Teresa Breslin and writer and journalist Alan Taylor.
We heard how Lingard wrote her first novel at the age of 11, designing the cover herself and leaving room on the back for a list of the other books she would write. Among her best known works today are the Kevin and Sadie stories, young adult novels set during the Troubles in Northern Ireland.
When her then-agent was unconvinced that young people would want to read about the Troubles, she pressed on, and was vindicated when the books sold 1.3m copies worldwide. She always spoke passionately about writing against prejudice, of encouraging young people not to follow the entrenched opinions of their elders but to make up their own minds. Breslin reminded us how relevant Lingard's writing continues to be in a time of wars, refugee crisis and climate change.
And then there were Taylor's stories from the Meet the Author Committee, which predated the Book Festival and went on to programme the legendary 11am events at Charlotte Square: an unknown Salman Rushdie reading at the Queen's Hall a couple of months before he won the Booker Prize; entertaining Anthony Burgess, who wanted only a pint and a pie; the famous non-appearance of Hunter S Thompson in 1987, and the "electrifying" performance given by an "exceedingly hungover" James Baldwin.
Another person who attended the first Edinburgh Book Festival in 1983 was Gordon Brown, who was back at the festival on Wednesday, being invited by Alistair Moffat to reflect on a broad range of topics from international affairs to climate change and poverty.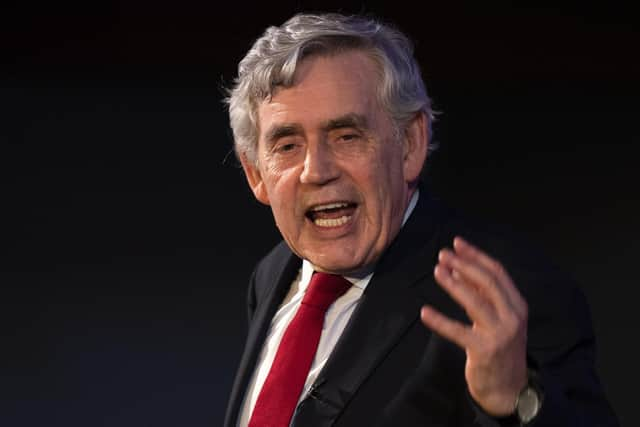 He repeatedly returned to the importance of "lateral thinking" in tackling the world's biggest problems, advocating the simple (but, in practice, difficult) habit of talking to one another. Only when countries talk, he said, will it be possible to find global solutions to climate change, or a remedy for the 43 countries now facing a burden of unpayable debt.
A lack of talking meaningfully is why so many climate change summits have failed, though Brown remained optimistic that such agreements were possible, citing the positive example of the consensus over the hole in the ozone layer in the late 1980s. He was less optimistic about the war in Ukraine, describing Vladimir Putin as a "thug" who "understands only strength", and saying the stalemate was unlikely to resolve until there was a change of leadership in Russia.
Fife-based Brown saved some of his strongest words for the issue of poverty in Scotland: "I'm now seeing poverty I never thought I would see again. People are nearly destitute which is completely unaceptable in 2023." Citing the resurgence of rickets and malnutrition, and the fact that 250,000 Scottish children now live in poverty (the majority of them in working families), he blasted the SNP for spending valuable funds to set up a separate social security agency rather using that money to help those who needed it most.
Comments
 0 comments
Want to join the conversation? Please or to comment on this article.