Edinburgh Fringe theatre reviews: Gunter | Hello Kitty Must Die | Them | Pitch
A Brechtian-style show that combines historic witch-hunts and contemporary women's football offers a bold and revealing look at feminism that's missing from some of the other Fringe shows exploring this theme, finds Joyce McMillan in her latest round-up
Hello Kitty Must Die, Pleasance Courtyard (Venue 33) ***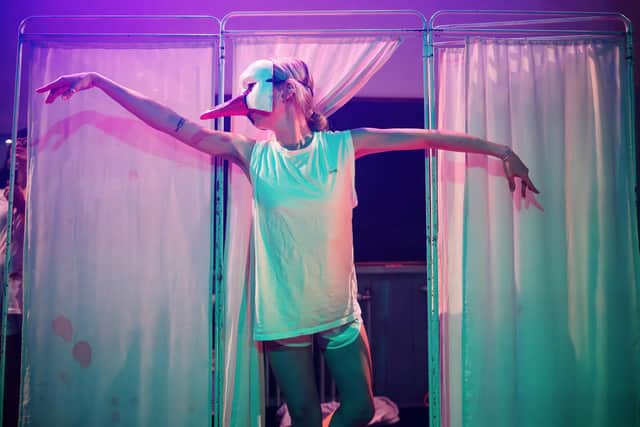 Them, Pleasance Dome (Venue 23) ***
Pitch, Pleasance Courtyard (Venue 33) ***
It's 1605, and in an Oxfordshire village, a leading citizen – a wealthy man named Gunter – has casually killed two young brothers whose noisy football game was annoying him, by brutally smashing their heads together. He escapes conviction for murder; and when the boys' raging mother continues to protest, he deflects the villagers' anger by accusing her of being a witch, and of trying to possess the spirit of his 20-year-old daughter, Anne.
This is the true story that forms the basis for Dirty Hare's Gunter, a thrilling piece of small-scale total theatre about the culture of patriarchal bullying, social inequality, and outright lies that underpinned the witch-hunts of the 17th and 18th centuries across Britain. Co-created by historian and musician Lydia Higman, director Rachel Lemon and actor-writer Julia Grogan – with actors Hannah Jarrett-Scott and Norah Lopez-Holden, brilliant as Gunter and Anne – Gunter blazes with energy in the tiny Anatomy Lecture Theatre at Summerhall, combining powerful text, fierce physical performance and strong visual imagery with Higman's gorgeous live music and songs, to draw the audience straight into the heart of the narrative.
The historic outcome of Anne Gunter's story is not known, although it is certain that Gunter's accusations of witchcraft reached first the county court, and then the Star Chamber in London; and in this version of the tale at least, the possession of Anne Gunter becomes something of a showbiz phenomenon, eagerly exploited by her father, until the moment when she feels impelled to tell the truth.
Although Gunter is in some ways very much a story of its time – set early in the reign of King James VI and I, notorious for his persecution of witches in Scotland – Rachel Lemon's brilliant cast, dressed in the kit of a modern women's football team, deliver the tale in fine Brechtian style, never allowing us to believe for a moment that the attitudes that shaped the story of Gunter and his victims are not still present in our world, 400 years on.
Elsewhere, though, companies exploring the now well-mapped territory of feminism on the Fringe struggle a little to find the same combination of bold form and revelatory content. At the Pleasance Courtyard, the Alchemation company presents Hello Kitty Must Die, a fierce musical by Asian-American writer Kate Kamen in which five young women – also Asian-American – rebel in fury against the pervasive stereotype of Asian women as cute, submissive, childlike, and always obligingly available.
The central idea is strong one; and director Kurt Johns's brilliant cast – led by Sami Ma as our heroine Fiona – bring a huge energy and commitment to the show. The storyline, though, is not so much dark as dingy, as Fiona is increasingly drawn to a male friend who goes around killing people whose attitudes annoy him; in a twist that somehow seems to diminish her own agency just at the moment when we want to see it increasing, and leaves some of Cecilia Un's songs marooned in a jolly 21st century sex comedy that has suddenly disappeared, to be replaced with something much darker.
In Them – at the Pleasance Dome as part of From Start To Finnish – an all-female company from Finland and Iceland also rebel against familiar male attitudes, as expressed in interviews gathered from men in both countries over the last few years. Some of the views and feelings expressed both beggar belief in the 21st century, and are somehow all too predictable; others are more nuanced and poignant. If much of the material is familiar, though, it is delivered with great style by director Unnur Elisabet Gunnarsdottir's company of four women in men's suits; in an understated but always elegant show that uses voice, text, movement and music to lead us through the landscape of modern masculinity, to no new conclusion.
For a much more upbeat take on 21st century gender politics, though, it's a pure delight to turn to November Theatre's Pitch, a vivid and life-enhancing hour of theatre which won this year's Pleasance Charlie Hartill Award for writer Tatenda Shamiso. Pitch tells the story of five people drawn together to form one of London's LGBTQ football teams, the Muddy Studs; and we hear a little of each personal story as the show unfolds.
Most of the show's energy, though, comes from the sheer well-drilled exuberance of its collective movement sequences, beautifully put together by director Nell Bailey to capture the essence of both sport and dance; and as England's Lionesses roar their way to the Women's World Cup Final, it's a pleasure to see a show that keeps things very simple, but captures the glory of smashing useless old stereotypes, and doing it through the joy of movement, and of teamwork at its best.