Edinburgh Fringe music preview: Jazz singer Claire Daly on paying tribute to Joni Mitchell as the folk legend turns 80
In celebration of Joni Mitchell's 80th birthday later this year, jazz singer Claire Daly is paying tribute with a concert that will revisit Mitchell classics while delving into some of her lesser-known work. Here she reflects on the versatility of the pioneering Canadian folk star whose life and music defy easy categorisation
I've always been intrigued by Joni Mitchell. Over the decades she would periodically come into my musical consciousness. In my student days when I spent time in Cologne, New York, and San Francisco, the song Woodstock spoke to the optimism of youth. Back home in Ireland, A Case of You provided the soundtrack to various heartbreaks. 10 years ago I finally had the joy of having a child, after having long given up on being a mother. In those early months after my boy was born, I would sob listening to Joni's song Little Green, about the baby she gave up for adoption. It still brings me to tears.
It wasn't just her music that changed over time. Her voice also changed from the high soprano of the early albums to a deep contralto. Shortly after I started to play and perform jazz, I remember hearing a husky voice on the radio, with a wonderful pulsing rhythmic groove, and a floating soprano sax. That was Joni on her 1998 album Taming the Tiger, with jazz legend Wayne Shorter on saxophone.
Considering Joni Mitchell turns 80 this November, I'm surprised there aren't more shows about her in this year's Edinburgh Festivals, although at the Edinburgh International Book Festival, Amy Key, poet, writer and author of Arrangements in Blue: Notes on Love and Making a Life, will host an auditory workshop exploring Joni Mitchell's lyrics and music, and Joni Mitchell will also be featured in Elsa McTaggart's Great Women of Folk at the Space.
My own show, Joni Mitchell Reconstructed has been devised by me and jazz singer Jess Abrams, in collaboration with jazz pianist Huw Rees and bassist Douglas Whates. The show features new takes on some old classics and also delves into some of Joni's lesser-known work, including from her forays into jazz.
Joni Mitchell is long associated with the folk movement of the 1970s. For many, her name evokes the image of the young Canadian with long blonde hair and high cheekbones leaning over her guitar, singing of love and longing. Her 1971 album Blue established her as one of the great artists of her generation and is ranked 3rd best album of all time by Rolling Stone magazine. But there are many phases to Joni Mitchell's life and music. Some consider her on a par with the likes of Leonard Cohen or Bob Dylan, but she often struggled to get the recognition she deserved. She was frustrated at being named "best female" songwriter. "Why not just best songwriter?" she allegedly quipped. It may indeed have been because she was a female musician in a very sexist industry, particularly in the 1970s. Her writing had an emotional intensity which was unusual at the time.
After five best-selling albums which gave hits like Case of You (from Blue), and Big Yellow Taxi (from Ladies of the Canyon), Mitchell started to take a different direction. The 1974 album Court and Spark was one of her best-selling, but it also marked her move towards a more fusion sound. Through the later parts of the 1970s she increasingly worked with jazz musicians and collaborated with the likes of Herbie Hancock, Pat Metheny and Wayne Shorter. She was invited by jazz bassist and composer Charles Mingus to collaborate with him on an album. He died before the project was completed, but whilst the album Mingus was initially negatively reviewed, it is now recognised as a great fusion of two influential artists and genres.
For someone with such confessional lyrics, Joni Mitchell the woman is something of an enigma. She doesn't often give interviews. She is known to have had relationships with musicians such as James Taylor, Graham Nash, and Leonard Cohen. These were reflected in many of her songs.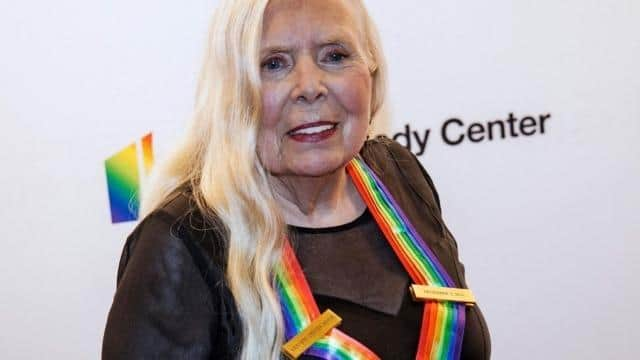 Jess Abrams and I have quite different voices, singing styles, and approaches to music, but maybe that's the best way to give a sense of the breadth and depth of Joni Mitchell's sound. Her music can be surprisingly challenging to sing and play. And ask any instrumentalist to play a Joni Mitchell tune, and you'll get a variety of reactions. Guitarists will talk about weird Joni tunings, jazz pianists about chord changes and harmonic inversions. For us singers, some songs have a blizzard of lyrics, but each line has such poetic intensity that every word is vitally important.
Joni Mitchell suffered a brain aneurysm in 2015, where she lost the ability to speak. After years of rehabilitation, she made a surprise return to the stage last summer at the Newport Folk festival. To hear her as a frail but bright-eyed old woman sing Both Sides Now is a reminder of the many sides and phases of life, love, loss and hope. As she would say: "I really don't know life at all".
Joni Mitchell Reconstructed, Jazz Bar, 14-15 August, 7pm. Liner Notes: Amy Key on Joni Mitchell, Edinburgh International Book Festival, 17 August, 2.30pm. Great Women of Folk: The Space @ Surgeons Hall, 5.40pm, alternate days until 26 August. August 10, 12, 14, 16, 18, 20, 22, 24, 26