Edinburgh Fringe dance, physical theatre and circus reviews: Anton Du Beke | Fall and Flow | An Act of Seven Ages
Strictly star Anton Du Beke's fun afternoon show delivers real value for money with a mix of dancing, jazz standards and old-fashioned showmanship. Plus Theatre de la Feuille dazzle with some fast, fluid moves inspired by Hong Kong action films
An Afternoon with Anton Du Beke and Friends, Underbelly Bristo Square (Venue 302) ****
It will come as no surprise to anyone who has watched Anton Du Beke on Strictly Come Dancing that he is quite the dab hand at crowd work. In fact, if you removed the singing, dancing and live music from this fun afternoon show (lovely though it is), you'd still get your money's worth just listening to Du Beke chat.
If the Fringe feels like an odd fit for this ballroom dancer turned Strictly judge, then nobody is more surprised than him. Initially thinking he might not be avant-garde enough to attend, Du Beke is clearly very happy to be here – and so is his adoring audience. Making several jokes about only having an hour with us, before the technical crew throws them out (the first time he's had this problem in all his years of touring), he points out that "I do go on a bit", so he'll need to be kept to time. But the truth is, that's exactly why we love him. In another life, where the waltz, tango and foxtrot hadn't turned his head, Du Beke could have carved out a decent career as a stand-up comedian.
In between the patter, he delivers a few jazz standards with the aid of – let's be honest – stronger vocalist Lance Ellington. Then there's a beautifully executed waltz and a fiery tango with his two young dance companions. All backed by an excellent live band on drums, keyboard, guitar and saxophone. Compared to Du Beke's usual evening fare, this show is a little light on moves but there's only so much of this larger-than-life character you can squeeze into an hour, and nobody leaves feeling short-changed. Kelly Apter
Fall and Flow Underbelly Cowgate (Venue 61) ****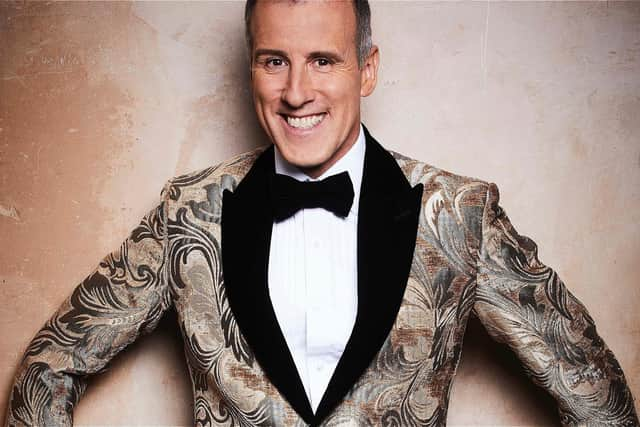 Is it possible to be cute as a button and menacing at the same time? Apparently so, as the five members of Hong Kong's Theatre de la Feuille prove in this bizarre yet hugely likeable show. Dressed in traditional costumes made from stylish black material, the performers look set for a samurai convention, kung fu class or Paris fashion week.
At times, scarves are pulled up or down to partially conceal their faces, but for the most part we can see them – and that's where the cuteness comes in. With black kohl lining their eyes and covering the tip of their noses, they put the saddest-looking teddy bear on the toy shop shelf to shame. Within seconds, we're won over and they have our hearts. On an empty stage, save for a large white rope with fluffy ends, they get ready to tell 'A Tale of Jianghu', aided by a sixth member playing a range of traditional instruments.
Before the show, we're handed a slip of paper detailing the five tales we're about to see unfold. And it would be nice to give a sense of them here – but both written and performed, they're fairly indecipherable. Yes, we get the general sense of what's going on – a warrior can't unsheathe his sword, a woman has a baby, a dog attempts to pinch food from its owner and a few other micro moments. But these are tiny scenes in longer, more elaborate tales that fall short of storytelling clarity.
Yet, surprisingly, none of that matters. So exuberant is the movement, so fast and fluid is the physicality, and so charming is the delivery, Fall and Flow works no matter how strong your grasp of the narrative or the Hong Kong action films that inspired it. Kelly Apter
An Act of Seven Ages, Paradise in the Vault (Venue 29) ***
Taking inspiration from the "seven ages" mentioned in Shakespeare's As You Like It, Klouns Theatre Company's production is 55 minutes of pure playfulness.
With no words and five clowns, the piece is split into well over a dozen short vignettes that explore life at various stages. Some scenes are performed in silence; in others, classical music accompanies the action to further the storytelling, with the timing spot on.
Performers Becca Ashton, McKell Rae, Marguerite Morgan, Abigail Watts and Jordan Briggs all bring a gentle, innocent and sweet quality, collectively creating a warm space suitable for the whole family.
It starts strongly, with an opening scene featuring the full cast, and then goes into an intense birth scene in which Morgan emerges from a cloth sheet. The way she manipulates her body to look like a young creature finding their feet and opening their eyes for the first time is technically very impressive. The piece peters out slightly towards the middle when the stories become less clear and the humour is more subtle. Suzanne O'Brien