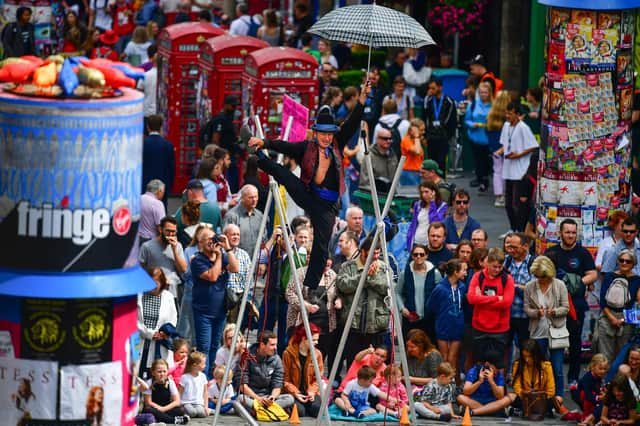 Edinburgh Festival Fringe entertainers perform on the Royal Mile. Picture: Jeff J Mitchell/Getty Images
The director of umbrella body Festivals Edinburgh, which oversees the running of the city's 11 major cultural events, said new funding would need to be found if growing criticism about their impact on the city was to be tackled.
Julia Amour said there was an "economic conundrum" over how to ensure that more people living in Edinburgh were able to attend the festivals as well as spread events out more around the city and across the calendar.
She said that although the average person in Edinburgh attended three festival events every year, one in three of its citizens had no involvement whatsoever.
Ms Amour said the festivals landscape during the peak season August had become "very fragile" because of the huge global demand to showcase work at the same time.
And she insisted this would be difficult to change because many participants were "taking their own risks and putting their own money up".
However. Ms Amour suggested companies "which have done very well out of the pandemic" should step in to ensure that Edinburgh was able to retain a long-standing claim as the world's "city in future".
Edinburgh's summer festivals have experienced huge growth in modern times, attracting a record 4.4 million overall attendance in 2019 and generating more than £300m in economic benefit.
Julia Amour is director of Festivals Edinburgh, which works with the organisers of the city's flagship cultural events.
However, heritage groups want a total rethink on how they are staged to reduce their impact on the fabric of the city and cut their carbon footprint.
Speaking at an online conference hosted by the Cockburn Association heritage group, Ms Amour said: "We must make sure our festivals continue to feel authentically of our city.
"But we are also an international city and a capital city. That dimension of what the festivals bring to our city is something we need to look carefully at at this very perilous moment.
"It is not a foregone conclusion that Edinburgh will be able to hang on to what we most value about our festivals.
"We're proud as festivals to be deeply international in spirit, but first and foremost we want to belong to the city.
"We should not lose sight of the fact that two thirds of people in the city do take part and do see the festivals as belonging to them. Yet, at the same time, one third of the population don't access them."
Ms Amour insisted there was a desire to create the "best marriage" between having a peak season for events and having a year-round cultural offer in Edinburgh.
However, she added: "There is an economic conundrum at the moment and if we are to get what we want, we will have to solve that conundrum.
"People are taking their own risks and putting their own money up to come here.
"People ask why they are so concentrated in the city centre and why they are on at the same time in the year. It's because it is a big industry event as well as a big audience event.
"People need to be there when programmers from other festivals are there. That's one of the benefits. But at the same time it makes it very fragile and very difficult."
Ms Amour said fresh investment would be needed to help the festivals "disperse" across the city as well as increase access for Edinburgh's citizens.
"I can't help thinking there are a lot of people in this who have done very well out of pandemic – the people who are working in tech companies, in finance and in investments funds and so on.
"We should all be talking about how we can raise more support for culture that's not necessarily simply about public funding and really galvanise the people of this city, if they care about culture, to get behind ideas that could help the festivals."
A message from the Editor:
Thank you for reading this article. We're more reliant on your support than ever as the shift in consumer habits brought about by coronavirus impacts our advertisers.
If you haven't already, please consider supporting our trusted, fact-checked journalism by taking out a digital subscription.
Joy Yates
Editorial Director