An Edinburgh Festival like no other could unite the city - Brian Ferguson
The forthcoming Edinburgh Festival season will like no other in its history, but could provide help bring the city out the darkness and be a uniting force after lockdown, writes Brian Ferguson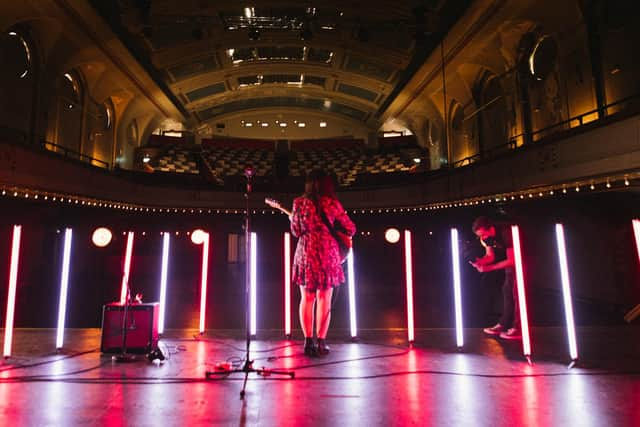 Indie-rock act Honeyblood is among the acts to have performed a show in lockdown for this year's Edinburgh International Festival. Picture: Ryan Buchanan
It is a simple question that does not have a straight answer – even though by now it is obvious what it should be. A wander around the deserted streets of Edinburgh would appear to leave no doubt that "The Festival" is well and truly cancelled rather than kicking off in a few days.
There is no branding on the Royal Mile or at the top of The Mound, no pop-up venues in gardens, no posters on every street corner and no sense of any excitement or buzz.
But at the same time artists and performers are preparing to unveil new work, publicity teams are trying to drum up media coverage and The Scotsman is creating extra space to herald the annual explosion of culture. Perhaps the most pertinent question is: "What on earth is going on?"
A few clues are out there, if you have been looking closely. Eagle-eyed observers will have spotted the appearance of white flags with 'hello' written on them in black text around the city.
One leading Scottish newspaper has also reporting that "mysterious UFOs" were spotted in the skies above Leith. Councillors were being asked why lighting infrastructure had suddenly appeared in the middle of a New Town garden.
By this weekend, all will become clear when what is said to be Edinburgh's biggest ever light show is staged above the city.
Devised by the Edinburgh International Festival and Leith-based designers Lightworks in just a few months, My Light Shines On will see more than 250 beacons projected into the sky for 90 minutes over three nights from Saturday.
It is hoped to be a message of optimism and solidarity to the thousands of people who bring the festivals to life and make them happen each August.
It will also be a vital reminder to the rest of the world that Edinburgh has been a "Festival City" since the aftermath of the Second World War in 1947 and is in no mood to relinquish that title in the middle of a pandemic – despite the closure of every single performing arts venue in Scotland.
But My Light Shines On will also be the first event of any kind staged in the city since it went into lockdown in March.
It has been designed to be enjoyed equally from a bedroom window as much as the top of a hill - perhaps even more so than the annual fireworks finale that traditionally brings the city together at the end of August to bid farewell to the festivals for another year.
I am hopeful My Light Shines On will provide much-needed moments of unity, excitement and elation in Edinburgh at the start of August after months of concern, anxiety and uncertainty for almost everyone in the city, regardless of their involvement in the festivals or the arts.
It is clear that the city's emergence from lockdown and recovery is going to be a slow one.
While the past weekend saw the reopening of both Edinburgh Castle and the Balmoral Hotel, two of the city's unique landmarks, it is impossible to imagine when people will return in their droves to offices, sports grounds, theatres, visitor attractions and concert halls again.
But in the meantime, the festivals, and many of those who are normally in Edinburgh in August to put on shows, reveal new work and forge new partnerships have been completely reinventing themselves to create programmes that will be able to be enjoyed on the other side of the world.
It seems extraordinary to recall how little of the festivals was available to enjoy online last year. It is impossible to imagine what The Festival will look like this time next year.
But for the next few weeks, it is time for Edinburgh, its people and followers of these festivals around the world to enjoy the work that has been created in lockdown against all the odds, reflect on what they are missing and imagine how they might feel when live performances are back in their lives.
Want to join the conversation? Please or to comment on this article.