Edinburgh Festival Fringe theatre reviews: The Way Way Deep | Sea Words | Good Morning, Faggi | Lear Alone | I Love You, Now What?
Close relationships and their unpredictable nature – from childhood friends reuniting to a mother-and-son stage act imploding – are among the themes explored in our latest round-up of Fringe theatre. Words by Susan Mansfield, Anahit Behrooz and Rory Ford
Underbelly Cowgate (Venue 61), until 27 August
Ben is 25 and hasn't seen Jack for seven years when he looks across a pub and spots his childhood best friend. Ben and Jack became inseparable as kids when Jack defended Ben against the bullies who hung out at the school's inappropriately named Friendship Bench. As teenagers, they had their first underage drinks together and got into scraps when the pubs closed. Jack was the instigator; Ben would have followed him anywhere.
When Ben left for university, trying to reinvent himself with a new social group, he used Jack – "the beacon of my childhood" – as his role model. Seven years on, can he reawaken the "old Jack" inside this reticent man with a job and a daily commute? And if he can, will their adventures still be harmless or will the stakes be higher in adult life?
Writer and performer Patrick McPherson, who made his Fringe debut in 2019 with The Man, and followed that with last year's award-winning Colossal, returns with a show which blends storytelling and finely crafted spoken word pieces set to original music, managing to move smoothly between the two.
Will Hayman's design, which defines the space with colour-changing strip lights, sets the mood for each scene from pub to pub to nightclub. The lights are effective whether as childhood rainbow colours, a gently flickering fire, or the blue flashing lights of emergency vehicles.
McPherson's new show is an examination of male friendship, a certain kind of camaraderie forged in recklessness and risk-taking which is hard to give up. As Ben and Jack's drunken night out hurtles towards its dramatic conclusion, events will test this friendship to its limits. Susan Mansfield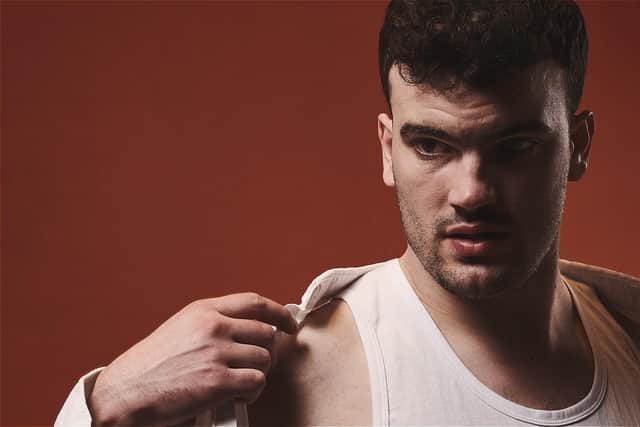 Summerhall (Venue 26) until 27 August
A double act breaks in half in Sea Words, a dynamic and thoughtful exploration of failure and toxic positivity. Mother-and-son duo Christine and Chris have made a name for themselves touring seaside towns with their old-school variety act, well-worn skits and props in tow. Yet as the curtains go up on their Edinburgh show, Christine refuses to emerge. What follows is an increasingly frenetic solo hour, in which a desperate Chris – rigid smile stuck on his face – determines to keep the show on the road to often comic but always tragic effect.
It is an impressive turn from the play's writer and performer Olly Gully – his Chris vacillates wildly between high camp physical comedy (think Dick Van Dyke from Mary Poppins, only camper) and a brutally tamped down vulnerability as he pleads for his mother to join him on stage. But it is her absence that is Sea Words' most arresting – if slightly underused – ploy, in which silent space becomes louder than the relentless patter that fills the rest of the stage. The result is funny, energetic, and a little heartbreaking. Chris just wants his mother to be happy. But he is unwilling to do anything to make it happen. Anahit Behrooz
Summerhall (Venue 26) until 27 August
Bjarni Snæbjörnsson is living the good life. He is a happily gay man in the liberal paradise of Iceland; his adolescent coming out was painless, his boyfriend is cute, and his parents are relentlessly supportive. Then why, in the process of making this show, did he have a nervous breakdown? In this autobiographical musical, Snæbjörnsson delves into his own personal queer archive, pulling extracts from old diaries that line the stage to better understand the dregs of internalised homophobia that continue to pollute his present.
Good Morning, Faggi resists the OTT performance and pizzaz that a queer musical could easily hide behind; instead, the staging is stripped back and intimate. It is a bold move that doesn't always pay off, with increasing moments of inertia as the no-frills musical numbers pile up. Yet there is a beguiling earnestness at play here: the glimpses that we get of Snæbjörnsson's naked interiority – not just his diaries but sweet asides – feel like a gift. The execution may be patchy, but there's real heart to how Snæbjörnsson reveals the deception of narratives: the way that self-acceptance has no beginning, no middle and no end. Anahit Behrooz
theSpaceTriplex (Venue 38), until 19 August
During lockdown, theatre company And Tomorrow made a five-part web series in which actor Edmund Dehn played a homeless man, wandering the empty London streets speaking lines from King Lear. It seemed an inspired idea, drawing out the play's themes of isolation and ageing, confusion and vulnerability; here was a literal "unaccommodated man". Now, director Anthony Shrubsall presents a theatre version.
Dehn speaks the lines beautifully, moving adeptly through the shifting moods of the play, from the imperious monarch raging at unjust treatment by his daughters to the frail old man who has lost everything, even his sense of self. Some of Shakespeare's lines strike home with particular force. "Who is it that can tell me who I am?" he asks, poignantly, of no one. "Let me be not mad!" But the element of madness – or dementia – is accentuated here, because the characters to whom he speaks have become figments of his imagination.
For all that, the production does lose some of its power when confined to a theatre. We are less sure why this man is alone, and where, exactly, he is. Dehn is so evidently an accomplished actor playing Lear that we occasionally wonder where the rest of the play has gone. Susan Mansfield
I Love You, Now What? ***
Pleasance Courtyard (Venue 33) until 28 August
If a romcom about grief sounds an unlikely proposition it shouldn't really. As Sophie Craig's reassuringly honest debut play points out, it's not uncommon for people suffering from bereavement to push those closest to them away. Craig plays Ava, a musician who hooks up with Theo (Andy Umerah) after a drunken night out. However, almost as soon as Ava is adjusting to welcoming someone new into her life she is forced to start coping with the death of her dad, Neil (Sean McLeavy).
There's a lot to like here; pacy direction from Toby Clarke keeps the two parallel storylines moving. While the romcom aspect lacks a certain polish there is some real emotional intelligence as Ava struggles with the anticipatory grief when her father is diagnosed as suffering from a brain tumour. McLeavy also plays Ava's grief counsellor and their scenes together bear the raw authenticity of lived experience. Ultimately this is a life-affirming piece of work.
It can be genuinely affecting on occasion but in certain scenes – such as Ava's monologue to her departed dad – the use of emotive music undercuts rather than underscores the sincerity of Craig's performance and you can feel the unnecessary weight of someone's thumb on the scale. Rory Ford