Edinburgh Festival Fringe theatre reviews: Never Trouble Trouble (Till Trouble Troubles You) | F*ckboy Fairytales | Burning Down The Horse | Yoga with Jillian | The Ocean And The Star | Hysterical | Pleasure Little Treasure | Hollywoodn't | Life with Oscar | Happier Daze
A hometown hero is hymned in a pleasingly site-specific piece under the Heart of Midlothian stand, just one highlight in a bumper round-up of Fringe theatre. Words by David Pollock, Fergus Morgan, Deborah Chu, Josephine Balfour-Oatts, Anahit Behrooz, Rory Ford and Fiona Shepherd
Never Trouble Trouble (Till Trouble Troubles You) ****
Tynecastle Park (Venue 547) until 28 August
Edinburgh-based Two Halves Productions continue their apparent mission to record the entire history of Heart of Midlothian Football Club in play form, gathering acclaim as they go. Their previous two Fringe productions at the Scottish Premiership club's ground in Gorgie – A War of Two Halves, about the Hearts players who lost their lives in the First World War, and Sweet FA, about the rise of women's football – were ambitious hits.
Never Trouble Trouble (Till Trouble Troubles You) is technically modest in comparison. Played in the Hearts museum underneath the stand, it features just two actors in the intimate tale of club great Bobby Walker, a Gorgie local who scored nearly 300 goals in more than 600 Hearts appearances between 1895 and 1913. He still has one of the club's leading Scotland cap totals, and was viewed as being among Europe's best players.
Walker died aged 51 in 1930, his post-playing years as a pub owner not great for his own infamous drinking habits, and his funeral brought 30,000 people onto the streets of Edinburgh. The script by Paul Beeson, who plays Walker with the likeable, modest charm of a footballing artisan, necessarily skirts close to cliché in places – he uses a well-worn framing sequence of Walker in limbo looking back on his life, and statistics and results often have to be shoehorned into conversations.
Yet the human is to the fore, particularly Walker's relationship with his quick-witted but humbly working class mother Janet, who steered his career and earnings when he would have played for Hearts for free. Nikki Auld joins Beeson as Janet, and amid their lively, upbeat performances of Matthew Brown's catchy songs, the pair play an ensemble cast of assorted players and club directors.
Auld's Hibs director Mr Farmer is amusingly presented as an over-the-top panto villain, and partisan gags abound; for example, about the 2012 Scottish Cup final or the Old Firm getting refereeing decisions in Glasgow. It's a well-worked play for home fans predominantly, and football historians in general. David Pollock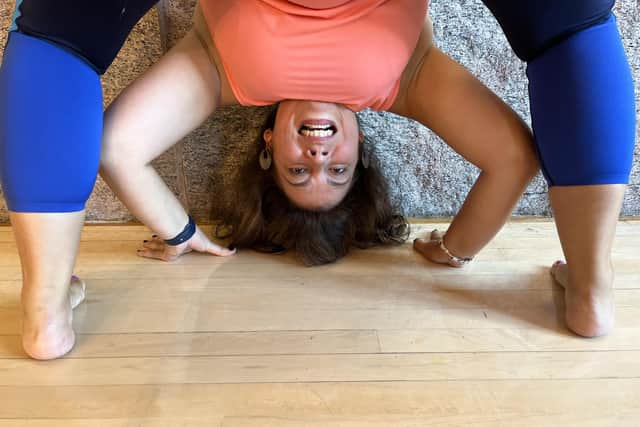 Greenside @ Riddles Court (Venue 16) until 12 August
We don't want to make a habit of judging based on first impressions, but with a young Englishwoman bearing a definably posh accent and a disarming line in thoughtful sexual frankness in its only role, Eleanor Chilton Sutton's F*ckboy Fairytales (the censorship is apparently the show's own) doesn't have to stretch too far to earn the Fleabag comparison it seems to be after.
Sutton appears to be playing an autobiographical version of herself, yet how much of the piece might be dramatic embellishment is hard to figure out. The more truthful it might be the bolder it is, though. First detailing how she split up with a long-term ex by way of a heartfelt letter which he laughed at, she details how she then chose to try and get over the loss by becoming a "f*ckboy" – otherwise known as the boys in her school whose easy, confident sexuality brought them an apparent abundance of strings-free sex.
What follows is a recounting of her dating app-enabled sexual exploits, with inevitable misadventures and STDs included. Comfortable with both her subject and her timing when telling jokes, this anecdotal but interlinked – and yes, Fleabagesque – piece is more like an hour of decent stand-up from Sutton, until the very conclusion where she makes a smartly woven point about freedom and control in relationships. David Pollock
Burning Down The Horse ****
Pleasance Courtyard (Venue 33) until 27 August
This new six-handed, family-friendly show from comedy company Fishing 4 Chips casts its audience as the ancient Greek army. It is the end of the Trojan War and Pleasance Beneath is not a theatre, but the inside of the giant wooden horse. We are not spectators, but soldiers waiting to be wheeled inside the city, where we will spring out and slaughter everyone we find for the glory of Greece.
Except, things do not quite go to plan. Echeon has forgotten his sword. Ajax the Great might not be all that great. Stowaway carpenter Epeius is stirring up rebellion. And Odysseus is a bit of a dick. Over one hour-long scene, Fishing 4 Chips imagine what might have happened inside the Trojan Horse, weaving in plenty of puns, audience participation, and mythological mirth along the way.
It is good, infectious fun throughout. Freddie Walker is priggish and pompous as the unbearable Odysseus, Sean Wareing endearingly dopey as Echeon, and Hannah Harquart amusingly uptight as Odysseus' right-hand Acamus. It is not exactly cutting edge comedy but it is tightly performed, the gag rate is high, and the whole thing offers an entertaining and inoffensive slice of lunchtime laughs. Fergus Morgan
Pleasance Courtyard (Venue 33) until 28 August
The world is on fire, our institutions are crumbling, our health is hanging on by a thread – but maybe if we hold our downward dog long enough, everything will be okay? Our yoga teacher, Jillian, certainly seems to think so. Espousing the good gospels of self-efficacy and flexibility, Jillian leads her class (ten audience members are persuaded to "share in her practice") through vinyasas aplenty, while trying to keep the lid on her own mental breakdown.
It's a truly unhinged hour that's grounded in Michole Biancosino's brilliantly convincing portrayal of a woman on the edge. Much of the audience's laughter comes from watching the poor participants struggle to hold a plank, while Jillian launches onto a tangent about her promiscuous roommate Craig, or the cleanliness of her colon. Do not ask how many coffee enemas this woman has had; she'll volunteer that information herself.
And yet, despite the fact that she is perhaps the worst yoga teacher in the world, Jillian is a deeply sympathetic character. Her struggles with long Covid and her desperate attempts to "be well" offer a tender commentary on how the wellness industry and America's failing healthcare system is increasingly making health a personal responsibility, rather than a social issue. There are moments when Jillian's practice slightly loses momentum, missing opportunities to lean a little harder into the absurdity of the situation. But as the class settles into their shavasana, you'll feel, if not at peace, at least a little more restored than you were before. Deborah Chu
The Ocean And The Star ***
theSpace on the Mile (Venue 39) until 15 August
With only three nights left to live, a writer named Ocean (Jad Sayegh) beseeches the night sky, begging one of the stars to come down to Earth and help him fulfil his dying wish: to publish a masterpiece, in hopes of making peace with the past (specifically, one man, at whose hands Ocean suffered episodes of sexual violence), and to leave a legacy behind, so that others who have survived similar circumstances can find, read, and take comfort in his experiences, knowing they are not alone. Together, Ocean and the Star (Angelika Christoforou) set about reenacting and reworking his traumatic memories, and slowly, their stories intertwine.
Written and directed by Eleni Cosma, The Ocean And The Star is an exercise in myth-making. The story operates within a meta-theatrical frame, and while this attention to the act of acting is faithful to its traditional narrative roots, the device is laboured. Natalie Jones's excellent movement direction adds texture throughout, though, as do songs between scenes. Ultimately, this piece is a valiant interpretation of a powerful subject matter – how the politics of consent are complicated when the victim is unable to fight back, say no, or both. Josephine Balfour-Oatts
Summerhall (Venue 26) until 27 August
Carrie Rudzinski and Olivia Hall have reconstructed their living room on stage; there are books and tea and an overall cosy air. But the two women are feeling anything but cosy. Over the course of an hour of spoken word, they explore sexist myths around the politicisation of emotion that continue to harm women's lives. The two performers are skilled and charming but there is an air of staleness here – not so much from their poetry but from their ideas, which feel directly lifted from a decade-worth of Twitter discourse. Those looking for a cathartic outlet might enjoy but it's difficult not to feel you've heard it all before. Anahit Behrooz
Pleasure Little Treasure ***
Underbelly Cowgate (Venue 61) until 13 August
In 1991 Elina Alminas was a baby with a genetic predisposition for back acne and Depeche Mode, both inherited from a father she will never know. That same year, the Soviet Union dissolves. Amidst the heady rush of post-Cold War optimism and free market capitalism, her grandmother opens Tallin's first-ever strip club, The White Lion. Thus Elina grows up amongst matriarchal rule, but also with the understanding that their livelihoods depended on catering to the needs of men.
A rollicking, if perhaps unsubtle hour, Pleasure Little Treasure mixes personal testimonial, drag and absurdist sketches to capture the many contradictions that encapsulated Alminas's early life in an independent Estonia. Things were better than ever, and also crushingly similar to the past; they still lived under the thumb of toxic masculinity, but now they could eat at McDonald's. Ultimately, this comfort proves as cold and limp as the fries.
The show's clever video work draws illuminating parallels between the thugs that begin doorstepping The White Lion for money with the rise of men like Vladimir Putin and his cabal of oligarchs. Other segments do not work quite as well, such as a skit featuring an Elon-inspired father figure, which is overlong and cringingly one-note. However, in the context of young Elina's worldview—when all the men in her life are either patrons of the strip club, absent or abusive—this perspective feels understandable, even earned. And no amount of Happy Meals will ever make that okay. Deborah Chu
Gilded Balloon Teviot (Venue 14) until 27 August
Midwestern actress Lisa Verlo headed to Hollywood in search of stardom. She didn't get too far in that regards but she did have a lot of sex. A lot. This journey through LA's sexual Disneyland is a rambling, weirdly structured affair. It's not without decent ideas such as utilising Katharine Hepburn and Marilyn Monroe to illustrate the schism of intelligence and sexuality demanded of actresses but boy, does it overuse them. Similarly, the use of dolls to illustrate sex is neat enough but presented too many times. There's a decent selection of original songs and there something oddly likeable about Verlo's almost pathological inability to hold anything back but you imagine both Hepburn and Monroe might advise a little more discretion. Rory Ford
Underbelly Cowgate (Venue 61) until 27 August
Write-performer Nicholas Cohen is a "repo baby". His parents didn't quite make it as celebrities but they supportively reprogrammed his brain with such self-belief that he is convinced of his own talents. They have much to answer for. Nick regales us with his experiences in low-budget filmmaking and his trip to Hollywood to stay with a double Oscar-winner in a bid to bag a nomination himself. Although energetically performed there's no disguising the fact that many of Cohen's anecdotes would be tiresome even if they happened to you. Ultimately this is like being trapped in an increasingly boring conversation where you haven't spoken in over an hour. Rory Ford
theSpace on the Mile (Venue 39) until 26 August
Disaster strikes for upcoming local band Happier Daze – not their terrible punning name, but the passing of their drummer Kyle. Nerves are raw but band practice must go on. Exchanges are narky, sarky and sometimes shrill but at least the four remaining members can pour their grief into a handful of keening, maudlin songs while setting up new non-drummer, Kyle's sister Charlie, with a synth drumkit on an ironing board. This show hits the usual music biopic pit-stops including a make-or-break live radio session and a triumph-over-adversity group hug of a closing performance. Fiona Shepherd