Edinburgh Festival Fringe theatre, musicals & opera reviews: Wiesenthal | Lie Low | Nobody's Talking About Jamie | June | The Impresario | Peephole
The dedicated Nazi hunter receives a warm, wise tribute in a powerful one-man show, leading our latest Fringe round-up. Words by Josephine Balfour-Oatts, Susan Mansfield, Joyce McMillan, Rory Ford and Grace Spencer
Pleasance Courtyard (Venue 33) until 27 August
Wiesenthal chronicles the true story of Holocaust survivor Simon Wiesenthal, who, after being liberated from Mauthausen, went on to dedicate his life to the pursuit of Nazi war criminals. The action takes place in 2003, at the Jewish Documentation Centre in Vienna. Wiesenthal (played by Christopher C Gibbs) addresses the audience openly. He has invited one last group of students into his office, and we are the lucky few. Today, he is retiring.
Wiesenthal's approach to his work was painstaking, and so is Tom Dugan's script. Written with a keen sense of history, and of history in the making, Dugan brings to life the stories behind the statistics, the figures behind the facts. It is meticulously researched and impeccably conceived.
The structure hinges on a question, and Wiesenthal teases us with it. First, he recounts his role in high-profile cases, such as the capture and execution of Adolf Eichmann, and the location of Gestapo officer Karl Silberbauer (who arrested Anne Frank).
This office, with its messy desk, is the engine room of this man's mind. He, who fought tirelessly for justice, fights here, for future generations: "We must speak of all genocide to prevent all genocide," he says. His wife rings the office telephone frequently – remember to buy milk on your way home, don't forget! – and the juxtaposition of massive human tragedy and this seemingly mundane act is both well-judged and impossibly significant.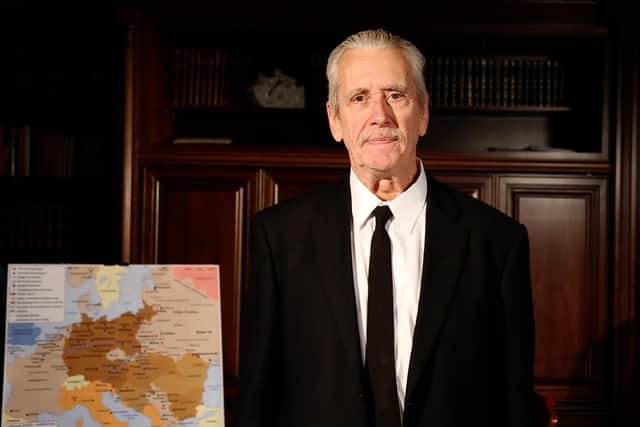 Gibbs's delivery is gentle, wry. He is as warm as the sunflower that sits in a pot on his desk. A personal yard site for the victims of the Holocaust, this is his remembrance. When he returns to the question in question, his words are wise, and they are also a warning. Its message? Remember, always. When we remember, the dead are no longer dead. Josephine Balfour-Oatts
Traverse Theatre (Venue 15) until 27 August
Ciara Elizabeth Smyth's darkly funny play picked up a host of awards on the Dublin Fringe while remaining impossible to define. Director Oisín Kearney has created a polished production which seems to dance (sometimes literally) around questions of genre, tone and realism. For every trauma, there is a dance routine, sometimes with a duck mask.
Faye (Charlotte McCurry) hasn't slept for almost two weeks, drinks rum from a Diet Coke bottle, eats Rice Krispies, barely leaves her flat. She has been traumatised since a masked man broke into her house and attacked her a year before. But there are plenty of hints, even early on, that this apparent realism is shot through with the absurd. When her brother Naoise (Thomas Finnegan) arrives, she persuades him to join her in a bizarre kind of exposure therapy.
But Naoise has a secret of his own, an allegation of sexual assault by a female colleague which puts his academic career and his marriage at risk. As the tense encounter deepens, and each sibling attempts to enmesh the other in their own agenda, it becomes increasingly uncomfortable to watch. Surely, a play dealing with trauma and sexual assault shouldn't be so coyly ambivalent, so downright silly at times, so awkwardly funny?
Both performances are emotionally agile, with McCurry, in particular, pulling off tiny but significant shifts in register. At the centre of Ciaran Bagnall's design is a wardrobe, loaded with associations of child's play, of gateways into fantasy worlds. Meanwhile, Faye and Naoise bicker and fight like children, seemingly unable to be grown-ups even when what is at stake is entirely adult.
There is a fearlessness to Lie Low in the way it is prepared to play with even the most serious of subjects. But there is a coldness, too, a keeping the audience at arm's length. In playing with issues of trust, blame, complicity, it plays with our trust as well. Susan Mansfield
Nobody's Talking About Jamie ***
Underbelly Cowgate (Venue 61) until 27 August
Friendship is the new jam, for the current generation of 20-somethings. With romantic love failing to deliver for so many, lifelong best friends and flatmates often look like a better bet. The twist in the tale comes when it transpires that friends can move on and move out just as ruthlessly as lovers.
This, roughly speaking, is the journey described by comedian and musician Jamie Finn in his Underbelly show-with-songs Nobody's Talking About Jamie; and frankly, if nobody's talking about this version of Jamie, it's probably because there's not very much to say. We meet him at his otherwise all-female spin class, then moving into a glamorous but platonic flat-share with his sophisticated and fascinating spin teacher, then feeling devastated when she meets a new partner and moves out.
And that's about it, folks, all delivered with an easygoing showbiz confidence and an affable manner, but signifying next to nothing. If Jamie ever gave a second thought to getting a useful job, and spending his life focussing on the needs of others, he might well be a happier and more attractive man; but as it is – well, he just keeps spinning and navel-gazing, and the more people find him "relatable", the more the world goes to hell in a handcart. Joyce McMillan
Greenside @ Infirmary Street (Venue 236) until 26 August
There's a curiously understated quality to this one-man monologue that makes it seem less a celebration of drag queens and more a gentle pat on the back. Billy/Miss June (Stephen Ledger) is a drag artiste who takes their name from "the month of Pride" and juggles a stage career coping with a minor disability (caused by high heels) with a job at a supermarket checkout. Sherzadae Moeed's script is hardly compelling but it never really aims to be. It's an intimate dressing table character study, confidently (if perhaps a little quietly) performed by Ledger who does well to hold your attention with material that's rather short on dramatic interest. Rory Ford
theSpace @ Venue 45 (Venue 45) until 26 August
This fun, stylised take on Mozart and Gottleib Stephanie's classic operetta sees ex-film producer Mr Scruples abandon the silver screen for the theatre, only to become a reluctant arbitrator of a pair of battling diva sopranos. It is full of sumptuous 1930s charm, and boasts a small orchestra which is surprisingly effective acoustically. Unfortunately some strong performances are not enough to buoy up an updated script which is light on humour and dominated by convoluted spoken exposition. The operatic numbers are entertaining but would benefit from supertitling on the on-stage screen, which is otherwise used ingeniously. Grace Spencer
Greenside @ Riddles Court (Venue 16) until 26 August
There are epic German operas that take themselves less seriously than this crashingly earnest drama that follows Gerry as he attempts to reconnect with his errant brother. It is largely competently performed by members of the UWE Drama Society who certainly know how to pull off on-stage violence. However, all the scenes in Peter Christforou's script go on far too long and the effect is like watching an unusually bleak episode of a soap opera that you haven't seen in decades: imagine Lars Von Trier directing Hollyoaks. While the theme of child abuse might be sincere it does feel as if it's been employed here purely as a plot device to enable characters you neither know nor care about to shout at each other, which just seems exploitative. Rory Ford