Edinburgh Festival Fringe theatre and children's shows reviews: Tending | The Leading Lady Club | Mario the Maker Magician | Messhead | We Are, in Fact, the Problem | 2-Faces | 33 to 04 | On the Rail | Pretending to Fly
A timely play that gives vital voice to NHS workers and a family-friendly magic show with added robots are among the highlights of our latest Fringe round-up. Words by Susan Mansfield, Grace Spencer, Ariane Branigan, Rory Ford, David Pollock, Suzanne O'Brien and Sally Stott
Greenside @ Riddles Court (Venue 16) until 26 August
Interviews with more than 50 nurses of all ages and backgrounds provide the raw material for this verbatim play by El Blackwood, which paints a picture of nursing life from before the pandemic through to the recent strikes. Sincerity exudes from this young company who are clearly moved by what they've learned – as are we all by the end of this show, which feels like one of the most timely on the Fringe this year.
Blackwood, Stella Saltibus and Alasdair Linn move adeptly through a constantly shifting group of characters and stories. We learn what inspires people to become nurses, the importance of teamwork and camaraderie, the A&E nightshifts which end with a McDonalds' breakfast. There are inspiring stories, and weird ones, like the man who turned up to a sexual health clinic and donned fetish gear for the examination.
There's too much paperwork, and too much poo, and nurses so tired they take catnaps in cupboards. There's crying your way through your first six months. And then there's Covid.
Suddenly, overload doesn't begin to describe it. Nurses are "living on pockets of adrenaline", haunted by those they can't help, by things they fear they've missed. Politicians talk about "resilience" while nurses come off shift too tired to speak. Their families tell them to quit. Some do. Those who stay seem to get a glimpse of the old camaraderie on the picket lines.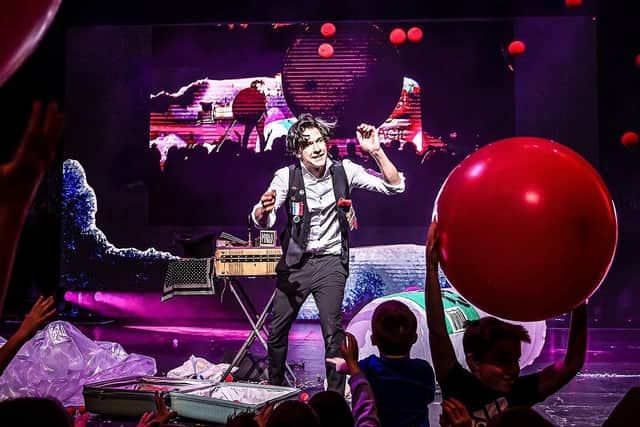 Tending tells us some things we already know about the NHS, some we suspect, and some we need to know. It shows us just how badly things are broken, and it celebrates the kindness and dedication of those who keep on caring. It is warm, compassionate and angry, much like the healthcare workers themselves. It is also urgent and disturbing: an emergency call for a healthcare system in cardiac arrest. Susan Mansfield
The Leading Lady Club ***
Greenside @ Infirmary Street (Venue 236) until 26 August
If you've ever been told that your symptoms are "probably nothing", that you're "not as hot as your profile picture", or that you're "pretty good for a woman" – or, indeed, if you know anybody who has heard anything like this – then you'll be engaged by The Leading Lady Club. Fresh from the US, this four-hander incisively explores medical negligence, sexual harassment, internalised misogyny and transphobia, among other issues.
Writer Sarah Hogewood cuts straight to the nitty-gritty of everyday life as a woman. The show strikes a near-perfect tone, following serious meditations with silliness (an anthropomorphised, hoodie-wearing period is a highlight). We are shown footage of Trump's "grab 'em" comment, which feels like a reference in need of an update, but it gets the stomach-churning point across. The cast are clearly talented and support each other well.
There is a particularly effective abstract sequence which interrogates women's connection to, and/or dissociation from, our own bodies. Other parts of the show lack the same punch, though, and it is essentially a string of well-written sketches. It is because the piece rings so true that we are left wishing it had been more creative. Grace Spencer
Mario the Maker Magician ****
Underbelly, George Square (Venue 300) until 27 August
Hailing all the way from New York, and with his whole family in tow, Mario Marchese – the eponymous Maker Magician – wants to leave his young audience with a simple message: do what you love, use what you have, and have fun. And as he takes us through a whirlwind tour of art, science and robotics, it's clear that he's living these values.
Mario's previous experience reveals him to be an accomplished children's performer, having opened for David Blaine on tour and featured on various TV shows across the pond (including the cultural juggernaut that is Sesame Street). However, it's still impressive to see his seemingly boundless enthusiasm in action, using skilled crowd work to keep the kids and their parents engaged alike. Particularly accomplished is the way he modulates the energy of his audience, giving us time to breathe between high-octane sleight-of-hand and card tricks.
For those who are here for the robots, they certainly won't be disappointed; whether it's a Rube Goldberg machine for cleaning an unfortunate parent's shoe ("This sneaker is nice! Is it brand new?" Mario asks the dad nervously as he fixes it to the contraption) or an endearing soup can lamp which dispenses clown noses on command, Mario is as much an inventor as he is a showman.
Moving beyond the tricks and slapstick gags, both of which create a panto-like atmosphere in the Udderbelly, Mario encourages his young participants to thank their teachers and keep dreaming. It's the kind of feel-good message which made him a perfect fit for the world of Elmo and Big Bird. But it doesn't feel trite or saccharine: as he passes out yet more clown noses and balloons to the audience at the end of the show, his genuine investment in the future creative endeavours of these kids shines through. Ariane Branigan
Paradise in Augustines (Venue 152) until 27 August
Early in her solo show, Australian musical theatre actress Kirby Lunn tells us that "the Edinburgh Fringe is so beneath me". It's a bold start, but she has already charmed her audience and we love her for it. Messhead charts the life of a young actress who has just arrived in New York and is, like, totally famous and a big deal back home. It tackles misogyny within the theatre industry, self-destructive spirals, and a whole lot more with a light touch.
Obsessed with her agent, disgusted by her therapist, and ducking both her mother and her best friend, Lunn's protagonist wades through life on a quest for stardom, only occasionally waylaid by Timothée Chalamet lookalikes. There are some delightfully unexpected moments within the familiar framework of the show – a cabaret-style musical number about auditioning for Cabaret is delicious, as is Lunn's accent work and her satire of American influencer culture.
An extended therapy session forms the honest heart of the piece and a late reveal raises the emotional stakes, but the narrative needs developing so that it can ease out of stand-up comedy territory and more firmly into solo theatre. Grace Spencer
We Are, in Fact, the Problem **
theSpace @ Surgeons Hall (Venue 53) until 26 August
It seems redundant to criticise Poppy Platt's play as dull because for much of its running time that seems to be precisely the effect it desires. Four old friends from a private high school reunite for a dinner party. They are still young enough to carry the resentments they fostered in school and fissures in their relationships eventually appear. The cast from Sheffield University Theatre Company are all good but this would play out more profitably at half the time. It's like watching Abigail's Party but without the necessary tension or humour; the dramatic highlight comes when someone spills a glass of wine. Rory Ford
Greenside @ Infirmary Street (Venue 236) until 26 August
The performances by Hassan Hope and Jasmine Dorothy Haefner at the heart of this two-handed crime comedy-thriller are the most easy to recommend aspect of it, with the pair cycling through multiple characters with wit and physical energy. Yet the conception of the piece feels all off, with two London-based detectives (referred to in the listing as Interpol agents, which seems unlikely) investigating an art theft which they also committed, at the behest of their crime boss foster father. The scene transitions of projected text are also very strange, offering half-accurate Cockney rhyming slang translations and what seems like running commentary from two viewers watching a film version of this story. David Pollock
theSpace on the Mile (Venue 39) until 26 August
On route to an important surgery, 67-year-old Lainey (Emilie Jardine) and young doctor Asa (Alban Nolan) get stuck in a hospital lift. Like the lift, the piece unfortunately doesn't go anywhere. It's filled with awkwardness as one would expect but for a comedy, the humour is too subtle to be effective. The contrast between Lainey's cheeky Scottish attitude and occasional foul mouth and Asa's serious character has potential. However, rather than being funny their relationship comes across as harsh and is lacking chemistry. A mysterious guitar player, played hauntingly by Martha Hobbs, is the most intriguing element. Although not visible to the others, the connection between them all is cleverly unsettling. Suzanne O'Brien
theSpace @ Surgeons Hall (Venue 53) until 26 August
A sparky comic performance by Lucy Eddington helps keep Aidan Loft's sleeping carriage farce chuntering along until it hits an emergency stop. Eddington plays Mallory, the newest addition to two couples who embark on an overnight train trip. The rest of the cast aren't quite so confident where the laughs are in the script or what tone to take and the quiet conversational naturalism doesn't really do the material any favours. Loft lays out the pieces of the plot neatly enough but hasn't quite worked out what to do with them yet. Rather than reaching a satisfying conclusion, the piece simply comes to a sudden halt. Rory Ford
theSpace @ Symposium Hall (Venue 43) until 26 August
Polished performances from Marie Davis and Kate Szekely provide the wind beneath the wings of this not-entirely smooth mix of two different kind of flight narratives: flatmates Kaitlyn and Frances, as they prepare to go their separate ways in post-lockdown New York, and Carla Horowitz, a Women Airforce Services pilot during the second world war, whose story Kaitlyn and Frances learn during lockdown and now re-enact. With the focus flitting between the two tales, it proves difficult to provide either with a sufficient sense of momentum, especially with so much of the dialogue revolving around the past. Davis and Szekely give it their best shot, however. Sally Stott