Edinburgh Festival Fringe theatre and children's shows reviews: Shortlist | Purgatorio | How to Rob a Millionaire (in Five Easy Steps) | In Memoriam | Hayfever | Doktor Kaboom and the Wheel of Even More Science!
Two puffed-up male authors take potshots at each other while on a dream-like odyssey in a beautifully-crafted piece of theatre, leading our latest round-up of Fringe highlights. Words by Joyce McMillan, David Pollock, Grace Spencer, Rory Ford and David Hepburn
If an hour of perfectly-crafted, deeply intelligent and supremely witty Fringe entertainment is what you fancy, then this latest show from the brilliant New York writer Brian Parks – produced by the Flying Bridge Theatre Company of Newport in Wales – might have been made for you.
As Fringe themes go, the agonies and ecstasies of a pair of supremely vain male writers vying for a literary prize at a major book festival may not be the most profound. But in a city that is home every August to its own international book festival, the tale of Higgins and Houghton, and their bad day in a famous book town, is as timely as it is beautifully written, performed and directed.
If the two – played with tremendous flair by Matthew Boston and Daniel Llewelyn-Williams – merely spent all day complaining and bitching about each others' latest novels and festival panel performances, as they do when we first meet them, Shortlist would be a much lesser show.
Parks's genius, though, is to take this ill-assorted pair off on a shared quest for the museum home of the long-dead Great Writer on whose fame the book town has built its reputation. As a deep mist descends and the pair stumble along, their journey takes on a dreamlike, mythical quality, like a 21st-century odyssey brilliantly if lightly described, with waypoints in the shape of the pubs to which Higgins is magnetically attracted. Although they finally reach the Great Writer's house, the day naturally ends in disaster, so far as the prize is concerned.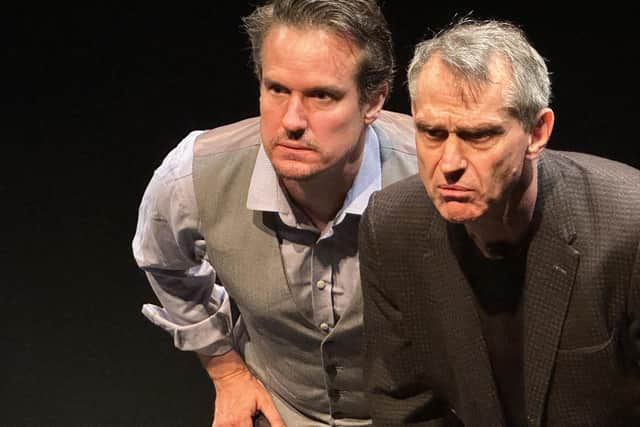 The conclusion, though, is a touching one, in which the two rejected writers, while still at loggerheads, are nonetheless unavoidably drawn together by their passion for the work of the Great Writer; which may – or may not – truly transcend all the vanities of the day, and offer the writers a dream of achievement far more worthwhile, in the end, than the winning of any mere literary bauble. Joyce McMillan
theSpaceTriplex (Venue 38) until 26 August
Welcome to Club Purgatorio, where a constant techno backbeat throbs through the building. Two clown-like figures hold sway over a group of beautiful young revellers, taking constant calls from the management and punishing any of the clubbers who step out of line or ask questions with a beam of agonising white light, cutting through the gloom.
A new character has arrived in this place, one who appears to be unsure of who, where or why they are. They gaze in the bathroom mirror, a neon sign behind them imploring them "please don't do coke in the bathroom", and feel their crotch and breasts, as though unsure what they will discover there. "I have the weirdest feeling," they say later. "It's like I lost something or someone."
Few answers are forthcoming about those who inhabit this Dante-influenced but very 21st version of the Biblical Purgatory itself, devised by the American Clownz With Apple company. But the ride is a captivating, sensuous and attractively choreographed piece. The dancers flow in time and then break off into paranoid, too-frank bursts of drug-fuelled chat, while the new arrival is tempted by a pole-dancing siren. Visually – if not quite narratively – it is a late-night feast. David Pollock
How to Rob a Millionaire (in Five Easy Steps) **
Greenside @ Infirmary Street (Venue 236) until 26 August
Ocean's Eleven is revisited in curious style in this heist comedy caper, in which criminal mastermind Nick River attempts to steal priceless teddy bear Mr Berry from his wealthy and arrogant owner Ava Grand with the band of mismatched crooks he's assembled, including a sullen goth girl and a master of disguise who's so good everyone forgets he's there. While this quirky heist comedy from Napier University Drama Society doesn't rank among the best student-led theatre at the Fringe this year, its ten-piece ensemble cast are kept busy with a range of quirky, comedic roles and a madcap pace. David Pollock
theSpace @ Surgeons Hall (Venue 53) until 26 August
Dark comedy In Memoriam is full of juicy material: a misplaced death certificate, an outburst from a martyred mother, and a son equally distressed by his father's death and by "Hearses 'R' Us". There are some genuinely funny moments as we watch a family grappling with their priorities whilst preparing for a funeral, and the talented cast's enthusiasm is infectious. Unfortunately, they ill-served by an uneven script that gives most of the comedic value to only two of the six characters, leaving some actors with solemn dialogue that does not land. Grace Spencer
theSpace @ Venue 45 (Venue 45) until 26 August
Full marks to the audience for providing this interactive "dark comedy" with an initial burst of energy. Onstage signs prompt you to applaud and boo while you also have "Yes" and "No" cards to vote on proceedings. The nice mixture of accents in the cast suggest that the theme of how you fit into society is quite sincere but, although credited solely to Eleonor Schumann, the script gives the impression of being cobbled together from suggestions from everyone involved. The performers aren't exactly gifted when it comes to improvisation, so the suggestions don't exactly help and the experience is like watching air escape from a balloon that completely deflates long before the end. Rory Ford
Doktor Kaboom and the Wheel of Even More Science! ***
Pleasance Courtyard (Venue 33) until 27 August
"Science is for everyone" is the motto of Doktor Kaboom, a generic mad scientist who has a great line in positivity for young audiences. He's the safety goggle-clad creation of performer David Epley, who proves a dab hand at both fun experiments and kiddie crowd control. "If I am talking, you are listening!" barked in a severe German accent is a tactic that perhaps should be utilised more by stand-ups with unruly weekend audiences. It works a treat here to generate something approaching silence, along with its close cousin: "I'll wait until you're finished ..."
Spinning the titular wheel to select the experiments means it'll be a different show every day, but on this evidence they range from the genuinely impressive (a hovercraft made out of a bit of wood, a shower curtain and a leaf blower) to the slightly mundane (not one but two sections using the old baking soda and vinegar trick to pop a top off a jar and power a bottle rocket). Most of these demonstrations see delighted primary school-aged participants welcomed onto the stage.
It's a shame that a little too much of the act is taken up with well-meaning safety warnings which, along with the sometimes corny homespun philosophy (believe in you!), eats into the all-important – and very entertaining – lab time. David Hepburn