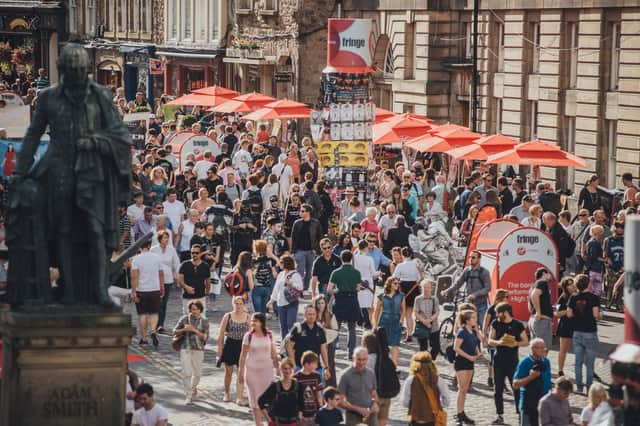 The Fringe's overall attendance topped three million for the first time last year.
The Fringe Society has asked the Scottish Government, Edinburgh City Council and other backers for a bail-out over a black hole in its finances caused by the coronavirus pandemic.
Chief executive Shona McCarthy said the society was trying to "build the life raft to ensure the Fringe can come out the other side of this" but also admitted "survival is not assured."
The body, which runs the official programme, website and box office for the 73-year-old festival, has committed to refund all ticket sales and fees paid in advance for this year's event, which was called off at the beginning of last month.
Fringe Society chief executive has revealed she has for urgent help to deal with a financial crisis triggered by this year's cancellation. Picture Greg McVean.
It is thought the Fringe Society is having to grapple with a deficit of more than £1.5 million due to the sudden loss of income and the need to hand over so many refunds. Hundreds of shows were already on sale when the festival was officially called off.
Ms McCarthy said: "With the festival and the Society on a financial knife edge, we are urgently seeking support from Scottish Government, the city council and a wide range of supporters and partners.
"As a small charity which receives very little public funding, the Fringe Society has, of course, been impacted by the coronavirus pandemic.
"Our decision not to go ahead with the Fringe as normal in 2020 was absolutely the right one, as health and safety must be our first priority. However, having made a commitment to refund participants and audiences in full, we have been left with a deficit which we are now working hard to address.
"We are exploring a range of options to keep the Fringe and the Fringe Society afloat, balancing the needs of the charity with those of the artists, venues and communities that rely on our support.
"Like many other arts and culture organisations, we are currently looking into the government's existing intervention schemes and exploring which of these are suitable. We're also working with a range of partners, sponsors and donors as we focus on the festival's long-term resilience and plan for the future.
"We've been making rapid adjustments. Many of the charity's core team are on furlough, and our remaining team is working hard to process refunds for artists and audiences, as well as offering support to those who make the Fringe magic happen every year. We're getting there, day by day, and would like to thank everyone for their patience and support.
"It's been challenging, but we've been working hard to embrace this moment as a time for reflection and re-imagining. We're trying our hardest to build the life raft and ensure the Fringe can come out the other side of this, in the best form of itself.
"It's not been easy to step into the dreaming space when survival is not assured, but it's in times like these when creativity and imagination are needed most."
The Fringe Society also revealed it has called off a recruitment process for a new chair for its board and said Sir Timothy O'Shea, who has held the post in recent years, had agreed to stay on due to provide "much-needed stability."
Ms McCarthy added: "We truly are living in extraordinary times and such times call for the most sensible measures.
"The decision to extend Sir Tim's tenure as chair will provide the society with some much-needed stability as we try to navigate the coming weeks and months.
"His vast experience, knowledge and dedication will be invaluable in helping us navigate these challenges, and I'm delighted he'll be here to help us weather the storm."
Sir Timothy said: "I'm committed to securing support for the participants, audiences and staff who make the Fringe happen every year. Now, more than ever, that support is needed.
"I'm very grateful to Shona McCarthy and the Fringe Society staff who are working extremely hard to pull us through this crisis. Fiona Davis and all the other members of the board have also pulled together to assist the Fringe.
"I'm looking forward to continuing to work towards the future of the Fringe, as culture and community are needed now more than ever."
Adam McVey, leader of the city council, which funds the Fringe Society to the tune of more than £80,000 each year, said: "When the decision was taken to cancel the 2020 August festivals, we pledged continued support for Edinburgh's cultural sector through our funding programmes and for this resource to be repurposed to help towards mitigating the impacts of the current pressures.
"We are continuing to work with the Fringe Society and all our partners with the shared aim of securing their future."