Edinburgh Festival Fringe comedy reviews: The Disney Delusion | Connor Burns: Vertigo | Shelf: Teenage Men | Lane Kwederis: Sex Job | Jack Docherty in David Bowie and Me: Parallel Lives
Taking the Mickey: a romantic trip to Disneyworld with some wild detours is the basis of a wry, well-crafted confessional, leading our latest round-up of Fringe comedy. Words by Jay Richardson, Kate Copstick and David Hepburn
Underbelly, Bristo Square (Clover) (Venue 302) until 28 August
Sometimes you don't need constant punchlines, romantic fulfilment or even the promise of Disneyland fun to be realised to ensure an appealing show.
Leif Oleson-Cormack's Fringe debut is simply the tale of him desperately pursuing a crush on a friend, an often cringe-inducing confessional that deteriorates from being about a getaway full of promise into a long, dark night of the soul. Shared in a relaxed, self-deprecating manner, the coming-of-age account takes place when Barack Obama was elected president, a historically significant backdrop that is almost incidental to the Canadian's roiling personal journey.
In his unhurried introduction, Oleson-Cormack establishes himself as a diffident bisexual, uncertainly entering college life with an awakening sexuality but little clue as to how to satisfy his desires. Into his orbit comes the highly attractive Arthur, a much more confident young man who shows Oleson-Cormack some attention but – the odd snog notwithstanding – keeps him at arm's length.
Nevertheless, these friends with (minor) benefits arrange to take a holiday together, with the infatuated Oleson-Cormack persuading his unconvinced, unrequited love of the merits of Disneyland, all the while plotting the fairytale episode that will make them a couple.
If the comic portrays himself as underhand and scheming, the self-centred, hedonistic tease Arthur hardly fares better. He recalls the pair heading out at night and allowing themselves to be taken under the wing of a "sugar daddy", the financial largesse carrying the implication of favours that must be repaid.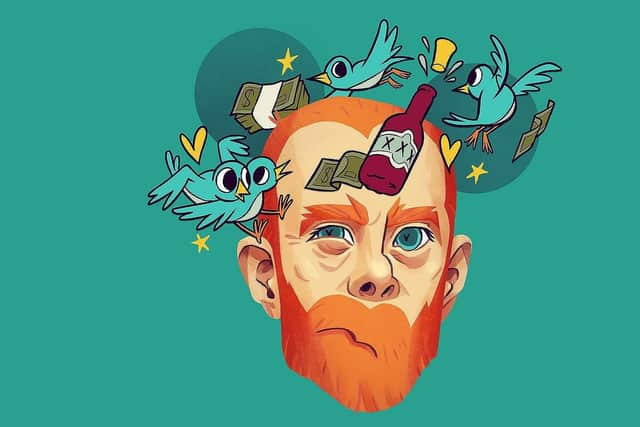 With the benefit of hindsight, Oleson-Cormack marvels at his own naivety, the jeopardy they placed themselves in and his subservient indulgence of Arthur. Yet he's scrupulously fair and his account is suffused with compassion and understanding, even for the most predatory characters featured. Wryly amusing from the get-go, he keeps you hooked with the rich, morally shady detail of his story. Jay Richardson
Connor Burns: Vertigo *****
Just the Tonic Nucleus (Venue 393) until 27 August
Well batter my Mars Bar and call me proud to be Scottish, but this guy is good. The laughs never really stop in Connor Burns's hour. His crowd work is freshly delightful. His suggestions for coping with the cost of living crisis if you have a big family get him his first shocked-gasp laugh close to the top of the show (which is brave). And I will forever be in his debt for introducing me to the phrase "clam-dryer". Anyone in from Fife should try not to be offended.
There is a great comedy talent at work here. The material is packed in like chips in a poke and Burns himself is genuinely likeable, with that straightforward delivery that reassures you there is a real person up there and that he is a great bloke.
Burns has a fascination with accents and their effect when away from home, has a girlfriend who is "elevating" him from his working class roots and has a healthy (and hilarious) dislike of drinking with Millennials. There is nothing he sets his comedic sights on that he misses. I believe the term used by his generation is "all killa, no filla". Whatevs. He hammers TikTok, has a wee go at Gen Z, paper straws and the fight to save the planet.
He is fearless and it is wonderful. Stephen Hawking has never been squeezed for laughs like this and who knew there is still new funny with Oscar Pistorius? Lesbians and oral sex generally has never been more hilarious and, lest you imagine this is all just random gags (which would have been great enough, with the laughs at this level) wait till the ending. Clever Connor! Get a ticket, Burns needs the money for his OnlyFans subscription. Kate Copstick
PBH's Free Fringe @ Voodoo Rooms (Venue 68) until 27 August
It seems odd to think of musical double-act Shelf's two separate shows for children and adults as companion pieces. But the former subsidises the latter and offers an intriguing, informative angle on the questions of identity at the heart of their second "grown-up" hour, with a kid-like lack of filter and propensity to speak their minds cutting through a lot of the culture war fog that can dog queer expression.
Building on their excellent debut, in which they joked with real-world experience about being mistaken for teenage boys, the masculine-presenting Rachel WD and Ruby Clyde are lifelong friends. They have a wry perspective on being open about their sexuality in a world scrambling to adapt, with cis lads, old-school geezers and podcast-listening progressive mums doing their well-meaning best to accommodate them. Hilariously, the pair's social media algorithms appear to have already made up their minds: the more they protest that they're not actually teenage boys, the more the characterisation sticks.
Digging deeper into the formative years of their friendship than their debut – when Ruby was feminine and angry and Rachel's relationship with their gay, effortlessly cool mother put them in swaggering, macho competition – the pair have been on an ongoing journey of self-discovery, testing out different personas and misunderstanding themselves as much as anyone. Although they mock the idea of kissing a woman in public as a political act, the current climate means that representing the non-binary community on stage at children's shows comes with a degree of jeopardy.
Their story ultimately spans generations. Yet for all its underlying complexity and intersectionality, Shelf wear their heart and affection for each other on their sleeves, their easy chemistry and instinctive silliness augmented by their Alanis Morissette-dominated musical accompaniment and an increasingly sophisticated projection of them being so much more than just WD as the clown and Clyde as the guitar-playing foil. Jay Richardson
Lane Kwederis: Sex Job ****
Underbelly Bristo Square (venue 302) until 28 August
Lane Kwederis has spent 15 years as a sex worker, including a decade where she kept her job a secret from family and friends. Now she's shining a bright light on the industry in a refreshingly frank and entertaining way, trampling outdated stigma (and ribs) under stiletto heels. "This is a show about male vulnerability and me – my two favourite subjects" she wisecracks. But that's underselling just how much she has to say and the ingenious way in which it is delivered.
Her background in improv is an unlikely catalyst for a career as a dominatrix, as she emerges from a foot fetish party with a stack of cash and a skip in her step. This leads her to the jaw-dropping world of financial domination – or "findom" – where men get their kicks from having their bank accounts emptied. Don't believe it's a thing? She has the viral videos to prove it.
Even those who consider themselves fairly worldly-wise are likely to get an education here, including the meanings of acronyms such as SPH and CFNM (don't Google them at work), while a viewing of some of her homemade 'pornography' offers a hilarious insight into the niche world of online titillation.
Amidst the fun of gameshow segment Did I Do This For Money? and transforming an audience member into a paid sex worker, there's plenty of serious material, all of which is handled with a deft lightness of touch. The challenges of simply getting paid in a morally-binary corporate world are particularly eye-opening.
A closing section about an abusive relationship adds real pathos, making clear that it's not the work that's demeaning but rather people's attitude towards it – the inevitable "I don't think I could do that" delivering an unintentional gut-punch.
It all ends with a song and a dance, providing an catchy summary of all we have learned, leaving the audience a little more informed and a little less judgemental than an hour before. David Hepburn
Jack Docherty in David Bowie and Me: Parallel Lives ****
Gilded Balloon Teviot (Venue 14) until 27 August
I was never a Bowie fan – Bryan Ferry, all the way – but if anything could persuade me, it is the intimate wee story that Jack Docherty is telling here. It is built up with staging, on-screen video and costume changes (this is Bowie we're talking about). And, of course, Docherty is a wonderful, engaging, relaxed and relaxing performer. It is quite simply impossible not to love what he does on a stage.
Here he tells the tale of his First Love – Eleanor Mackie – and embroiders it with memories of schooldays, collectable football cards, his marvellous grandparents and a short selection of penis impressions. And David Bowie. Bowie was his idol, his role model, his obsession. Which, as luck would have it, was a feeling shared by Eleanor. And so the double helix of Jack's story unfolds in songs, funerals and acid trips.
All of life is here: young Jack's life, anyway. Even if he were confessing to mass murdering pensioners, it is impossible not to warm to Docherty. So some attempted shoplifting, a bit of masturbation and perfectly normal teenager's foray into the world of narcotics evokes rolling waves of laughter across the length of the room.
Losing his penis to too much acid is hilarious in the hands (as it were) of a comic like this. Bowie's sexual preferences, a stay in hospital and some anxiety dreams provide a satisfying serious section, and the much-anticipated Bowie concert with Eleanor is a bittersweet experience. Of course, fans of the Jack Docherty Show will know that he got to meet and interview Bowie, talk with the man and receive life advice he brings with him to the show. As we leave, pretty much everyone is mouthing along with "We could be heroes ..." Just for one day, even I am a Bowie fan. Kate Copstick