Edinburgh Festival Fringe chiefs say 'difficult and challenging' shows must be allowed on its stages
Edinburgh Festival Fringe bosses have spoken out after rows over cancelled events
Organisers of the Edinburgh Festival Fringe have declared that "difficult and challenging" shows must still be allowed on its stages in future – and insisted freedom of expression is still at the heart of the event.
Senior figures have spoken out in the wake of controversies over venues pulling the plug on several shows this year and last year.
They have called for the Fringe to be "a place for a meeting of minds, however difficult the subject or however deep the disagreement".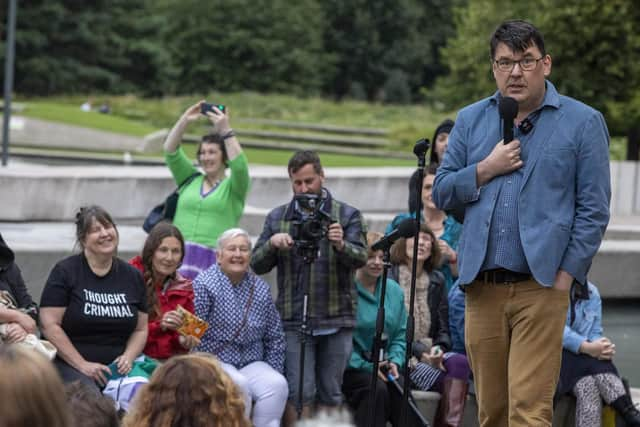 Fringe Society chair Benny Higgins said although it could not tell venues what to do, it was important that participants were able to express themselves freely if they were not breaking the law.
Fringe Society chief executive Shona McCarthy insisted it strongly believed in the right to "peaceful protest".
Last year the Pleasance cancelled the second of two shows at the EICC by stand-up comic and magician Jerry Sadowitz, citing an "unprecedented" number of complaints over racism, sexism, homophobia and misogyny.
Further controversy flared earlier this year when The Stand Comedy Club cancelled an in-conversation event with Edinburgh MP Joanna Cherry, who has come under fire for her gender-critical beliefs.
Last week gender critical comedy writer Graham Linehan was among the performers due to appear at a comedy night that was cancelled by the Leith Arches venue.
Sadowitz has returned to the Fringe this week for a run of the show he was forced to abandon last year, this time at the Queen's Hall.
Ms Cherry's event at The Stand's New Town Theatre venue eventually went ahead this month after she threatened legal action claiming she had been discriminated against, while Mr Linehan was among the acts who performed outside the Scottish Parliament building after a second venue cancelled the Comedy Unleashed show.
Ms McCarthy said: "One issue that has emerged this year is the whole principle of freedom of expression, something that the Fringe as a community holds very dear. This festival has been built on the ability of people to express their ideas freely through creative means. We still hold that dear. Individual venues can make their own choices about what work goes on their stages and what doesn't.
"Our encouragement to everyone is that ideas, however difficult, however challenging and however much they may not appeal to you particularly, should still be allowed to be expressed. Freedom of expression still remains at the heart of the Fringe and people having a voice will always remain fundamental to what this festival is about.
"We believe in the right to express yourself and also in the right to protest peacefully.
"The Fringe should be a place for conversation and a meeting of minds, however difficult the subject or however deep the disagreement. There should always be that space."
Mr Higgins said: "The vision of the Fringe is to give anyone a stage and everyone a seat. We must remember that this festival is about inviting people to express themselves, within the constraints of what is legal.
"There's a lack of understanding that a venue may decide to do something beyond our control or remit. I'm not going to tell you what venues should do. They can think for themselves.
"But we believe very firmly that freedom of expression lies at the heart of this festival."
Comments
 0 comments
Want to join the conversation? Please or to comment on this article.