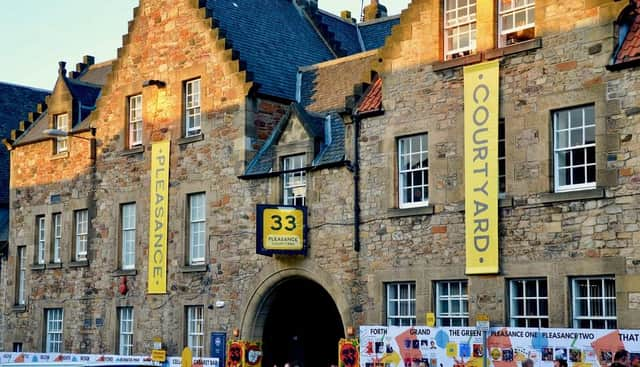 The Pleasance Courtyard beer garden will not be open this August (Shutterstock)
It's not just comedy, theatre and music that Edinburgh residents will be missing this August.
Outdoor drinking with friends before and after a show is a vital part of any Edinburgh Festival, with the Pleasance Courtyard and George Square Gardens among the most popular spots to enjoy a pre-show tipple.
With the reopening of bars and restaurants across the country, many are hopeful that it might still be possible to enjoy a sunshine-drenched drink at the popular festival venues.
Are the Pleasance Courtyard and George Square Gardens open this August?
Unfortunately the Pleasance Courtyard will remain closed despite the reopening of bars across Scotland following the loosening of lockdown measures.
The courtyard of the Pleasance has been buzzing every August for the past 36 years and like so many venues will keep its doors shut during the dormant festival period.
Because of this, venue owners are asking for visitors of years gone by to donate the cost of a ticket to their crowdfunder page.
George Square Gardens, typically occupied by food trucks and beer tents, as well as Underbelly and Assembly venues will also be unoccupied this August.
Pop ups at Bristo Square, Waverley Mall and St Andrew's Square will also be absent.
Are any festival drinking venues open?
The Garden at Teviot has opened its gates to visitors this August and will be around until September 11.
The popular festival pop-up venue is open daily from 12pm to 10pm, with food and drinks served throughout.
Reservations can be made at book.octotable.com.
Where are some of the best beer gardens in Edinburgh?
If you're still seeking that combination of sunshine and drinks, then you're spoiled for choice in Edinburgh.
The Secret Garden at 56 North has reopened, with gin cocktails dominating the menu.
The Peartree describes itself as "home to Edinburgh's best beer garden" and boasts a huge food and drink menu, as well as a big screen for all your live sports needs.
Found in New Town, the Cumberland Bar boasts a wonderfully secluded beer garden, away from the hustle and bustle of the city.
If the weather isn't quite beer garden ready, The Outhouse has heaters ready to keep you comfortable and cosy.