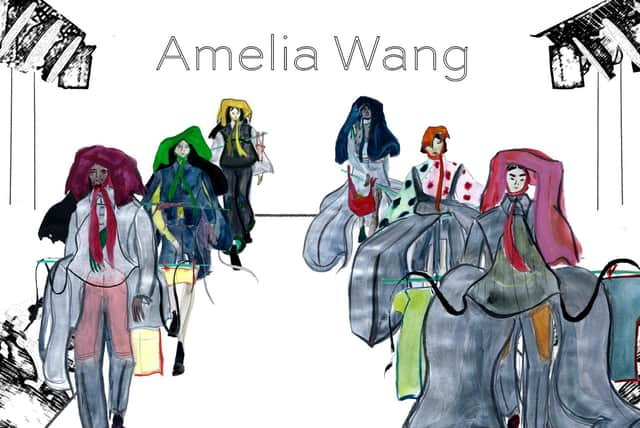 Amelia Wang is one of the fashion students whose work will be featured.
The art school, which dates back to 1760, says this year's show, which will see 2500 works showcased in an online gallery, has the potential to reach its biggest ever audience.
Players from the Scottish Chamber Orchestra will be among those helping to bring the work of more than 300 students to life over the summer.
Graduates will be interviewed by curators at the art school's Talbot Rice Gallery for the virtual degree show, which will feature paintings and drawings, architectural models, animated films, photography, textiles, jewellery and interior design.
One of fashion graduate Hermione Read's designs.
It will feature work inspired by the pandemic, the Chinese cultural revolution, Mary Queen of Scots, an empty shopping centre in Falkirk and Bessica Raiche, one of the world's first female aviators.
Professor Juan Cruz, principal of the art school, said: "One of the key impacts of lockdown for us has been the cancellation of our summer shows.
"These traditionally mark the moment when we celebrate our graduating students' achievements and support the start of their careers by bringing their work to a broader audience.
"The shows are an important opportunity for our students to gain experience of curating and presenting their work, and gauging its resonance with a wider audience.
"When it became clear that a physical show couldn't take place, we entered into dialogue with our graduating students about what we might do instead.
"By reassessing the purpose of the show, we arrived at alternatives that could help us achieve the same objectives. As a result, we will develop online portfolios for each of our graduating students and host a series of events including virtual exhibitions, concerts and live performances.
"Highlights will include players from the Scottish Chamber Orchestra airing work by our music composition students and an online catwalk showcasing creations by our fashion students, followed by a Q&A with industry professionals.
"Our alumni and other key figures with links to ECA will be lending messages of support to our students – offering feedback on our students' work, supporting their fledgling careers and creating that all-important echo so often absent in online events.
"Our new web platform will link to other exciting initiatives involving our students, which include an opportunity to have their work acquired by Edinburgh University. We also remain committed to staging a physical show, as and when that becomes possible.
"It has been amazing to re-imagine all of this with our students and so much of what we have thought about will shape our future shows.
"While no one would have wished the impacts of Covid-19 on any group of students, the class of 2020 – its architects, designers, artists, designers, musicians, curators, critics and filmmakers – have responded with vitality, energy and enthusiasm to the constraints and opportunities. We all have much to learn from them."
Mal Burkinshaw, senior lecturer and programme director in fashion, said: "This year the fashion students were unable to complete the manufacturing of their outfits for this year's show.
"We challenged them to showcase how their work might have looked on the catwalk, by asking them to illustrate their designs in personal and creative ways.
"It's a celebration of our talented students who have demonstrated great dedication, tenacity and positivity, despite the challenging circumstances."