Edinburgh Art Festival interview: Maria Fusco and Margaret Salmon on History of the Present
Susan Mansfield talks to Maria Fusco and Margaret Salmon about their experimental "opera film" on Northern Ireland's peace walls and the legacy of the Troubles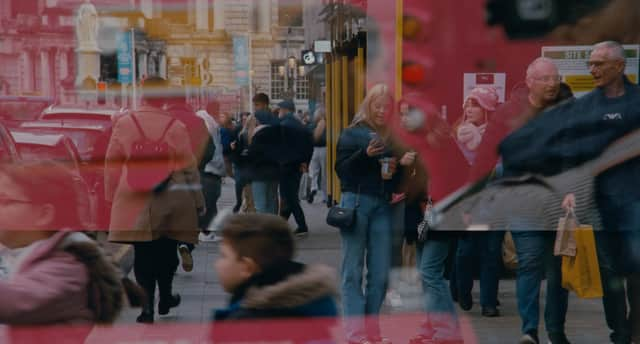 Standing on the corner of Alliance Avenue in North Belfast, the first thing you see is not the houses but the wall. The corrugated iron "peace wall", topped with chain-link fencing and barbed wire, towers above the modest semi-detached homes, blocking the light from the pocket-size back gardens, an ever-present reminder of the city's history.
The planned removal of the peace walls, built during the Troubles to separate Catholic and Protestant communities, was written into the Good Friday Agreement, but 25 years on only three have been removed. Some have become tourist attractions, covered by murals and graffiti tags. Here, in the working-class Catholic community of Ardoyne, people simply live in their shadow.
In April, as world leaders descended on Belfast to celebrate the 25th anniversary of the Good Friday Agreement, a new artists' film, with its origins here in Ardoyne, was premiered in the city. History of the Present, which will be screened on Friday at Edinburgh Art Festival, was written and developed by Maria Fusco, Professor of Interdisciplinary Writing at the University of Dundee, who grew up just yards away from the Ardoyne peace walls. It is co-directed by artist and filmmaker Margaret Salmon and Friday's screening will be accompanied by a live performance by percussionist Angela Wai Nok Hui.
Fusco grew up on Etna Drive, which intersects Alliance Avenue, and the area was a flashpoint for violence during the Troubles. "The irony that it was named after a volcano wasn't lost on us," she smiles. "And Alliance Avenue as well – there's no alliance involved!"
She wanted to make a different kind of film about Northern Ireland, one that didn't rely on the classic images of riots and hunger strikers.
"We made the decision not to use any archive film," she says. "We felt that those emblematic images of Northern Ireland can be a short cut for something that's a bit more complex. My experience of a riot, for example, was that you weren't standing looking at it, you were hiding, so it's actually mostly a sonic experience. You don't catch an RUC man's eye, especially if you're a young woman, you hear them walking behind you. So the experience of military and violent environments is mainly sonic."
She wanted to anchor the film in "the authenticity of lived experience" and says everything she describes in the libretto comes from her own experience. "There is a central question, which is: Who has the right to speak, and in what way? The inflection of working-class women's voices is completely central to the work."
She felt that Salmon's sensitive, lingering cinematic style could help confer a sense of dignity on the ordinary lives affected by the Troubles.
Salmon says: "I'm very interested in representation and forms of documentary practice, but also quite critical of those representations, of easy imagery that might somehow move audiences or convey some idea of a place. I was really conscious of wanting to engage with Belfast, to see it, but also to complicate and question that seeing.
"The film is layered – there are double exposures, split screen, vaseline applied to the lens, and so it is really working with the visuals in order to create openings for audiences to settle in and experience the sonic soundscape."
Sonically, the film uses excerpts of voice recordings made by Fusco's family in the 1970s and 1980s, as well as her mother's voice and her own, but also central is soprano Héloïse Werner, whom Fusco met through an Engender fellowship at the Royal Opera House in London, mimicking with her voice the sounds of helicopters and armoured vehicles. The film follows the basic structure of an opera, because of what Fusco describes as "the giant range of emotion" the form can hold.
The final piece of the puzzle was added when New York-based composer Annea Lockwood, a pioneer of field recording, agreed to compose additional music. The 83-year-old flew into Belfast as soon as Covid-19 rules relaxed sufficiently and made a beeline for the peace walls where she worked with a team from Sonic Research Centre from the University of Belfast.
"One of my first questions," recalls Lockwood, "was, 'When the wind blows, do the peace walls make sound?' They don't, they're too solid, but when I came to Belfast, we were actually able to learn how to play the walls. It felt like learning an instrument, and they made extraordinary sounds. Moving our hands, rocks, a leaf, it was astonishing how powerful the sounds were. I was trying to see if I could convey something of the massive heft and weight of those walls."
Fusco says she grew up with the sound of the riot squads hitting their batons against the metal of the walls to create a sense of intimidation. "So part of what I was interested in was what Annea would do, and she has made recordings of what is literally the voice of the wall, really capturing their materiality."
She says she was also interested in exploring the impact of living an ordinary life in a conflict zone, and hopes the film will resonate with others in similar situations around the world. "There's a cyclical brutalisation involved where things, even if they're very extreme, become quite ordinary. You're still frightened, but it's also, 'Oh, the soldiers are coming into the house again.' I'm sure this is the case for anybody who has lived in a conflict environment.
"But trauma is fragmented and weird, so this is not a straight story told in a straight narrative way, it's more ambiguous and ambient than that."
As an opera film, History of the Present combines the emotional resonance of opera with the accessibility of cinema, enabling it to travel, whether to the Ardoyne or film festivals around the world. Fusco says: "I'm a great believer in bringing more experimental forms to a mainstream audience. Not everybody needs or wants to be drip-fed easy stories.
"A form such as opera or artists film is not, of itself, elitist. I've always worked across disciplines, and found the form through the subject matter, not the other way round. From that point of view, there's nothing that's off bounds. Why can't a working-class woman's voice be rendered operatically in a way that she's not a buffoon or a servant? In the film, my mother has a monologue about cleaning a hospital chapel – why can't that be the aria?"
Maria Fusco and Margaret Salmon: History of the Present will be screened on 11 August at 8pm at the Queen's Hall, with live music by Angela Wai Nok Hui. Tickets are free, visit www.edinburghartfestival.com for more information.