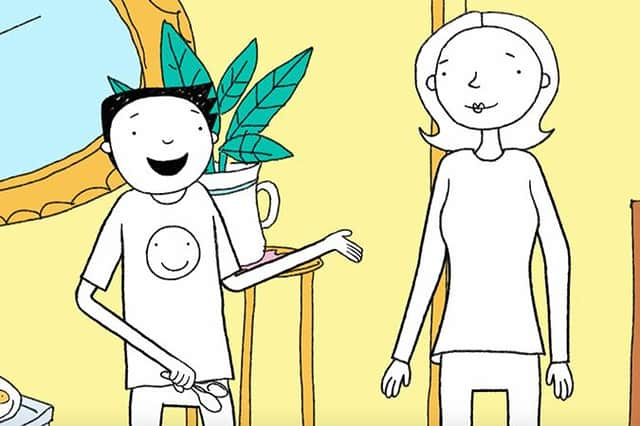 The Brilliant World of Tom Gates will be launched on the Sky Kids channel at the end of January.
The Brilliant World of Tom Gates, which will be launched on the Sky Kids channel at the end of January, will be based on the multi-million selling books series created by writer and illustrator Liz Pichon.
The first 20-part series is being launched to coincide with the 10th anniversary of the schoolboy "doodler extraordinaire" and the publication of the 18th book.
Two Scottish companies, Glasgow film and TV producers Black Camel Pictures and Stirling-based studio Wild Child Animation, have joined forces to make the 20-part series, which will see Tate play Gates's long-suffering mother Rita Gates and Bonnar play his "beady-eyed" teacher Mr Fullerman.
The show will feature 10-year-old TV newcomer Logan Matthews, one of the stars of the West End musical School of Rock, in the title role.
Pichon, a former music industry art director, has sold more than 11 million copies of her award-winning Tom Gates books, which have been translated into 44 languages, over the last decade.
She will appear in each episode of the series, which will feature a mix of 2D and stop-motion animation, as well as live action.
Pichon said: "The Brilliant World of Tom Gates is exactly the kind of TV show that as a kid I would have completely devoured.
Mark Bonnar's most recent roles have included a short film for the National Theatre of Scotland in which he played a troubled scientific adviser forced to make a public apology for flouting lockdown rules.
"The cast is amazing and I was so excited to see how they brought the characters to life. Now I can't wait for the children to see what we've all been working on."
Bonnar, who is also making a second series of the BBC Scotland drama series Guilt at the moment, is best-known for his starring roles in shows like Line of Duty, Shetland, Catastrophe and Casualty.
He said: "I'm very flattered to have been asked to play a long-suffering, grumpy school teacher in The Brilliant World of Tom Gates.
"It's great to be involved with such a successful and distinctive series of books and I'm really looking forward to discovering them in more depth and watching the TV series with my kids."
Illustrator and writer Liz Pichon has sold more than eight million copies of her Tom Gates books over the last decade.
Tate added: "The Brilliant World of Tom Gates books have a massive following and I'm looking forward to bringing Rita Gates to life for the books' loyal fans.
"Like most households with children, the Gates house is a bit of a madhouse and I'm sure the everyday chaos of family life will strike a chord with parents everywhere."
The three executive producers of the show are Pichon herself, Arabella Page Croft from Black Camel and Ken Anderson from Wild Child.
The pair said: "We're delighted to have secured such a talented cast, led by Catherine Tate and Mark Bonnar, to get under the skin of Liz's comic creations and bring them to life for their many fans."
Jennifer Armitage, screen officer at Scotland's national film and television body Screen Scotland, which is funding the production of the series, said: "TG Entertainment is run by two of Scotland's most dynamic producers and we are delighted to support this original new series, which will be wholly produced in Scotland."