Deep Time festival review: p.e.r.s.o.n.a.l.c.l.u.t.t.e.r, Fruitmarket, Edinburgh
The opening concert of the Deep Time festival offered music to infuriate, but also sounds to entrance and amuse, writes David Kettle
Deep Time/p.e.r.s.o.n.a.l.c.l.u.t.t.e.r, Fruitmarket, Edinburgh ****
Art galleries, not concert halls, have hosted some of music's most memorable premieres for decades. Could the same be said of Deep Time, the new four-day festival of experimental sounds in the post-industrial Warehouse at Edinburgh's Fruitmarket? On the strength of its opening evening, the answer's at least a partial yes.
Deep Time curators Katherine Tinker and Sam Woods had made a strong choice with all-female quartet p.e.r.s.o.n.a.l.c.l.u.t.t.e.r to launch the inaugural event – the players were witty, engaging, fiercely committed and, most importantly, clearly astonishingly talented musicians. Okay, their opening piece – Sara Glojnarić's playful and self-aware (not to mention ambitious) seconds, minutes, hours, eons, a Fruitmarket commission – was a little too pleased with its own meta-musical cleverness to make much of a mark, despite its pop culture nods to Friends, its running composer commentary and its warped karaoke. It was a lot of fun, though, as was p.e.r.s.o.n.a.l.c.l.u.t.t.e.r's closer, Jessie Marino's Jesus f***ing Christ Linda, a channel-hopping burst of joy and unpredictability collided with synchronised swimming poses, and delivered with brilliantly deadpan humour.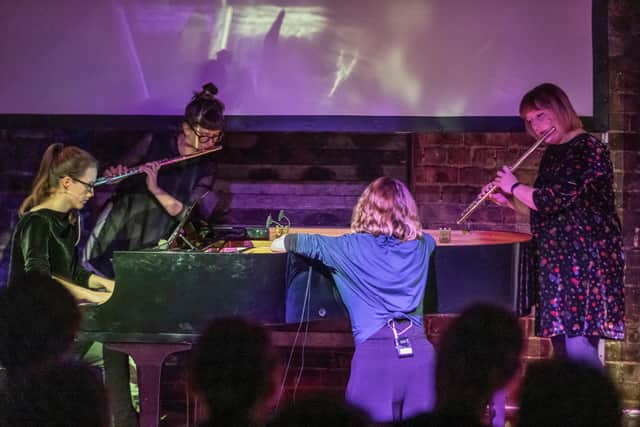 Berglind María Tómasdóttir calmed things down with her tender, intimate My Favourite Things, a warm hug of a piece – quite literally, as the four performers wrapped themselves around each other while intoning Tómasdóttir's naive vocal lines. Most impressive, however, was the evening's smallest-scale piece. Gregor, written by p.e.r.s.o.n.a.l.c.l.u.t.t.e.r flautist Jenni Hogan and performed by fellow ensemble flautist Helen Whitaker, invented a language of extended-technique clicks, taps and flourishes, together with flamboyant body movements, in music that was sometimes mechanistic, other times gloriously rhapsodic, but never less than compelling. Whitaker delivered it with utter conviction and insight, and a lot of engaging warmth too. Deep Time's opener offered music to infuriate, music to test your patience, but also sounds to entrance, amuse and fascinate – and frankly, you couldn't ask for more than that.