Danielle de Niese: 'Opera's coolest soprano' on opening this year's Cumnock Tryst
Danielle de Niese talks to Ken Walton about the unique challenges of performing Poulenc's one-woman opera, La voix humaine
Whose idea was it to open this year's Cumnock Tryst Festival with one side of a 40-minute telephone conversation? "I can't remember whether it was me, or something that the festival and I came together on," admits fireball lyric soprano Danielle de Niese. The work in question is Poulenc's one-woman opera La voix humaine, in which the distraught heroine Elle, over the painful course of an interrupted phone call to her ex, realises he no longer cares for her and has moved on. Poulenc referred to his opera as "a sort of musical confession".
For de Niese, acclaimed as "opera's coolest soprano" by the New York Times, and whose diverse theatrical skills have enabled the Australian-American to switch between high opera and musical theatre at the drop of a hat (she's just finished a London revival of Aspects of Love with Michael Ball) this is a role to die for. "When Cumnock approached me I was in the throes of making a movie about the opera," she explains. "I'd had my fill doing it as a film. The next thing I said was 'Oh my God, I have to perform this!'"
In Cumnock the emphasis will be on the contained hysteria afforded by Poulenc's own piano accompanied version. De Niese will be working with pianist Matthew Fletcher in what has been billed her "debut Scottish recital", though that's unlikely to diminish her natural inclination to emote.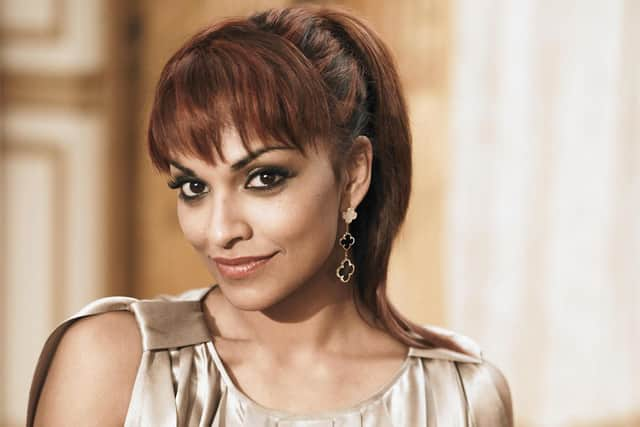 "Doing it this way will make it like a theatrical funnel, even more intense and impossible to divert attention to anything other than the words and the emotional state of the character," she believes. "I'll probably use a few props, to create a bit of architecture. I'll decide when we get into the space, using instinct to produce something that works."
Things are going well for de Niese. She's never been busier, right across the performance spectrum: "Following Aspects of Love, I'm doing a cameo in Alfie Boe's concert at the Palladium, singing Musetta in La Bohème at Covent Garden, filming for Sky Arts, and debuting as Anna in Kurt Weill's The Seven Deadly Sins with Edward Gardner and the LPO." Next summer, she stars in a new production of The Merry Widow at Glyndebourne.
The last, of course, is literally a home gig. In 2009 de Niese married Gus Christie, owner of Glyndebourne, with its elegant manor house and world famous festival opera, so what was once the scene of her early operatic triumphs has now become her home. "Before Gus and I became a couple it was always a special place for me. I came here as Cleopatra [in David McVicar's 2005 staging of Julius Caesar] when I was 25, which catapulted my career to another level," de Niese recalls. Now she's Glyndebourne's real-life chatelain. "It's very beautiful and remote. It provides artists both with an escape and an arrival of sorts."
Arriving in Cumnock next month has its own special significance for de Niese. In addition to the Poulenc, she'll be singing two new world premieres – The Vows and Soul Song – by the Tryst's founder and artistic director, Sir James MacMillan. "We'd been talking about doing something together for the better part of a decade, so looking at them now I'm so excited."
The words are by longstanding MacMillan collaborator, the poet Michael Symmons Roberts. "I don't know if they were written in the knowledge they would share a programme with La voix humane, but they are every bit as sumptuous. They take you by the neck, then drop you and let you go."
"When the songs arrived in the mail, I was absolutely shocked to see James had dedicated them to me on the title page. It brought me back to my eight-year-old self looking at Fauré and Debussy songs and wondering who these mysterious people were in the dedications."
Are there plans for a repeat performance? "I'm hoping we'll get a chance to do them in London, and I'm hoping to hear from James that he's got round to orchestrating them." That's a call she'll happily accept.
Danielle de Niese opens the Cumnock Tryst on 5 October at Trinity Church, Cumnock. Full festival details at www.thecumnocktryst.com