Crowdfunder launched to bring hidden history of Scotland's radical 'gallus women' into the classroom
The "hidden history" of Scotland's suffragettes and female activists will be taught in schools and youth groups across the country under a project to raise awareness of the "gallus women" behind landmark protests and campaigns.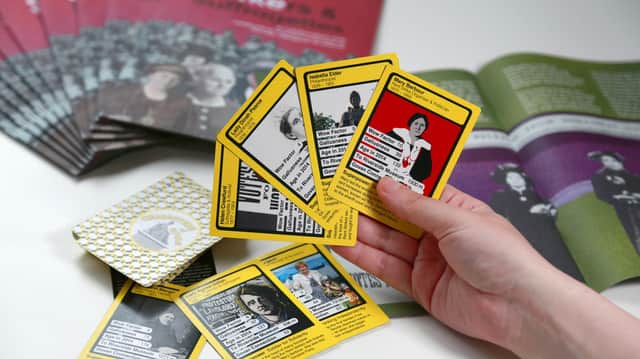 A new crowdfunding initiative, backed by national arts agency Creative Scotland, is pledged to create packs of playing cards, educational activity packs and "zines" featuring the words and stories of more than 30 little-known radical activists.
Historians, artists and activists are joining forces to "rediscover the voices and actions" of trailblazing figures like Mary Barbour, Agnes Dollan, Mary Jeff, Helen Crawfurd, Helen Fraser and Jessie Stephen.
The Celebrating Scotland's Suffragettes project will join forces with more than 100 schools across the country initially if its £15,000 goal is successful. By yesterday it had passed £11,600.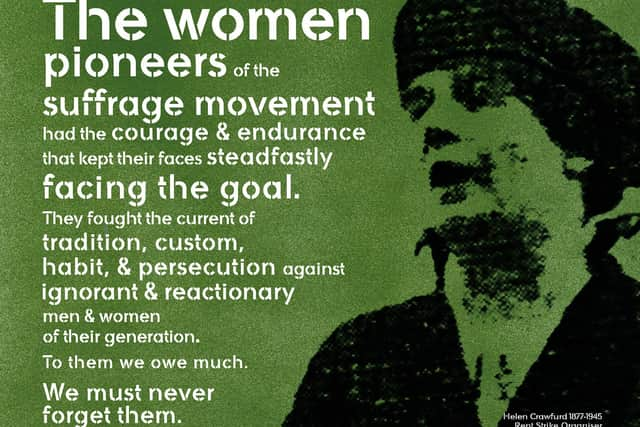 It is one of 19 projects involved in a new £40,000 Creative Scotland project, developed with the Crowdfunder platform, to offer match-funding of up to £5,000 to projects.
Helen Crawfurd was a Red Clydeside activist, peace campaigner and communist, who played a key role in the Glasgow rent strikes, as did Mary Barbour, who also became one of the city's first female councillors.
Agnes Dollan joined forces with Crawfurd to organiser anti-war demonstrations on Glasgow Green and was jailed for involvement in the rent strikes. She was also the first woman selected by Labour to stand in the city and became a leading party figure.
The project's crowdfunding page states: "We want to highlight Scotland's hidden history and the women who led important protest.
"Their inspirational words and actions aren't in most history books – but they should be. We want to get young people excited about these mighty activists, and inspired to discover more about them.
"Our aim is to distribute educational activity packs to schools and youth groups across Scotland, so that these inspiring histories to reach as many young people as possible."
Glasgow-based T S Beall, one of the artists involved in the project, said: "The ambition for the project is to promote active citizenship and to help young people understand better – and to remind the rest of us – that our participation in civic life is both a duty and a great honour.
"My ability to vote is something that was fought for and hard-won and many women campaigned for over 100 years for that right.
"Our ambition for the project is to make packs for 100 schools and youth groups across Scotland, and to also be able to offer them to schools elsewhere in the UK and even internationally. We also want to develop an online resource that is freely accessible."
Creative Scotland had initially set aside £20,000 for the Crowdfunder partnership but agreed to double its contribution after receiving more than 60 applications.
Clive Gillman, director of creative industries at the arts body, said: "This project is a fantastic example of how creativity can bring history to life and engage with young people in new and innovative ways. This is just one of 19 projects, from album recordings to a community cinema programme, which are raising funds to bring quality creative experiences to people across the breadth of Scotland.
"We are partnering with Crowdfunder to support creative practitioners and organisations to explore new ways of fundraising and building communities."
Jason Nuttall, programme director at Crowdfunder, said: "Crowdfunding gives people and organisations a platform to validate ideas, raise awareness of new projects, and build lasting relationships with their supporters. It's also an innovative way to fund a creative project and grow a business."
Comments
 0 comments
Want to join the conversation? Please or to comment on this article.