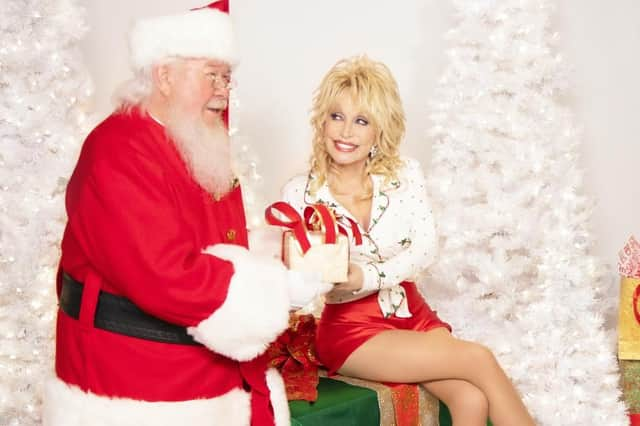 Dolly Parton: A Holly Dolly Christmas (Butterfly Records/12Tone Music) ****
Carrie Underwood: My Gift (Capitol Nashville) **
Chilly Gonzales: A Very Chilly Christmas (Gentle Threat) ****
Calexico: Seasonal Shift (City Slang) ****
Kelly Finnegan: A Joyful Sound (Colemine Records) ****
Goo Goo Dolls: It's Christmas All Over (Warner Records) **
Tori Amos: Christmastide EP (Decca) ****
Various: Lost Christmas: A Memphis Industries Festive Selection Box (Memphis Industries) ****
How to soundtrack a Christmas like no other? As many scrabble for some kind of normality over this festive period, some will cleave to the conventional – and for those listeners there are seasonal albums by Andre Rieu, Alfie Boe and multiple versions of O Holy Night to behold.
But there are no tidings of greater joy than the archangel Dolly Parton proclaiming a Cuddle Up, Cosy Down Christmas alongside Michael Bublé, the Andy Williams of his day. Not content with funding research into a Covid vaccine, Parton also delivers the musical medicine on A Holly Jolly Christmas in the company of guests including her brother Randy Parton, Miley Cyrus, TV host Jimmy Fallon and the blessed Willie Nelson.
Sentimental nativity tale Circle of Love tests her singular ability to ladle on the schmaltz without being sickly, while the cosy hoedown of Christmas on the Square gains bonus points for mentioning thermal underwear before she goes out all guns blazing on gospel epic Mary, Did You Know?
Fellow country diva Carrie Underwood also covers the latter on My Gift, a tasteful but bombastic delivery of hymns, standards and originals, including the sterile pop gospel of Let There Be Peace and the John Legend duet Hallelujah.
For an alternative country Christmas with Tex Mex trimmings, try Tucson duo Calexico who dip their toes in Yuletide waters with Seasonal Shift. Their melting pot party list includes Tuareg singer/guitarist Bombino and fabulous Guatemalan Gaby Moreno sweetly singing Mi Burrito Sabanero – Venezuela's answer to Little Donkey. Gisela Joãocommands sultry fado number Tanta Tristeza and they wave off their guests with festive messages from around the world (including Scotland).
Calexico are one of a number of acts pushing the Christmas envelope. In contrast to Dolly's holly jolly approach, renaissance pianist Chilly Gonzales posits A Very Chilly Christmas. The man who holds the record for the longest solo concert (27 hours) confines himself to a 36-minute suite of minor key-board versions of Crimbo classics, applying klezmer chords to Jingle Bells.
His buddy Jarvis Cocker breathily recites In The Bleak Midwinter, Feist co-writes and sings snug ballad The Bannister Bough and both guest on the romantic Snow Is Falling In Manhattan by the late David Berman, before Auld Lang Mynor cautiously welcomes the new year.
Kelly Finnegan, frontman of Bay Area soul outfit Monophonics, also evokes a wintry watchfulness on A Joyful Sound. There is nothing overtly Christmassy in the neo retro soul arrangements but he's got Santa on his mind on the exquisite ache of Waiting on the Big Man and the finger-popping groove of Santa's Watching You.
Goo Goo Dolls take the Ramones-via-Phil Spector route on It's Christmas All Over by Tom Petty and swing the Louis Prima number Shake Hands with Santa Claus. Their own contribution to the Christmas canon, This is Christmas, is underwhelming, though many will recognise the family negotiations of You Ain't Getting Nothin'.
Tori Amos offers some holistic hope on four-track EP Christmastide (plus a Christmas card if you buy the vinyl edition). The breathy seduction and overdubbed vocal flutter of the title track and flowing lyrical beauty of Circle of Seasons contrasts with the more torrid and dynamic rock arrangements of Holly and Better Angels.
Lost Christmas is a compilation of festive tracks, mostly originals, recorded by artists from the Memphis Industries label, including the distinctly playful, angular Field Music, bittersweet indie bubblegum from Francis Lung, Rachael Dadd's jazz/folk incantation and a vocoder version of Have Yourself A Merry Little Christmas by the Phoenix Foundation, offering gentle succour for the Covid winter and proceeds to the Crisis Home for All Campaign.
Thomas Wilson: Symphonies Nos 2 & 5 (Linn) ****
The RSNO has followed up its previous pairing of Thomas Wilson symphonies Nos 3 & 4 with another, Nos 2 & 5, which means we now have an instructive and effectively complete record of the symphonic output of one of Scotland's most significant 20th century composers. Wilson jettisoned No 1, so this Second Symphony of 1965 is where the story starts. It is typical of its time: pragmatically post-Bartok in style, intellectually austere, but remarkably precise and punchy in its directional purpose. Conductor Rory Macdonald elicits a performance of rhythmic vigour and emotional heft. The final Fifth Symphony, premiered three years before Wilson's death in 2001, speaks with more comforting reassurance, but not without echoes of that same excitability driving the earlier work. It's the juxtaposition of these extremes, and their journey towards resolution, that bring this symphony to life. Wilson's music has been neglected since his death. Here's the reason that should change. Ken Walton
Katie McNally Trio: Now More Than Ever (katiemcnally.com) ****
A lithe opening jig set signals the brisk and inventive approach of this American trio with a palpable love of Scots fiddle music, filtered through Cape Breton traditions while absorbing other influences as diverse as bluegrass and jazz. With fiddler McNally's strings bolstered effectively by those of viola player Shauncey Ali and punchy accompaniments from pianist Neil Pearlman, the album was produced by Scots fiddler-guitarist Anna Massie. McNally's composition June's Right Arm sees her break out flamboyantly over percussive piano and viola, while her winsome air Worthley Pond sails over limpid piano. John and Maurizio's Wedding March advances with warm stateliness before giving way to a vivacious account of Donald MacLeod's great pipe tune Dr MacInnes's Fancy. They sign off with characteristic flourish, as the glide of Dr John O'Grady's 75th snaps into The Quinie Fae Rhynie – quaintly titled but taking no prisoners. Jim Gilchrist
A message from the Editor:
Thank you for reading this story on our website. While I have your attention, I also have an important request to make of you.
The dramatic events of 2020 are having a major impact on many of our advertisers - and consequently the revenue we receive. We are now more reliant than ever on you taking out a digital subscription to support our journalism.
Joy Yates, Editorial Director