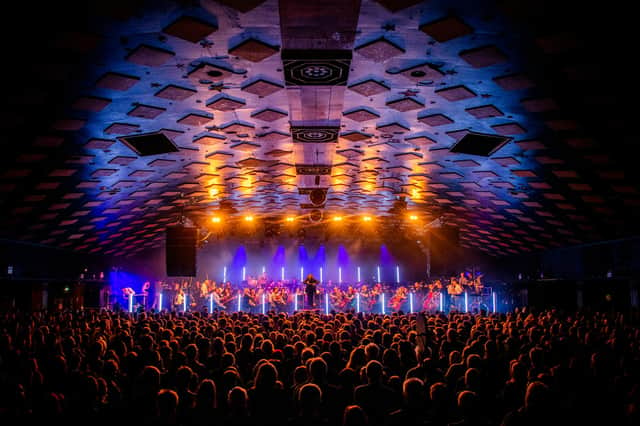 The Barrowland Ballroom will be among the venues used for next year's 'digital first' Celtic Connections. Picture: Gaelle Beri
More than 50 acts will be taking part in the 28th festival, which will see specially-created shows broadcast online every night across 19 days in January and February.
Musicians will be taking to the stages of much-loved festival venues like the Royal Concert Hall, the Old Fruitmarket, the City Halls and the Barrowlands for the filming of performances between now and the end of the festival.
Although the line-up of performers is being kept under wraps until December, organisers say it will include several specially-commissioned projects, as well as "an array of the most well-known and best-loved acts that have traditionally graced the festival stages."
The revival of the festival, which normally features more than 2000 musicians performing in around 300 events across Glasgow, is expected to provide crucial employment for artists, technicians and other backstage staff.
Celtic Connections, which is being funded to the tune of £128,284 by the Scottish Government and £183,333 by Creative Scotland next year, has announced plans for a "digital first" festival seven months after music venues across the country were forced into lockdown.
Socially-distances indoor events are likely to be allowed in some areas from next week under the new five tiers of restrictions. However Glasgow is expected to enter the system at the second highest level due to the current infection rates in the city.
Although Celtic Connections is being planned on the basis audiences will not be able to attend any performances, it is understood the door will be left open if live indoor events are being allowed in the city by the start of the year.
A number of events will either be pre-recorded during the run of the festival, from 15 January-2 February, or will be broadcast live from venues.
An official statement announcing the return of the festival, which was first staged in 1994, notably does not rule out having audiences at any of next year's shows.
It said "All concerts will be recorded while fully adhering to social distancing guidelines and all current government guidance will be observed and followed."
The Grit Orchestra in action at the opening concert of Celtic Connections this year. Picture: Gaelle Beri
Details of how to watch the shows and performances in the festival programme will not be announced until later this year, although there will be a mix of free and ticketed events.
Creative producer Donald Shaw said: "One of the hardest consequences of the virus for musicians has been the loss of live audiences in venues, so like many festivals we have had to look to an alternative way of presenting the Celtic Connections experience.
"In a world where so much is unknown it is vitally important that as a sector, we do all we can to ensure the longevity of Scotland's culture.
"Sharing our music and our arts is a vital part of our human existence, it connects us as a nation both at home and abroad."
The Royal Concert Hall, the home of Celtic Connections in Glasgow since the festival was launched in 1994: Picture: Gaelle Beri
Alan Morrison, head of music at Creative Scotland, said: "Despite the challenges of Covid, next year's festival will extend its reach by providing a platform for musicians itching to perform for audiences at home and abroad.
"With Glasgow's venues and Scotland's tech crews ensuring top-quality production values for every show, it is sure to be a celebration of everyone who makes live music possible – even in these troubled times."
A message from the Editor:
Thank you for reading this article. We're more reliant on your support than ever as the shift in consumer habits brought about by coronavirus impacts our advertisers.
If you haven't already, please consider supporting our trusted, fact-checked journalism by taking out a digital subscription.
Salsa Celtica in action at the Old Fruitmarket in Glasgow earlier this year during their 25th anniversary show at Celtic Connections. Picture:
Joy YatesEditorial Director
The Transatlantic Sessions shows are among the hottest tickets in the Celtic Connections programme each year. Picture Gaelle Beri