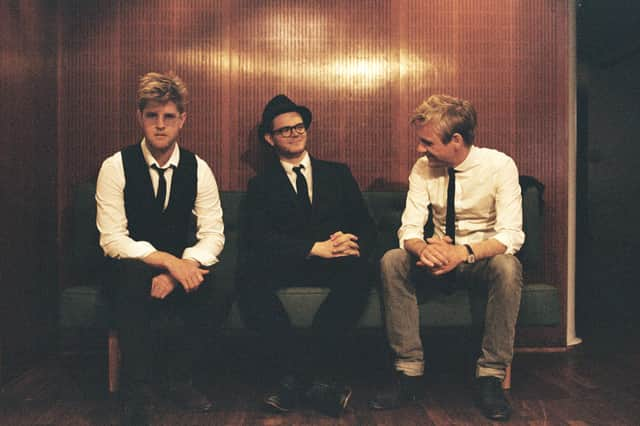 In these dismal times, one positive if ironic aspect of the necessary transformation of Celtic Connections into an online-only festival is that the sound quality has been continuously impeccable. This best of all acoustic worlds has been particularly evident with the larger groups, such as those assembled for two of the festival's perennial New Voices commissions streamed so far.
Josie Duncan (****), better known as a traditional singer, presented a sequence of catchy folk-pop songs, couched in nicely textured accompaniments from a fine eight-piece band, including mellow strings from Lauren MacColl and Alice Allen, Admiral Fallow's Louis Abbott on drums and saxophonist Matt Carmichael. There's no lack of ambition evident when you title your opener The Universe, a catchily cosmic little number. Duncan's thoughtful, conversational lyrics wound on in Evil Plan, with its thumb piano chimes from percussionist Signy Jakobsdottir, and closed, appropriately enough, with the upbeat exuberance of The Finish Line.
Some of the same musicians cropped up in the fine band assembled by fiddler and bassist Charlie Stewart (****), a former Radio Scotland Young Trad Musician of the Year for his New Voices recital, Stewart leading on fiddle with MacColl re-appearing, alongside fellow string players Megan Henderson and Juliette Lemoine, and jazz input from saxophonist Carmichael, drummer Stephen Henderson and pianist Fergus McCreadie. Stewart's compositions flowed easefully, at times developing muscle with faint echoes, perhaps, of Moving Hearts – Yellowhammer, for instance, with its high drift of strings, edgy piano figure and moments of reflective stillness. Meanwhile, West Lomond had the lingering feel of an auld Scots air, opened nicely by MacColl before Stewart took the lead and the arrangement became expansive, strathspey-like, yet including an animated tenor sax excursion from Carmichael.
Saturday night further exemplified the kind of compendious online delights the festival has been curating. Live from Copenhagen came the Danish-Swedish trio Dreamers' Circus (*****), folk-rooted but genre-defying in music that shifted through the playful and the sublime as Rune Tonsgaard Sørensen, Ale Carr and Nikolaj Busk switched seamlessly between instruments, as in their magical opening air as fiddle and cittern gave way to the chimes of the kannel zither. Elsewhere, fiddle strings skirled over ringing piano in traditional Danish dances while in The World Was Waiting – a tune "about hope" – they whistled as well as played its irresistibly jaunty melody.
Back in Glasgow, Gaelic singer Kathleen MacInnes (****) performed with her characteristic combination of casual stance, smoky tones and restrained power, accompanied by Mike Vass on fiddle and guitar and pianist-flautist Mhairi Hall. She brought urgency to the Benbecula song Thugainn a Bhlàrag and a tenderness to the hymn A Thighearna Dhia, for which Irish singer Michelle Burke provided vocal harmony.
The habitually high-energy quintet ĺmar (****) took an unexpected delve into the hymnal themselves, taking their collective foot off the accelerator for the old Irish air Slane, more widely known as the hymn Be thou My Vision. They played it with real feeling, too, fiddler Tomás Callister and the uilleann pipes of Ryan Murphy sounding out nicely, before they changed back into overdrive for their full-tilt finale.
The change of pace and setting couldn't have been more dramatic as, from the converted Glasgow church in which ĺmar were performing, the scene switched to a breathtaking viewpoint high above the glimmering lights of Jodhpur in the northern Indian state of Rajasthan, as the Womanly Voices of Jodhpur RIFF (Rajasthan International Folk Festival) (*****) sang to bring up the sun. They started in darkness, city lights glimmering below them, and continued until morning sunshine reddened the battlements of the vast Mehrangarh fortress behind them.
Their community has suffered badly during the pandemic and there was something profoundly moving in these five resplendently robed women – accompanied by three men on percussion and the plangent strings of the bowed sarangi – singing their way from darkness into light and what one could only hope would be a better day.
A message from the Editor
Thank you for reading this article. We're more reliant on your support than ever as the shift in consumer habits brought about by coronavirus impacts our advertisers.
Joy Yates, Editorial Director