Celtic Connections reviews: Conundrum | Transatlantic Sessions | Elephant Sessions
As the first ever online Celtic Connections festival reaches its conclusion, Jim Gilchrist enjoys an eventful final weekend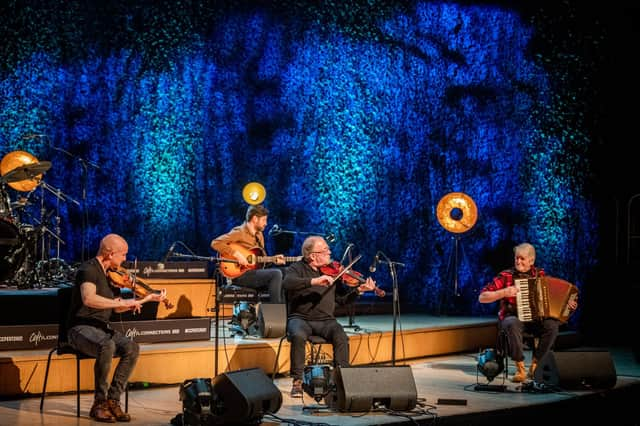 Thursday night's Conundrum (****) piping concert (named after a famous march), saw Finlay MacDonald at Glasgow's National Piping Centre lead a salutary showcase of emerging talent. Malin Lewis, Ailis Sutherland, Bradley Parker, and Conal McDonagh performed a shifting sequence in which they played in ever-changing duet and solo sets on bellows-blown Border and small pipes (plus, in McDonagh's case, Irish uilleann pipes), accompanied by a crisp trio of guitar, bodhran and keyboard and joined latterly by another notable player, Ross Ainslie.
Down the road at Glasgow Royal Concert Hall, the piping collective Tryst's ten-strong circle of reed power had opened the concert with engagingly unorthodox Highland pipe arrangements. Featuring several notable figures from the folk piping scene, repertoire ranged from the stately piobaireachd Lament for Viscount Dundee, its variations emerging from a matrix of harmonies, to a lively closing set of tunes by the late Gordon Duncan.
The evening's non-pipes interlude came from the trio Project Smok, led by the nimble whistle playing of Ali Levack, alongside guitarist Pablo Lafuente and bodhran player Ewan Baird, tight sets such as Mountain Road developing from stealthy guitar through shifting time signatures and Levack's avian-sounding playing.
A perennial sell-out, Transatlantic Sessions (****) assembled a grand house band on the Royal Concert Hall stage, including regulars such as fiddlers Aly Bain and John McCusker, flautist Michael McGoldrick, singer-guitarist Kris Drever and accordionist Phil Cunningham. Their opening numbers included the kind of plaintive waltz, Frank McConnell's Three-Step, that Bain and Cunningham have made their own.
Singer and whistle player Julie Fowlis gave a lovely rendition of Bothan Àirigh am Bràigh Raithneach before we were whisked, thanks to internet alchemy, from Gaeldom to Nashville, where banjoist Alison Brown, bluegrass fiddler Stuart Duncan, Irish singer-guitarist John Doyle and singer-mandolinist Tim O'Brien were gathered, with sparkling instrumental interplay and songs such as O'Brien's Storms Are on the Ocean (a nod perhaps to the virus, rather than the ocean, that divides us), laced sinuously by Duncan's western fiddle. Also there was Molly Tuttle, accompanying her song Take the Journey with glittering clawhammer guitar.
Remotely joining the Glasgow band's jubilant Wishing Tree set came the dobro sigh of US slide guitar maestro Jerry Douglas, normally the show's co-host with Bain, while Kris Drever's heartfelt I'll Always Leave the Light On sounded a timely note of promise.
In Inverness, the high-powered quintet Elephant Sessions (****), playing together for the first time since March, certainly made up for lost time. The ultra-tight mandolin and fiddle front line of Alasdair Taylor and Euan Smillie, founded on punchy guitar, bass and drums with shadings of electronica, kept up an insistent beat, with just occasional lulls, as in the mellow reverb and synth introduction to Summer or the marimba-like interjections infiltrating some numbers.
Seldom did they let up, and one couldn't help admiring their determined efforts, amid flickering spots and flares, to whip up an all-too-absent crowd – surely a sign of these strange times.
A message from the Editor:
Thank you for reading this article. We're more reliant on your support than ever as the shift in consumer habits brought about by coronavirus impacts our advertisers.
Joy Yates, Editorial Director