Celtic Connections review: Transatlantic Sessions, Glasgow Royal Concert Hall
This good-spirited gathering of highly-talented musicians was a fitting way to round off this year's Celtic Connections festival, writes Fiona Shepherd
Transatlantic Sessions, Glasgow Royal Concert Hall ****
The 30th edition of Celtic Connections wrapped up with the relaxed feet-up glow of a job well done, a resounding cultural and commercial success after three years of limbo, rounded off in the familiar company of the Transatlantic Sessions. This consistently popular cultural exchange of Celtic music is the festival in microcosm – talented musicians with a sharing spirit doing what they love for an appreciative audience.
The 20th edition featured the familiar Transatlantic family, helmed by Aly Bain and Jerry Douglas, with return visits from the likes of Martha Wainwright and Liam Ó Maonlaí but also new guests to replenish the well. Amythyst Kiah drew on the blues and folk traditions of her native Tennessee – backed by a "pretty little string section" she presented her own mellow rootsy singer/songwriter material as well as Appalachian folk song – while Allison de Groot and Tatiana Hargreaves, on clawhammer banjo and fiddle respectively, were fully immersed in bluegrass tradition, displaying dexterous chops and characterful expression to easily hold their own in the company.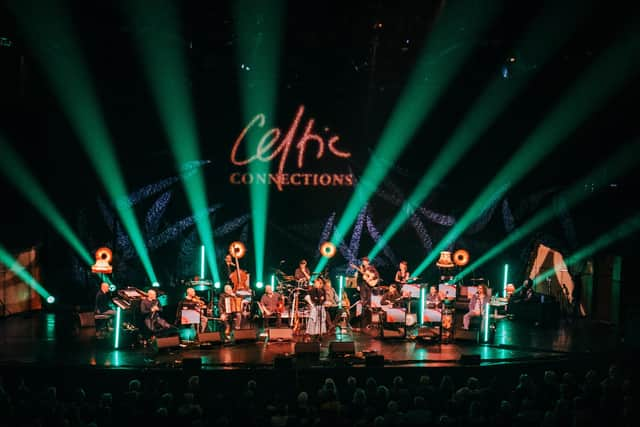 Ó Maonlaí lived up to his "shaman of showman" introduction with a hypnotic set of Celtic-infused jazz, while the ever-mesmeric Wainwright paid tribute to her mum Kate and aunt Anna McGarrigle – alumni of the first ever Transatlantic Sessions – with a version of Goin' Back to Harlan which was all feeling. Karen Matheson was on hand to provide exquisite backing vocals as well as her own featured spot, making light weather of self-styled grim sailings and pulpit rantings.
There was more in the way of comfort and solace in the second half, including Ó Maonlaí's Worry Not and a cathartic accordion lament for the people of Ukraine from Phil Cunningham, interspersed with regular toe-tapping instrumental sets from an ensemble of old friends. As their warm gathering grew to a close for another year, there was always time for one more tune.