Celtic Connections: Muireann Nic Amhlaoibh & the Irish Chamber Orchestra – Róisín Reimagined, Glasgow Royal Concert Hall *****
Ireland's classic sean-nós ("old style") songs are aureate bardic creations, centuries old, with an inherent dignity that can still palpably move listeners, as Kerry singer Muireann Nic Amhlaoibh discovered when she sang on TV during lockdown.
Giving them orchestral accompaniments for her Róisín Reimagined project could have been a risky business but here, performing with the Irish Chamber Orchestra, she delivered them with a combination of lissom musicality and authority. The orchestral settings, commissioned from six contemporary composers and augmented by occasional pipes and fiddle, proved generally atmospheric rather than overintrusive, steered by conductor-pianist Cormac McCarthy.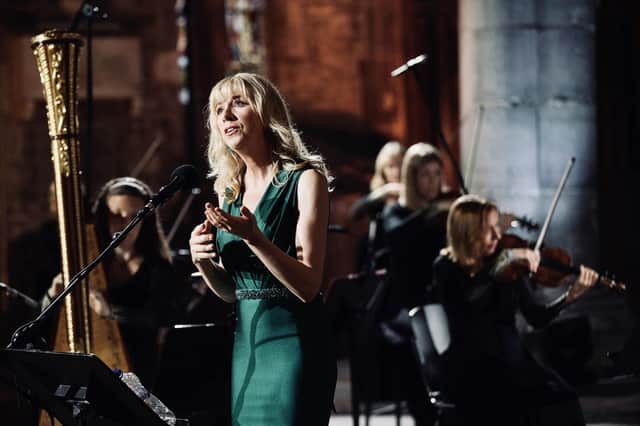 The strings' cinematic sweep cusped the opening Róisín Dubh, one of the great "aisling" or visionary songs, without hampering Nic Amhlaoibh's passionate yet delicately shaped vocals. Her swooping cadences also finely articulated An Rabhais ar an gCarraig? – "Were You at the Rock" – its coded references to illicit mass-going signalling plaintively across centuries, while the remorseful leave-taking of Slán le Máigh was reflected by shadowy, melancholic strings.
There was a profoundly moving tribute to renowned accordionist, singer and tradition-bearer Séamus Begley, who died earlier this month and who, said the singer, had taught her many of these songs, not least the utterly beautiful love song Bruach na Carraige Báine – "The Top of the White Rock" – she gave us in his memory.
There was a keening quality, too, in the plangent Bulgarian lament which opened an earlier set from pipers Brìghde Chaimbeul and Ross Ainslie with guitarist Steven Byrnes, leading into some vivaciously chirping Bulgarian dance tunes. Moving on through more familiar strathspeys and reels, their performance, on well balanced small pipes while Byrnes switched between guitar and mandola, was crisp and exhilarating.