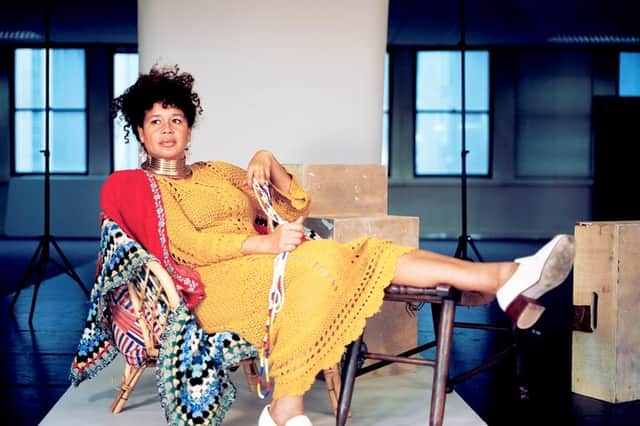 Alberta Whittle will follow in the footsteps of artists like Charlotte Prodger, Rachel Maclean, Graham Fagen, Karla Black and Martin Boyce when she unveils a host of new work at the Venice Biennalle in 2022.
Whittle, who works in film, sculpture, print, performance and installation, is expected to address themes including colonialism, xenophobia, climate change and the global pandemic in the show, which she is making in collaboration with the Glasgow International festival, which premiered a new film by the artist earlier this year which touched on the Windrush scandal and the role of immigrants in the NHS's efforts to handle the pandemic.
Whittle, who was born in Barbados, moved to Birmingham as a teenager with her family and studied in Glasgow, has explored the legacies of colonialism and the slave in work which has been exhibited at Dundee Contemporary Arts and Edinburgh Printmakers in recent years.
Her work, which she describes as "motivated by the desire to manifest self-compassion and collective care as key methods in battling anti-blackness," has also been shown in London, Johannesburg, Brussels, Dakar and the Bahamas.
In an interview last year, Whittle described Scotland's relationship to the Empire and colonialism as the country's "dirty secret."
She said at the time: "A long overdue reckoning with Scotland's role in the colonial project is necessary to begin the work of tackling racism and anti-blackness that still affects everyone."
Whittle has been selected by the Scotland & Venice partnership which involves the Scottish Government, Creative Scotland, British Council Scotland, the National Galleries of Scotland and Architecture and Design Scotland.
Amanda Catto, chair of the selection panel, said: "We're thrilled to be working with Alberta Whittle on this timely and ambitious exhibition of new work for La Biennale in 2022. 
"Alberta is a remarkable artist with a profoundly international outlook and a strong, empathetic practice.   
"In deeply unsettling times her work offers us remarkable moments for honest reflection, deep connection and collective hope. 
Whittle said: "After living in Scotland for nearly all of my adult life, I was thrilled to hear the news that I would be representing the country at the Venice Biennale.
"With so many urgent conversations on health, grief, refusal, race and healing at the forefront of my mind, now is the moment to ask questions about how we can unlearn and be more actively reflective on a personal level as well as collectively. 
"I'm looking forward to using this opportunity to develop new work in these charged times."
Scottish culture secretary Fiona Hyslop said: "Alberta Whittle stands out as a Scottish-based artist who explores challenging questions on inequality and the environment in her acclaimed films, sculptures, performances and installations.
"I am pleased that she will be representing Scotland in 2022, and I look forward to seeing what topics she will address and how she will present them."