Figurehead of 'Edinburgh Seven' campaign to ensure women could study medicine inspires new drama
She was the fearless and formidable 19th century trailblazer for the rights of women to study at university and practise medicine.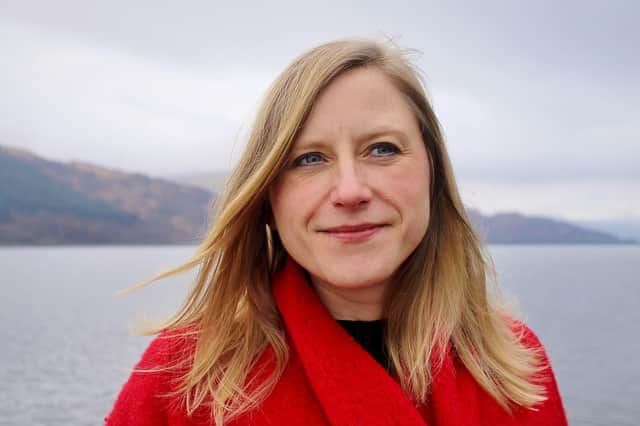 Frances Poet has written the new play based on Sophia Jex-Blake and the campaign she instigated.
Now Sophia Jex-Blake, the figurehead of the Edinburgh Seven campaign which sparked uproar in the city's medical establishment more than 150 years ago, is to take centre stage in a new play which will also lift the lid on her little-known private life.
Her prolonged battle for women to be allowed equal treatment in the medical and academic worlds will take centre stage in a new drama being launched next month by two of Scotland's leading theatres.
It will recall how the campaign sparked in 1869 after Jex-Blake's application to study medicine at Edinburgh University was rejected on the grounds that making special arrangements for a female student could not be justified.
After the then editor of The Scotsman, Alexander Russel, agreed to run an appeal for other women interested in studying medicine to come forward, the Edinburgh Seven became the first female students to matriculate at a British university.
They would face prolonged opposition and hostility from staff and fellow students, had to arrange lectures for themselves and even faced a riot outside an anatomy exam, and were prevented from graduating following a prolonged court battle.
But their campaign eventually resulted in legislation ensuring that women could study medicine at university and Jex-Blake would become Scotland's first practising female doctor.
Written by Frances Poet, the play Sophia will be premiered on 27 August on a new audio-digital platform developed by Edinburgh's Royal Lyceum Theatre and Pitlochry Festival Theatre, but is hoped to be revived for the stages of the two venues.
The campaign instigated by Sophia Jex-Blake in Edinburgh led to the first women marticulating at a British university.
Poet first developed an interest in the life of Jex-Blake after reading a profile five years ago and purchased a biography in 1918 – six years after Jex-Blake had passed away – which inspired an early draft of the script.
However it was not until after the Covid-enforced shutdown of theatres and the commissioning of the play for the Sound Stage season that Poet discovered that the biography's author, Margaret Todd, one of Jex Blake's first students at her own Edinburgh School of Medicine for Women, and her subject had been in a long-term relationship.
Poet said: "The play I've written now and is not the one I would have written a few years ago.
"When I read the biography, which is incredibly detailed and a great source of material about Sophia Jex-Blake, I didn't really think about who the author was.
The 'Edinburgh Seven' students who blazed a trail for women's access to higher education were awarded posthumous honorary degrees three years ago, 150 years after beginning their studies. Violet Borkowska, Hikari Sakurai, Megan Cameron, Simran Piya, Caitlin Taylor, Izzie Dighero and Mei Yen Liew collected the degrees on their behalf. Picture: Callum Bennetts
"But by the time I got the opportunity to revisit my original material I discovered that it was written by her lover of around 20 years, who trained under her in Edinburgh and became a doctor in her own right.
"I then became fascinated at why Margaret Todd had written what is effectively a love letter to her lover but wrote herself out of it.
"There seemed to a parallel between Sophia's motto "not me, but us" and her lover's decision to write herself out of her biography. Those two things really chimed for me."
"What I found extraordinary about Sophia was that the choices she made were about all women rather than just for herself, in contrast with Elizabeth Garrett Anderson, who became the first qualified female doctor in Britain. Sophia was fighting for that next generation. She made a lot of enemies because she refused to ever take the easy route or the selfish route."
Alexander Russel, the then editor of The Scotsman newspaper, agreed to help publicise Sophia Jex-Blake's appeal for women interested in studying medicine to come forward.
Director Janys Chambers said: "There are two sides to the play. About half of it concentrates on Sophia's fantastic vigorous campaigning and the brilliant battling she did with people. Obstacle after obstacle was put in front of her and she just beat them down.
"The other half deals with her personal relationships, in particularly with Margaret Todd, and looks at the more intimate side of her life. There is a beautiful contrast in the way that she trod on a lot of toes and upset people sometimes, even to the detriment of her cause, and yet you see another side of her, which is more sensitive, personal and emotional. The two strands together make it such an interesting play.
"It's such a relevant play, with women still battling for their right to define their own sexuality and their own gender, there are still massive discrepancies in pay, and male decisions are still being made about the bodies of women. Women need women doctors and medicine for women."
Madeline Worrall, who plays Jex-Blake, said: "As a society, we still only have a very slim idea of the great richness and depth of women's work and undertakings throughout history. We still tend to see historical events through the prism of male experience.
"Women are often expected to be appealing as characters and are often rewarded by society for being pliant and pleasant. You hear people even now saying that change should be achieved gently or within the bounds of civil society. You only need to look at the suffragettes to realise that's not true. You have to be obstinate, tenacious and frankly piss people off if you want to enact change.
"There were aspects to Sophia's character which are irritating and unsympathetic. But women are often judged more harshly for that. We're still expected to be softer characters in some way and are taken to task if we break out of that mould. That sums Sophia up. She was driven and determined and as a result she was probably not liked by a lot of people. I imagine that those people who did admire her found her difficult.
"It was very refreshing to be able to play a character who can be obstinate and unsympathetic at times. But the one intention she has throughout the whole drama is to get what she wants, not only for herself but the women who come after her."
Want to join the conversation? Please or to comment on this article.