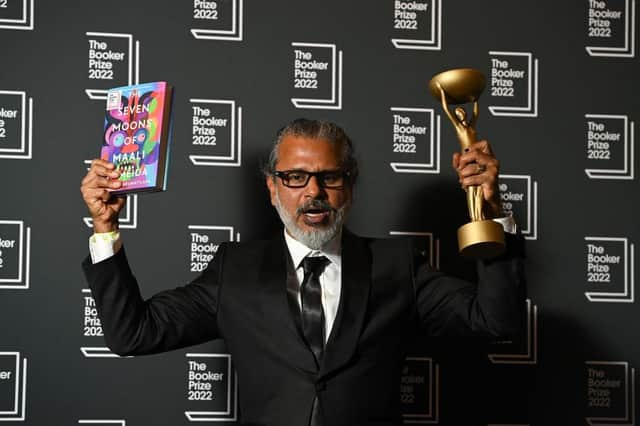 The prize, initially named after sponsor company Booker, McConnell Ltd, was established in 1969 has become one of the world's richest literary awards.
Previous winners have included Iris Murdoch, William Golding, Salman Rushdie, Kingsley Amis, Peter Carey, Pat Barker, Margaret Atwood, Yann Martel, and Hilary Mantel.
Originally it was only open to novels written in English by Commonwealth, Irish, and South African (and later Zimbabwean) authors, but in 2014 was opened up to all English-language fiction books.
In 2005 the International Booker Prize made its debut. Initially a biennial prize for a body of work, since 2015 it has been awarded annually for a single book written in another language and translated into English.
Last year saw the International Booker go to 'Tomb of Sand', written by Geetanjali Shree and translated by Daisy Rockwell, while Shehan Karunatilaka won the Booker for his book 'The Seven Moons of Maali Almeida'.
Here's everything you need to know about this year's prizes.
When will the Booker Prize shortlist be released?
Entries are currently being welcomed for the 2023 Booker Prize, with the so-called 'Booker Dozen' longlist of 12 or 13 books announced in July.
The shortlist of six books will then follow in September, with the winner announced in the autumn.
Who has been longlisted for the International Booker Prize?
The following books are in the running for the International Booker Prize 2023:
Ninth Building by Zou Jingzhi, translated by Jeremy Tiang
A System So Magnificent It Is Blinding by Amanda Svensson, translated by Nichola Smalley
Still Born by Guadalupe Nettel, translated by Rosalind Harvey
Pyre by Perumal Murugan, translated by Aniruddhan Vasudevan
While We Were Dreaming by Clemens Meyer, translated by Katy Derbyshire
The Birthday Party by Laurent Mauvignier, translated by Daniel Levin Becker
Jimi Hendrix Live in Lviv by Andrey Kurkov, translated by Reuben Woolley
Is Mother Dead by Vigdis Hjorth, translated by Charlotte Barslund
Standing Heavy by GauZ', translated by Frank Wynne
Time Shelter by Georgi Gospodinov, translated by Angela Rodel
The Gospel According to the New World by Maryse Condé, translated by Richard Philcox
Whale by Cheon Myeong-kwan, translated by Chi-Young Kim
Boulder by Eva Baltasar, translated by Julia Sanches
When will the International Booker Prize shortlist be revealed?
The shortlist of six books will be announced on Tuesday, April 18, with the winning title announced at London's Sky Garden on May 23.
Who are the judges for the Booker Prize?
A panel of five judges will decide the winner of the Booker Prize 2023. They are as follows:
Edugyan is the internationally bestselling author of Washington Black, which was shortlisted for the 2018 Booker Prize, the Los Angeles Times Book Prize, and the Carnegie Medal for Literary Excellence, among others – and won the Scotiabank Giller Prize. It was chosen by both the New York Times and Barack Obama as one of the best books of 2018. The epic Hulu/Disney TV series of Washington Black, starring Sterling K Brown and co-produced by Edugyan, is slated for release in Spring 2023.
Andoh is one of Britain's leading actors, who won global acclaim as Lady Danbury in the hit Netflix series Bridgerton - a role that saw her nominated for Outstanding Supporting Actress at the 2021 NAACP Image Awards. Elsewhere on the small screen in 2020 she played Dr Isaacs in the psychological thriller Fractured, as well as DI Nina Rosen in BBC1's Silent Witness. In 2021 she starred as Nenneke in the Netflix blockbuster fantasy drama, The Witcher. Her many other television appearances include regulars in Dr Who, Casualty and Law & Order UK.
Chan is one of British poetry's fastest rising stars. Flèche, a debut collection ingeniously organised around the sport of fencing, was published by Faber & Faber in 2019 and Faber USA in 2020. It won the Costa Book Award for Poetry and was shortlisted for numerous awards, including the International Dylan Thomas Prize, the John Pollard Foundation International Poetry Prize, the Jhalak Prize, the Seamus Heaney Centre First Collection Poetry Prize and a Lambda Literary Award. In 2018, Chan's title poem from Flèche won the Geoffrey Dearmer Prize, awarded annually by the Poetry Society. Chan has twice been shortlisted for the Forward Prize for Best Single Poem and received a Society of Authors Eric Gregory Award for a collection by a poet under the age of 30 in 2019. That year, Chan was chosen by Jackie Kay as one of Kay's ten best BAME writers in Britain.
Shapiro is Professor of English at Columbia University, where he has taught since 1985. Among his books are: 1599: A Year in the Life of William Shakespeare (2005), which was awarded the Samuel Johnson Prize; 1606: The Year of Lear (2015), awarded the James Tait Black Prize for Biography; and most recently Shakespeare in a Divided America (2020), selected as one of the ten best books of the year by the New York Times. He is currently at work on two books: Playbook: Politics, Theatre, and the Origins of America's Culture Wars and Othello: An American Life.
Webb was born in Lincolnshire in 1972 and attended Queen Elizabeth's Grammar School in Horncastle. He studied English at Cambridge, where he joined Footlights and met David Mitchell, forming the comedy partnership Mitchell and Webb. They went on to make five series of their Sony Award-winning BBC Radio 4 sketch show, That Mitchell and Webb Sound, and for television, four series of the Bafta-winning That Mitchell and Webb Look for BBC2.
Who are the judges for the International Booker Prize?
The International Booker Prize will also be decided by a panel of five judges.The panel of judges is chaired by the prize-winning French-Moroccan novelist, Leïla Slimani. The panel also includes Uilleam Blacker, one of Britain's leading literary translators from Ukrainian; Tan Twan Eng, the Booker-shortlisted Malaysian novelist; Parul Sehgal, staff writer and critic at the New Yorker; and Frederick Studemann, Literary Editor of the Financial Times.
How much do the Booker Prize winners receive?
Both awards have a cash prize of £50,000 – with the International Booker prize money split equally between writer and translator.