Beyond the Little Black Dress: Killing Eve, Queer Eye, goths, punks and Coco Chanel brought together for Edinburgh fashion exhibition
Century of designs explored at the National Museum of Scotland
It is the fashion show which will unite Killing Eve, Queer Eye, goths and punks with Coco Chanel, Alexander McQueen, Christian Dior and Yves Saint Laurent.
More than 60 garments from around the world have been brought together in Edinburgh thanks to the one thing they all have in common – the colour black.
The National Museum of Scotland's exhibition charts the evolution of the "little black dress" over the course of a century and examines how the power of the colour black has helped shape changes in society and cultural movements.
Beyond the Little Black Dress, which runs from 1 July-29 October, features a host of classic "LBD" looks and designs, from the Chanel design that caused a sensation when it was unveiled in 1926 to 1950s cocktail dresses by Dior, a wedding dress from the "Conceptual Chic" collection launched by Zandra Rhodes at the height of the punk phenomenon in 1977 and a 1980s dress created by British designer John Galliano.
A McQueen-designed dress worn by Jodie Comer's character Villanelle in Killing Eve, a Fiona Dealey dress worn by 1980s soul star Sade, actress Michaela Coel's Maximilian outfit for the 2021 BAFTA TV Awards and a Christian Siriano minidress worn by Queer Eye star Jonathan Van Ness to the Emmy Awards four years ago.
Work on the exhibition was instigated following the opening of a dedicated fashion gallery at the National Museum in 2016.
Georgina Ripley, principal curator of modern and contemporary design at the museum, said: "We wanted to think in a more considered way about our audience for fashion and have it as a fixture in our temporary exhibition programme.
"It was about choosing a subject matter that was relatable for people and an easy way in – a little black dress is something that we're all aware of – but we would then have the freedom to take it in different directions, as well as showcase things from our own collection.
"We wanted to think a little bit differently about the little black dress and delve deeper into the contradictions that exist within the colour black."
The exhibition, which draws on the National Museum's extensive fashion collection and includes loans from around the world, also includes work by the leading Scottish and British designers Judy R Cark, Christopher Kane, Jean Muir, Molly Goddard, Richard Quinn and Gareth Pugh.
The work of cutting-edge Japanese designers is on display alongside LBD looks originally unveiled at catwalk shows by Prada, Versace and McQueen, a Theresa Coburn-designed dress worn by DJ and musician Jonny Slut, a Kane-designed "hellbound dress" for DJ Henri Bergmann and CuteCircuit's "wearable technology."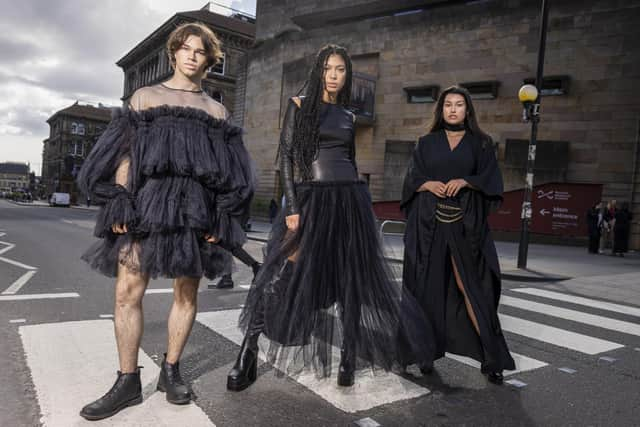 The exhibition explores the historical interpretations and influences of the colour black, from its links with "demonic cults and witchcraft" and religion to mourning, gender, sexuality and race.
Ms Ripley said: "The pandemic meant we had to pause the exhibition, but it was an opportunity for us to really reflect on its content.
"This garment became a lens through which you could view 100 years of social history and social change. More thany any other garment, the LBD can be held up as a mirror to society.
"We thought more about all the global issues and what people might want from a fashion exhibition, to align the exhibition to some of the conversations that were happening, putting the exhibition into the global context of how the meaning of black differs across cultural backgrounds and across faith and introducing a new theme, black futures, to enable us to tell more diverse histories and also address inconsistencies within our own collection.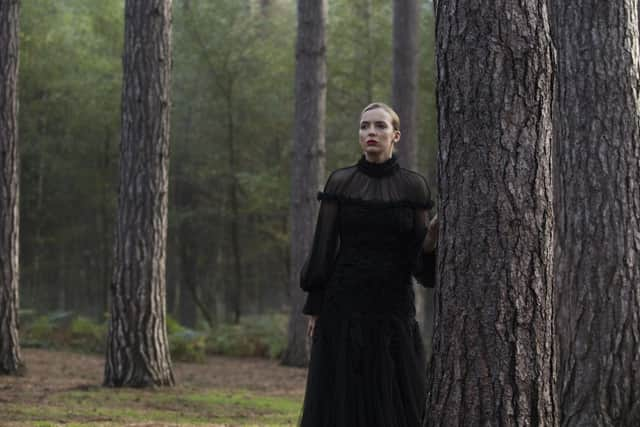 "How black was perceived during the pandemic was really interesting. When fashion shows weren't able to happen and were replaced by digital fashion weeks, black started to appear in quite dystopian ways.
"At the same time, British Vogue was talking about black being a poignant and poetic choice because people were suffering, so it really took on those connotations of mourning."There was also a feeling that we would be leaving behind glitz, glamour and high heels because we all love our lounge wear, but the fashion pendulum swung again.
"Designers were trying to predict that there would suddenly be a sense that people would want to go out again and there would be a sense of liberation."
The exhibition tackles the impact of fast fashion and the criticism of the industry over "wasteful business models and reckless consumption," and also addresses cultural appropriation, exploitation, sizeism and racism in the fashion world.
Beyond the Little Black Dress also showcases the world of leading contemporary Black British designers, including those working on "afrofuturistic" garments.
Ms Ripley said: "When we were originally planning the exhibition the industry was addressing a lot of the problems that it had and we were trying to predict if there was going to any kind of revolution.
"When the pandemic closed things down it seemed like there was going to be something of a reset. But the big brands have needed time to recover financially and in a sense it has all sort of crept back and much of it is just business as usual.
"There is still an element of economic recovery in the industry but I think the level of growth has been faster than people maybe anticipated three years ago when we were in such an unprecedented situation."
Sustainability is among the main issues explored, reflected in pieces by Pugh used bin bags and plastic drinking straws, and a dress by fashion designers and climate activists "VIN + OMI" incorporates nettles and horsehair from Highgrove, the private residence of the King and Queen.
Ms Ripley said: "We wanted to really shift the emphasis that we already had on sustainability, to make it much more explicit, as those conversations are growing all the time.
"Bringing sustainability much more to the fore is reflective of consumer concern more widely, but also our own visitor feedback.
"From our previous exhibitions, we know people want to know about fashion's imprint on the environment.
"We are definitely seeing a concerted shift in the fashion industry towards thinking about successful. Whether it is sucessful or not is another matter. There is still a lot of misunderstanding about what is and isn't sustainable."
Comments
 0 comments
Want to join the conversation? Please or to comment on this article.