Benjamin Grosvenor: 'I always feel perfectly at home with the SCO'
Superstar pianist Benjamin Grosvenor has come a long way since 2004 when – aged just 11 – he appeared in the finals of the BBC Young Musician competition at Edinburgh's Usher Hall. Two decades on, he's looking forward to returning to the venue where he made his name, and continuing his fruitful relationship with the Scottish Chamber Orchestra. Interview by Ken Walton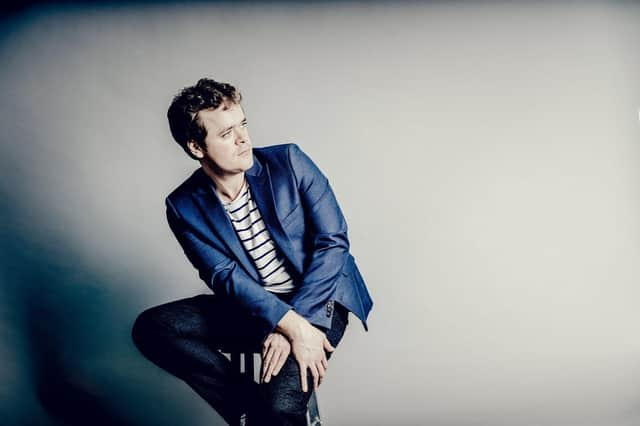 When the great Franz Liszt first performed Felix Mendelssohn's First Piano Concerto, the composer apparently declared what he witnessed to be "a miracle". He was referring to neither Liszt's interpretation, nor narcissistically to the work itself, but rather his astonishment that the famed superstar was sight-reading the concerto flawlessly from his manuscript during a chance encounter in the Paris showrooms of piano makers Erard.
Expect nothing less from 31-year-old British pianist Benjamin Grosvenor, who will perform the piece with the Scottish Chamber Orchestra later this month, promising yet another highpoint in the SCO's current 50th Anniversary Season. In addition to the Liszt – which he considers "a brilliant piece" among the Mendelssohn canon – the programme also features Brahms' Tragic Overture and Schumann's Fourth Symphony.
Grosvenor, whose recent Scottish appearances have seem him triumph in concertos by Chopin and Liszt with the SCO, and in an all-star Beethoven's Triple Concerto with Nicola Benedetti, Sheku Kanneh-Mason and the RSNO, has come a long way since the momentous 2004 performance he gave at the Usher Hall, aged 11, in the concerto finals of the BBC Young Musician competition. He didn't win – Benedetti famously did – but who can forget the diminutive schoolboy whose performance of Ravel's Piano Concerto in G gave the jury plenty of food for thought in reaching its decision?
"I remember it fondly," says Grosvenor, whose self-effacing maturity these days still smacks of the honest unpretentiousness he displayed nearly 20 years ago. "Playing with the BBC SSO then in the Usher Hall was obviously a highlight; I'd never experienced paying with a professional orchestra before." Within a year he was back in Scotland, touring Mozart with the Scottish Ensemble, which was part of the competition reward.
It was many more years until he returned again. "You have this funny experience when you come back to somewhere you were as a very small child," he says. "You feel the place has shrunk. Now that I'm taller, Glasgow no longer seems like this massive city. I'm really looking forward to being back there, and in Edinburgh and Aberdeen, to play the Mendelssohn."
For all its brevity – a mere 20 minutes – it's a piece he reckons never sells you short. "There's a bit of everything in it... a stormy first movement, a beautifully lyrical slow movement, and a last movement that's a riot, but also witty and charming."
What's really exciting Grosvenor, however, is the prospect of teaming up once again with the SCO's charismatic conductor Maxim Emelyanychev. "He's a genius," he says. "He's a wonderful pianist himself, which means he understands so much of the repertoire, but I think it goes beyond that. He's a force of nature. The energy that comes from him when he walks into a room is so inspiring, like a fireball."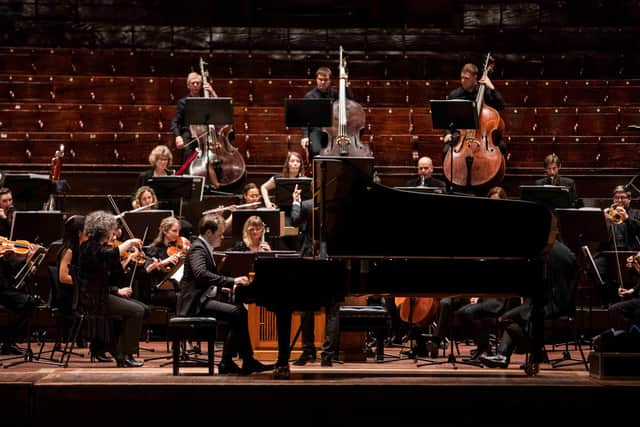 What about the dynamics of working with such a notable pianist in his own right – does that induce interpretational conflict? The evidence from past collaborations would suggest not. Last year, when they worked together on Liszt's Piano Concerto No 1, I wrote that "two refreshing minds came together with compelling results". He attributes that to Emelyanychev's generosity as a musician and the instinctive chemistry he enjoys with the SCO.
"Rehearsals are very organic," he says. "It feels like you're playing chamber music. It's so natural, there's no inhibition, not much discussion just a lot of playing and listening to each other." And the actual performances? "Things happen differently each time; Maxim just creates something new in the moment."
Personal interaction is important to Grosvenor, who is careful to balance his international solo recital and concerto schedule with more intimate chamber music opportunities. He's just back from a tour of Japan, where he teamed up with violinist Sayaka Shoji and the Modigliani Quartet to perform Chausson's Concerto for Violin, Piano and String Quartet, presented as part of a play written and directed by Oriza Hirata.
Grosvenor also toured America earlier this year with the Doric Quartet, and has his own Piano Quartet with violinist Hyeyoon Park, violist Timothy Ridout and cellist Kian Soltani. "I need that really," he explains. "It's good for your musicianship. Being a pianist can be quite lonely."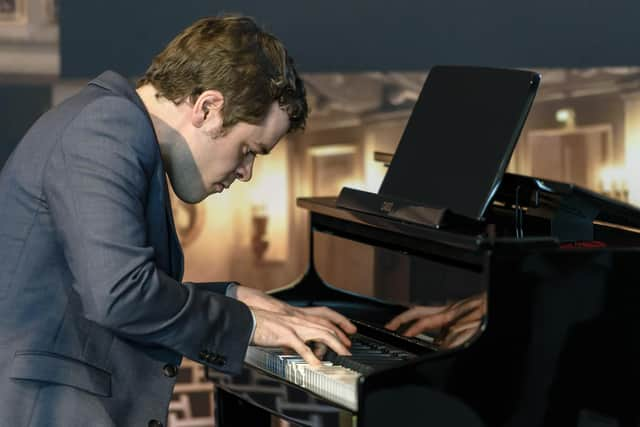 Growing up with four brothers in a modest family semi in Southend-on-Sea must have been anything but solitary, I suggest. Nor quiet, given that his mother was a music teacher and all five boys played instruments. "Luckily my brothers are older than me, so by the time I started playing, they were all on their way to stopping," he recalls. "It wasn't like we were playing in all corners of the house."
For him, though, music quickly became a serious business. He enjoyed a fairly normal school life, but being home-educated to take his A levels early allowed Grosvenor to enter the Royal Academy of Music two years earlier than usual. "I never thought of doing anything else," he remembers. "I knew when I was ten that this was the path I wanted to take."
That path has taken him to the London Proms (he had to call off this summer due to illness), and a future that permits him to forge his own musical path. He recently commissioned a new solo work, Faustian Pact (Hommage à Liszt), from Brett Dean which he premieres in Lucerne in January before giving its UK premiere at the Wigmore Hall.
After last year's concerto debut with the Chicago Symphony Orchestra, he returns in March for a solo programme in the orchestra's satellite recital series. "I'm also performing the Busoni Piano Concerto in Iceland and Berlin, which involves a male chorus in the final movement. It's a barmy piece, but it's going to be fun."
So, he promises, will be his fond return to Scotland later this month. "It's where I had some of my best early experiences," he says, "and I always feel perfectly at home with the SCO."
Benjamin Grosvenor performs Mendelssohn's Piano Concerto No 1 with the SCO at the Usher Hall, Edinburgh, 23 November; City Halls, Glasgow, 24 November; and Aberdeen Music Hall, 25 November, see www.sco.org.uk