Beatles Now And Then: 'Last' ever song from John Lennon, Paul McCartney, George Harrison and Ringo Starr branded 'qualified success'
​The "last" ever song by all four members of The Beatles has been branded a "qualified success".
Now And Then, written and sung by John Lennon and later developed by the other band members, including George Harrison, was finished by Sir Paul McCartney and Sir Ringo Starr decades after the original recording was made.
The remastered track, which was released on Thursday by Apple, Capitol and Universal Music Enterprises (UMe), is sourced from a Lennon demo and uses technology to extricate and isolate his voice.
The song has been issued as a double A-side single with the band's 1962 debut Love Me Do and there is cover art by US artist Ed Ruscha.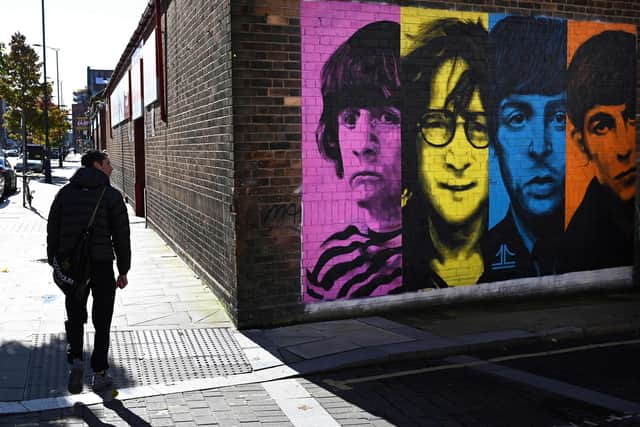 In his review, The Guardian music critic Alexis Petridis awarded the song four stars out of five and called it a "qualified success".
He wrote: "Advances in technology have solved the problems with Lennon's vocals … the other potential vocal problem – at 80, McCartney's voice has aged considerably since the remaining Beatles last reconvened – is solved by keeping him low in the mix. You feel his presence rather than notice it directly."
Music critic for The Telegraph, Neil McCormick had a different take.
Offering the song three out of five stars, the critic said "the McCartney-led chorus arrives as an anti-climactic plod", adding "the chords aren't interesting and harmonies pasted in from old Beatle recordings".
In spite of this, McCormick said that he is "glad it [the song] exists" and described it as a "toast to days gone by".
A 12-minute documentary, written and directed by Oliver Murray, known for My Life As A Rolling Stone, and with commentary from Sir Ringo and Sir Paul, has also been released with the new song.
Lennon recorded the demo in the late 1970s at his home in New York's Dakota Building.
After his death in 1980 aged 40, Lennon's wife Yoko Ono gave the recording to the remaining Beatles in 1994 along with Free As A Bird and Real Love, which were released by the band in the same decade.
During this period, George Harrison, Sir Paul and Sir Ringo recorded new parts and completed a rough mix for Now And Then with producer and musician Jeff Lynne.
However, the band did not release the song and cited issues to do with extracting Lennon's vocals and piano due to limited technology at the time.
Peter Jackson's 2021 documentary The Beatles: Get Back used audio restoration technology that allowed for vocals, music and conversations by the band to be isolated.
This allowed for a new mix of the Revolver album, sourced directly from the four-track master tapes, in 2022, and Jackson and his sound team, led by Emile de la Rey, have now done this for Now And Then, which helped separate the vocal from the piano.
Recorded at Capitol Studios in Los Angeles, Sir Paul oversaw the track as more backing vocals were added from the original recordings of Here, There And Everywhere, Eleanor Rigby and Because.
Sean Ono Lennon, son of Lennon and Ono, said of the track: "It was incredibly touching to hear them working together after all the years that dad had been gone.
"It's the last song my dad, Paul, George and Ringo got to make together. It's like a time capsule and all feels very meant to be."
On November 10, two compilation albums – 1962-1966, The Red Album, and 1967-1970, The Blue Album – will be re-released featuring 21 newly added tracks.
Comments
 0 comments
Want to join the conversation? Please or to comment on this article.