BBC Scotland presenter Tam Cowan has to bite tongue to reduce risk of complaints over offensive jokes
Broadcaster and stand-up was appearing at the Fringe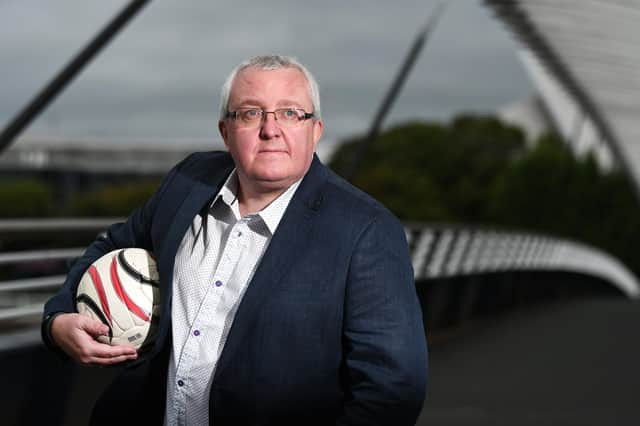 BBC Scotland presenter Tam Cowan has revealed he has to bite his tongue on air to reduce the risk of causing offence with jokes.
Appearing at the Edinburgh Festival Fringe, the broadcaster and stand-up admitted he was "very, very careful" with what he said on long-running Off The Ball show to try to avoid triggering complaints.
Cowan said there had been "incredible" changes on what it was considered acceptable to joke about since the satirical football show launched 30 years ago.
He said people were more likely to be offended by jokes than about wars, disasters and levels of poverty.
However Cowan recalled receiving a "tsunami" of support after being suspended for two weeks by the BBC for a newspaper article poking fun at women's football.
Asked if he was becoming more "woke" or politically correct, Cowan, who presents Off The Ball with Stuart Cosgrove, said: "You find yourself biting your tongue or taking half a breath.
"This is our 30th season doing Off the Ball. I've seen how everything has changed. You've just got to surf the wave.
"It's getting incredible now. You've got to be very, very careful. I find myself s****** it, for want of a better expression.
"I'm quite proud of the fact that with anything I've ever got in trouble for, there's always been a joke at the heart of it. Whether folk want to take that joke on board or not is up to them. I've never been bad or nasty to people.
"My mantra tends to be, when you see what's going in Russia and the Ukraine, when you see the number of people who perished in the Turkish earthquake and when you think that in this day and age people are raising money for food banks, how dare folk say they are offended at somebody cracking a joke when all you're trying to do is raise a smile. Get offended at the serious stuff in the world."
Appearing in an on-stage interview with journalist Graham Spiers, Cowan said he decided against reading the nickname of a young Indian goalkeeper playing in Glasgow due to the risk of it causing offence.
He said: "It was a perfectly good story, but when I read it, I thought if I read that out, I'll get flamed, somebody will complain and what will it be this time? It will be racism.
"I'm not one of these people that comes out with stuff about the woke generation. I know you've got to move with the times with language. It's quite right that there are things that you can't say nowadays. I say that as a dad, first and foremost."
Spiers asked Cowan if he feared a "knock on the door" from the BBC telling him it was time for change.
Cowan said: "You get these anonymous guys on Twitter who love doing nothing but complain. They live no life. They live in their granny's spare bedroom.
"You get these guys saying 'I'm never listening to Off The Ball again. It's the same old s****. It's not changed in 30 years.'
"The format's the same, the voices are the same and we might have some returning guests, but we're always able to keep it fresh, because in Scottish life and in Scottish football there's always different stuff to talk about."