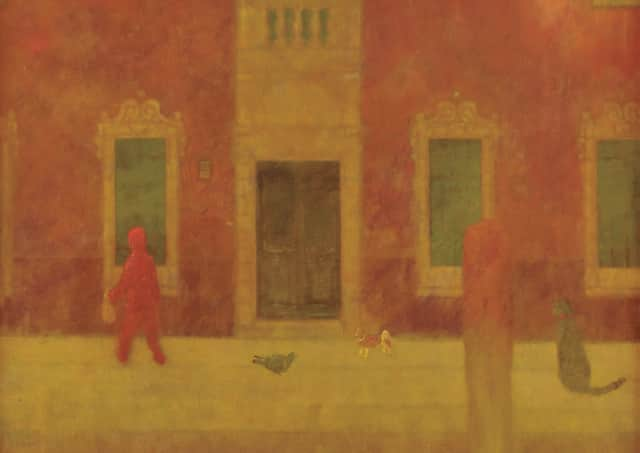 Detail from The Red Jogger, Burano, by John Halliday PIC: courtesy of the Fine Art Society
John Halliday: The Monkey Palace, Fine Art Society, Edinburgh ****

Olivia Irvine: Wall to Wall, Union Gallery, Edinburgh ****

Colin Brown: Days In Europa, Scottish Gallery, Edinburgh ****

William Tillyer: A Printer's Perspective, 1970-2020, Gallery Ten, Edinburgh ****




Kirkcudbright is an ancient and very pretty place in a favoured corner of Scotland. In the early 1880s, a time when their surroundings mattered to artists and indeed provided most of their subject matter, it became a destination for them and remained an artists' town for a long time thereafter. The Glasgow painters were regular visitors. Among them EA Hornel, born in Kirkcudbright, went back to live there. His studio and garden now belong to the National Trust. In 1915 Jessie M King and her husband EA Taylor also settled in Kirkcudbright where they encouraged young artists to join them. Most notable among those who did were two star women artists, Dorothy Johnstone and her close friend Cecile Walton, daughter of the painter EA Walton who likewise frequently painted in and around Kirkcudbright. Later Cecile Walton went to live there permanently and, continuing the long artistic succession of the town, became mentor to John Halliday who was born in Kirkcudbright. She encouraged him to follow his bent and to go to Glasgow School of Art. That was more than 70 years ago and he is still living and working in his native town, just two doors from where he was born. Not of course that he hasn't travelled far and wide in the interim. Monkey Palace, for instance, the title picture of a small, partly retrospective show of his work at the Fine Art Society, is a painting of monkeys in an Indian temple. For many years now, however, he has been settled in Kirkcudbright pursuing a quietly successful career from a very small studio. His work may, nevertheless, be unfamiliar as he hasn't shown regularly either in any of the galleries or the annual exhibitions.

Much of his work has been in the form of architectural commissions. These tend to stay put, but he made a speciality of light-hearted, occasionally tromp l'oeil decorative painting in a Georgian style. In the show, for instance, there is a watercolour design for a wall decoration composed of classical swags, shells, framed pictures, a bird cage and other devices in the style Robert Adam copied from antique models. Trompe l'oeil, a painting of a wall cabinet with shelves, alcoves and drawers, is similar in character but more informal. Various objects, a box, oil lamps and perhaps a mirror and a prominent model of a dodo placed at the top, are suggested rather than described. Tromp l'oeil is the title rather than the effect, for it is quite loosely painted in tempera in a monochrome, deep pink with the details in sketchy white. Tromp l'oeil with Fabergé Egg also isn't quite what it says, but is very pretty all the same. Quite small and again in tempera, it is a picture of a jewelled egg decorated with feathers and ribbons. The colour is lovely and the painting very delicate. Delicacy of execution, of colour and indeed especially of surface is typical of all his work. 

Halliday paints in oil beautifully as in Wet Day, Rothesay, for instance, but he also uses pastel or tempera, occasionally mixed. A lovely painting of a harvest moon seen across a field of golden corn is pastel on canvas. The yellow corn fills much of the picture, but far from monochrome, it is very subtly varied in colour. This is typical of his work. It is low-key but exquisite. Monkey Palace is a big picture. In it pink, grey and ochre harmonise as though obedient to a single key as in music. In it, as also in two pictures of Venice – the White Jogger, Venice and the Red Jogger, Burano – much of the painting is just flat wall, but it is all very alive. There is not a dull square inch. These are lovely pictures. It is only a pity there are not more of them.

If we haven't seen enough of John Halliday, at the Union Gallery Olivia Irvine is having her first ever major solo show after almost 40 years of working. It includes paintings and collages. With flashes of crimson and orange, her paintings are freely handled and richly coloured. Nothing is sharply defined, but they are very atmospheric. Abundancy, for instance, is a table overflowing with still life, while Dimity is a bedroom with a wonderfully airy feel. The title seems to be suggested by the dominant, airy blue-white of curtains and bedclothes. The collages are largely composed from cut-up monotypes. Mostly she seems to transpose cut-out figures to new environments, enigmatic interiors, a street or, in High Tide, apparently onto the beach. One large collage, however, includes two nicely drawn self-portraits that she did as teenager, a kind of retrospective in a single image. It is all at once both highly decorative and intriguing. 

In Days in Europa at the Scottish Gallery, though they are very different, Colin Brown also makes collage, combining cut-out fragments of printed matter with paint, drawing and scraps of writing. Frequently he also then abrades the surface. The end result is like a multi-layered wall where graffiti, and layers of posters and notices have been put up, torn down and weathered over years. A European theme is suggested by the title and there are scraps of different languages and references to places around Europe. Nothing is easily read as related to a specific place, however, at least not until you come to Homeland. Raeburn's Skater, a kilted accordion player, Tom Alexander (I think), a pound note and other Scottish icons all identify it; and at its centre is a splendid image of Delacroix's Liberty at the Barricades, except that now she is waving the Saltire, not the Tricolour.

Finally, at Gallery Ten, a show of William Tillyer's prints ranges from austere grid etchings made in the early 1970s through broad and rather beautiful woodblock prints from the 80s to recent work in photo litho. They also include a set of illustrations for an edition of À rebours, Huysmans's celebrated novel of the 1890s Decadence. In this group, some prints seem to be drawn with acid painted directly onto the plate. More recently he has made lyrical photo-lithographs based on watercolours. One particularly beautiful example overlays part of a Claude landscape of trees and sky with veils and pools of transparent colour. In another, a Chinese blue and white vase intrudes enigmatically into similar sweeps of colour. His iconography is always diverse, but the grid, there at the beginning, remains a theme throughout, even if only as a hint. The results, however, are always beautiful. 

All galleries now closed until further notice