Art Night Dundee: More than 20 sites across city to be transformed for free late-night festival
Dundee's culture city credentials are set for a huge boost this weekend when it follows in the footsteps of London, Paris, Barcelona, Rome and Berlin by hosting a late-night visual art festival.
Tens of thousands of people are expected to experience the work of artists in historic ships, shopping centres, theatres, pubs, gardens, streets and even wheelie bins as part of the one-off "Art Night".
More than 20 sites across the city are part of the programme, which will showcase the work of a mix of local, UK-based and international artists.
The festival, which is being staged in Scotland for the first time, will run from 7pm until the early hours of Sunday morning, and will feature live music, film, performance, opera and digital animation.
Venues range from the V&A and McManus museums to the historic RRS Discovery and HMS Unicorn vessels, Dundee Rep and The Little Theatre, and the Dundee Contemporary Arts centre to the Greenmarket and Miller's Wynd car parks. Arthurstone Library, the Baxter Park Pavilion, The Speedwell Bar and the EH9 Espresso Coffee Shop are also host venues.
Cafes, bars and restaurants across Dundee will be opening late and running special festival offers to coincide with Art Night, with club nights running until 3am.
More than 30 artists will have their work showcased during Art Night, while around 100 staff have been hired to help run the event and navigate festivalgoers around the city.
Highlights of the programme include Richy Carey's work for the Baxter Park Pavilion, which will feature an installation and performances inspired by the city's publishing and printing heritage, which is creating with the help of local choirs.
Saoirse Amira Anis will stage a performance as an extension of her solo show at Dundee Contemporary Arts featuring a rope-laden, amphibious mythical creature as it journeys to return to the sea, from the RRS Discovery and the V&A to HMS Unicorn.
Emma Hart's celebration of raving at the Greenmarket car park will feature a series of sculptures with their hands in the air.
Nabihah Iqbal will stage a musical takeover of the RRS Discovery's decks with a performance featuring bagpipes, saxophone, cello and violin, followed by DJ sets at the nearby Arctic Bar.
Danielle Brathwaite-Shirley will be presenting an art video game at Arthurstone Library that will allow audiences to interact and perform with her work. Heather Phillipson will be remixing and re-voicing archive BBC wildlife footage with her own sound and images at the Cooper Gallery.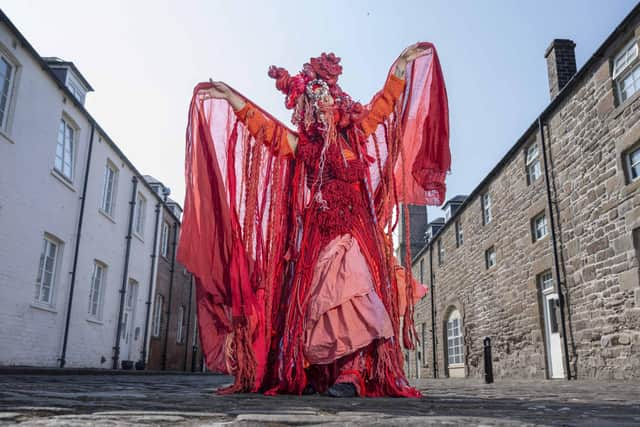 Maria Fusco and Margaret Salmon have created an experimental feminist opera-film about class and conflict, which Dundee Rep will be hosting. Tai Shani's work for The Little Theatre will be a series of filmic tableaux drawing from various genres ranging from horror to technicolour cinematic dreams.Dundee's Art Night will be the first full-scale edition of the festival staged since 2019's edition in King's Cross and Walthamstow.
Art Night director Helen Nisbet said: "When inviting artists to be part of the festival, I spoke to them about the joy and tenderness of gathering socially after a long time apart.
"I referenced house parties, and the way various rooms hold different forms of activity — dancing in the living room, a meaningful conversation in the kitchen, meeting an old friend in the queue for the toilets, snogging on the stairs, crying with a pal in the garden.
"So the festival is about being together — but it is also very much about Dundee: the landscape, buildings, rich cultural and political history, and crucially, the people.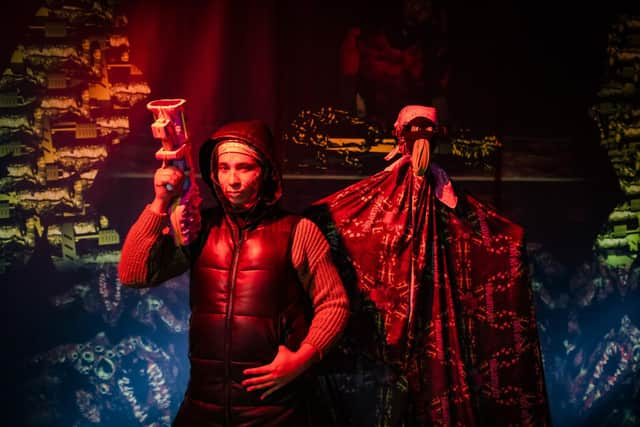 "Art Night has always been staged in London before now, but it felt like an important time to think about it becoming a national festival and in my mind there was nowhere better than Dundee.
"Its cutural institutions are incredible, from established venues like the DCA and V&A, to its artist-led spaces, which are some of the most inspiring grassroots projects that I've ever seen."In terms of Dundee and its landscape, it's a really beautiful city overlooking the River Tay and it's also immensely walkable. It's really important that you can walk around all our commissions in an accessible and laid-back way. It's a perfect size for Art Night."
Local artists and organisations in the festival, programme include the V&A Dundee's Young People's Collective, Linda Brownlee, who Dundee Women's Aid, the Grow Dundee, which has created community gardens across the city, The Binn, a gallery housed in wheelie bins in the city, and Linda Brownlee, whose work is inspired by the city's landscape and architecture.
Beth Bate, director of the DCA, the lead arts organisation for the event in Dundee, said: "Art Night felt like an immediate, brilliant fit for Dundee, but saying yes to Art Night was only the start of the journey.
"Helen was very keen and worked really hard to bring a huge number of partners, organisations and funders around the table, which is what has made this incredible night possibe this weekend.
"Right from the start, there was a really strong level of interest in the city from partners who were so keen to be involved, from traditional arts venues to community groups.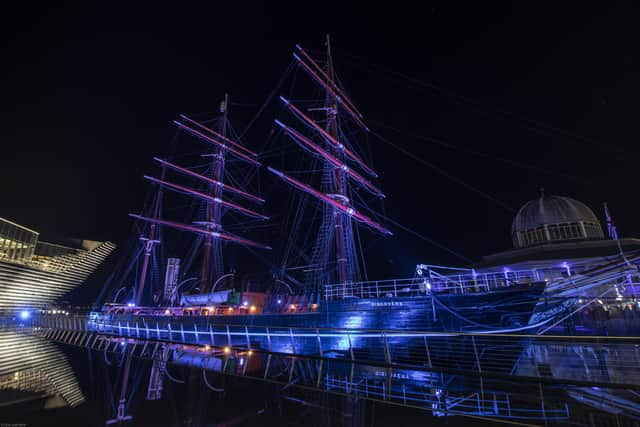 "You only have to look at the Art Night guide to see how diverse the different projects, programmes and organisations are.
"This is a city that is incredibly good at working together, collaborating, sharing and supporting each other to make really brilliant things happen."
Ms Nisbet added: "Art Night takes place in predominantly civic spaces.
"We're working with lots of musuems and galleries, which are vital, but it's also really important to us to work in spaces that people who know and love the city feel comfortable in.
"Using all these spaces really helps to foster the sense that Art Night really is for everybody.
"But it is also a chance for people to go into somewhere that they've maybe not been to for a long time or have never been to at all before and have a kind of transformational experience.
"That also goes to the artists. Some of them are being freed up from that gallery context to test something out that they wouldn't otherwise have been able to work within."
Art Night, the second major cultural bonanza for Dundee in the space of a month after it played host to Radio 1's Big Weekend festival, is expected to attract audiences from across the UK and is said to be helping to fill the city's hotels.
Ms Bate said: "We think there is going to be a real energy and spark from the visitors who will be coming to the city, but it's also a briliant opportunity for those who live here to show off what is here all the time. It's going to be a really interesting mix."
Ms Nisbet said: "All people have to do is turn up in the city. You don't need to book a ticket in advance for anything in the programme.
"We will have guides all over the city to help people figure out where they are going. There is no one suggested route of doing Art Night. We just want people to make their own decisions, but there is a tremendous amount to see."
Comments
 0 comments
Want to join the conversation? Please or to comment on this article.