So there was something symbolic that a year later the First Minister was finally able to give artists, companies, festivals and audiences something tangible to look forward to.
After a long winter of restrictions, it seems scarcely believable that shows and performances will be allowed to return within two months.
Although no specific art forms were mentioned, event organisers can, in theory, start planning for the return of everything from live music, theatre and comedy to book readings and poetry.
Several weeks after Prime Minister Boris Johnson announced a provisional date of 17 May for the return of indoor and outdoor events, it was something of a surprise for Nicola Sturgeon to announce the same date.
Also unexpected by many was the decision to allow indoor events to resume at the same time as outdoors, and at the same point in the route map where Scotland's cafes, bars and restaurants can serve alcohol again indoors.
Some parts of the Scottish cultural sector, including museums, galleries and other visitor attractions, will actually be able to reopen earlier than in England, with the First Minister's plan putting them in the same bracket as tourism and hospitality businesses.
But there are a couple of significant catches in Ms Sturgeon's plan to "re-start outdoor and indoor events - albeit on a small scale to begin with" in May.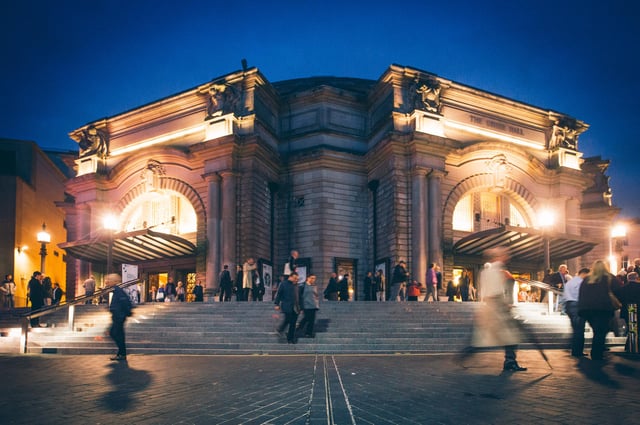 The Usher Hall is one of the main venues used for the Edinburgh International Festival. Picture: Clark James
She did not expand on this crucial caveat, leaving all those involved in live events in a new state of limbo. For many, clear guidance on how to reopen was just as important as an indicative reopening date. Now they need the data.
However Ms Sturgeon had promised this will be forthcoming "in the next few weeks" – giving event organisers crucial time to make the case for what would allow them to reopen on a viable basis.
Scotland's route map also pledges to ease restrictions on audience numbers in June if everything is going according to plan.
A most crucial line in the First Minister's address was when she stated her "optimism" that nightclubs could return "over the summer."
The TRNSMT festival is due to go ahead on Glasgow Green in July. Picture: Gaelle Beri
That would appear to offer hope that major summer events and festivals unviable with social distancing restrictions could be salvaged – something the industry has been crying out for.
The route map should certainly allow signature events like the Edinburgh International Festival and Fringe to return in meaningful, if not radically different form, in August, despite the difficulties any promoters and producers will face trying to make their plans stack up financially.
Ms Sturgeon's announcement should also provide the industry with much more confidence of events going ahead as normal into the autumn and winter.
Ms Sturgeon's announcement probably went as far as anyone working in Scottish culture or events reasonably expected given the current level of restrictions and infection rates, and the caution she has displayed during her handling of the pandemic.
It may have taken a whole year, but with a couple of firm dates to aim for, people across the spectrum of Scottish culture finally have something to be optimistic about, albeit a lot more cautiously than across the border.