The first thing that strikes you about Scottish Opera's new 2023-24 season brochure is how relatively thin it looks, with just three main scale productions, only one of which – a production by director Stephen Barlow of Jonathan Dove's Marx in London! – is new to the company's repertoire.
And what of activity between the current 2022-23 season-ending production of Carmen and the new kick-off in September? Past seasons have given us superb outdoor and/or open-tented productions at the company's Glasgow production centre of La bohème, Falstaff and last year's five-star Candide, among other impressive orchestral concerts. This year, however, the summer diary is almost non-existent, which is probably not great news for the company's part-time orchestra and chorus.
These are questions general manager Alex Reedijk is happy to answer openly. In general, it's down to hard times, he says. "We put together a fairly fulsome 60th anniversary season [the one just ending], which was a combination of Covid postponements and work specifically aimed at celebrating that notable landmark. This 61st season is a journey of reality to where we are now.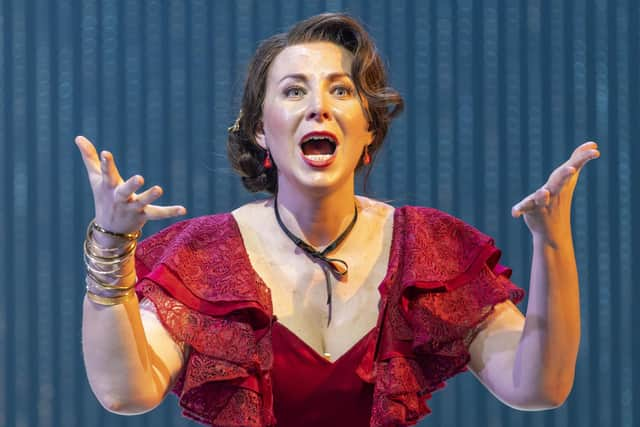 "One obvious contributor is the diminishing buying power of the funds we have available. Like many, we've been cushioned over recent years by a benign economic climate where inflation was low. Now we've got extra pressure. Even though our funding has been retained for another year, it buys less."
Does that explain the imminent summer famine? "Candide and its other outdoor predecessors were very much responses to Covid," Reedijk explains. "We felt the time was now right to bring the focus back indoors, where we can accommodate larger audience numbers. Nor was it a model we could follow every summer, but we'll keep it on the back burner. We also want to look ahead to retaining an association with Edinburgh International Festival: not this year, but we want to be there in the future. We're having rich conversations with Nicola Benedetti."
That aside, he adds, there are certain positives to consider. "We've seen that our audiences are definitely returning to the theatre, and for the current Carmen it's going to be very difficult to get a ticket." To capitalise on that, Reedijk and music director Stuart Stratford are banking on the repertoire mix next season reaping maximum audience returns.
"That's why we open with a revival of Tom Allen's ever-popular Barber of Seville [October] and end with the more serious, but also very popular, David McVicar production of La Traviata [May 2024], while levelling the load in February, and remaining close to our commitment to 21st century opera, with Marx in London!" The first two will tour to Glasgow, Edinburgh, Aberdeen and Inverness; Marx in London! plays only in Glasgow and Edinburgh.
Dove's opera, commissioned and premiered five years ago by Theater Bonn, depicts an imagined day in the life of Karl Marx. Scottish Opera's freshly-minted production will mark the opera's UK premiere and first English language version, continuing the company's fruitful association with the composer, having previously and successfully staged his humorous airport lounge opera, Flight.
"It's an amazing piece," Reedijk insists. "You have this incredible theorist who came to dominate world politics for a time, but who also led such a car crash of a personal life. Jonathan combines these brilliantly in his beautiful conversation piece." Scottish Opera regular Roland Wood takes the title role.
The new season actually opens in September with a concert performance of Richard Strauss' rarely-heard Daphne, conducted by Stratford in Glasgow and at the Lammermuir Festival, before being repeated later in the season in Edinburgh.
Complementing all that are myriad outreach initiatives. The popular Opera Highlights tours, in autumn and spring, cover 35 small venues around Scotland. Early this summer, Scottish Opera Young Company tours a double bill – Henry McPherson's Maud and Kurt Weill's Down in the Valley – to Glasgow, Largs and Stirling. Pop-up Opera is back from May, beginning at the Dumfries and Galloway Arts Festival.
Despite the funding carnage some opera companies in England and Wales are experiencing, Reedijk is sanguine about opera's future. "Yes, there's something in the realpolitik of arts funding that sees opera as the problem child. It is undoubtedly expensive, but the art form itself is still healthy. The trick is to think how to do things differently."