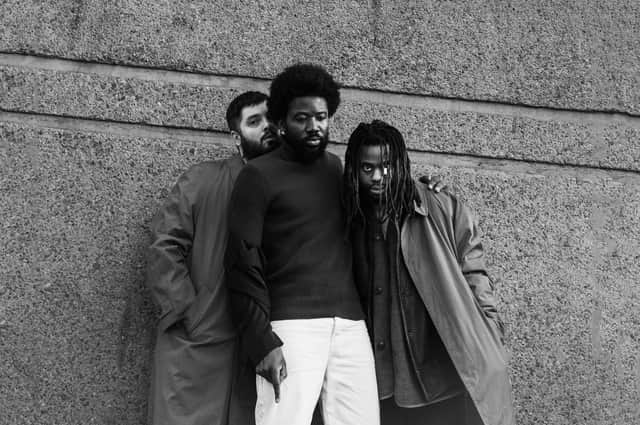 Young Fathers: Heavy Heavy (Ninja Tune) ****
Hifi Sean & David McAlmont: Happy Ending (Last Night From Glasgow/Plastique Recordings) ****
Kirsten Adamson: Landing Place (Last Days Records) ***
Five years on from their Scottish Album of the Year Award-winning Cocoa Sugar, esteemed Edinburgh trio Young Fathers make a welcome return in typically singular style. Their fourth album, Heavy Heavy, is delivered with mic-drop confidence, encased in another striking sleeve, redolent of partying with claws out.
Their idiosyncratic sonic patchwork of hip-hop, dub, punk, soul and electronica also keeps the listener guessing, not quite knowing where the band are coming from but feeling that you are in safe hands across its ten terse, taut tracks. Opener Rice is a Caribbean handjive which layers on the pacey, positive musical energy, but there is an edge to the sound, with African and European influences producing a triangular trade in music.
I Saw is built on a glam rock beat, which one could fancy as a tribute to their fellow Edinburghers The Bay City Rollers, if a ranty rap and a drawled vocal calling out racist behaviour didn't cloud the teenybop dream. Drum oscillates between soulful vocals and staccato rap over a restless rhythm and electro waveforms but the tremulous neo-classical ambience of Tell Somebody signals a change of pace, as a keening falsetto vocal emerges out of the haze to issue a cathartic call for help.
Geronimo is another slowburn before the ground shifts again on Shoot Me Down with its tapestry of looped and overlapping vocal samples and bassy throb gradually giving way to a slow martial beat, organ drone and exultant choral vocals. The appropriately named Ululation features jubilant whoops over a distorted pub piano, and the bpm is bumped up on Sink or Swim and the hectic cheerleader chant of Holy Moly.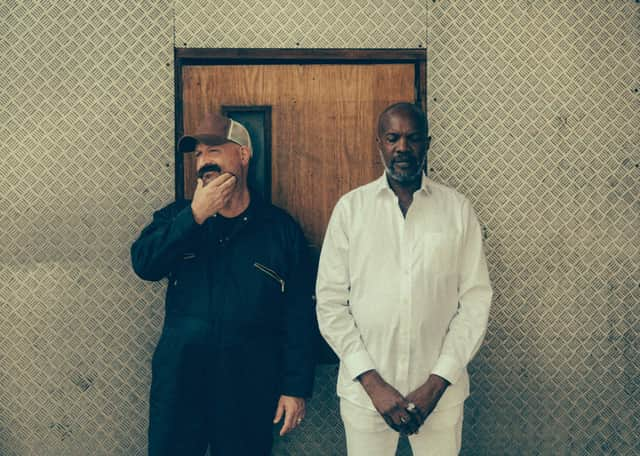 This latest riot of invention closes with Be Your Lady, a piano ballad with a twist, which is rudely interrupted by an industrial punk racket and a final celebratory chant for those who dare to ride Young Fathers' exhilarating and disorientating musical rollercoaster.
Hifi Sean is the DJ/producer alias of former Soup Dragons frontman Sean Dickson, here ceding singing duties to the divine David McAlmont. The pair first worked together on Dickson's collaborative album Ft. but it is clear from the ravishing opening title track of Happy Ending that theirs is a partnership worth extending. Its lush, tremulous torch pop with a touch of Massive Attack-like brooding bass and Bollywood strings is a sign of treats to come.
All In The World recalls the joyous gospel house heyday of the early Nineties with Dickson having a lot of fun on cheesy analogue synth effects, Diamond Dust exudes strutting attitude against chopped up strings and dubby trip-hop beats and The Skin I'm In is a London odyssey with McAlmont half-rapping over glistening omnichord before Real Thoughts in Real Time heads back to the Nineties with springy electro backing and soused strings supporting McAlmont's exquisite tone and phrasing.
Kirsten Adamson appears to be singing her life on her second album, kicking off with the fragrant country folk of No Other Mother and the paternal advice of My Father's Songs. The latter track, co-written with Dean Owens, packs added piquancy given that Adamson's father was Big Country frontman Stuart Adamson, whose guitar style is evoked on a solo played by Jon Mackenzie on Adamson Sr's old guitar.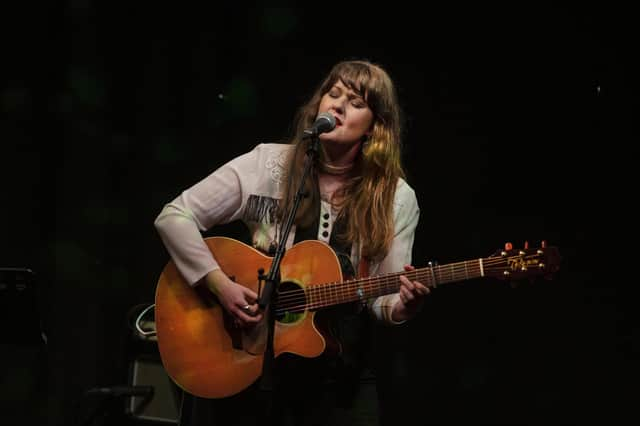 His daughter stays in this questing lane for the sweet odyssey Stars on the South Coast and leads a coy Celtic waltz on Useless At Being Alone. In fact, the entire journey is an easy ride thanks to Adamson's accessible style, recalling at points the demure delivery of Nanci Griffith and the delicacy of Dolly Parton.
Stravinsky: The Soldier's Tale (Hallé) *****
The 50th anniversary of Stravinsky's death in 2021 took a bit of a hammering due to Covid, so this opportunity by the Hallé Orchestra to issue a remastered version of the soundtrack its musicians recorded for a film version of The Soldier's Tale, broadcast by the BBC on Remembrance Day 2022, is welcome reparation. The seven-piece ensemble, with actors Richard Katz (narrator), Martins Imhangbe (soldier) and Mark Lockyer (devil), perform Stravinsky's caustic Faustian parable with magnetic precision and pathos under the poised and purposeful direction of Sir Mark Elder. In a work born of necessity – Stravinsky was cash-strapped in Switzerland at the start of the First World War – the result is a musical toy box filled with fruity playthings and sparky characterisations, from its devilish signature March to such sardonic parodies as the gauche Tango and burlesque Ragtime. There's never a dull moment. Ken Walton
Tim Garland & Jason Rebello: Life to Life (Whirlwind Recordings) ****
This duo recording from saxophonist Tim Garland and pianist Jason Rebello is the latest iteration of a three-decade association, albeit conducted sporadically between individual projects and touring commitments with the likes of Chick Corea, Jeff Beck and Sting. It's a superbly empathetic pairing, right from their elegantly dancing opener, Two to Go, while haunting interludes emerge from Garland's lyrical reed work and Rebello's glittering keyboard explorations in tracks such as the tender Soul Resonance or the luscious keyboard ripples of One Morning. The Missing Ingredient is a compelling swirl of soprano sax over Rebello's incisively ringing piano, while the song-like quality of Garland's playing comes to the fore, complete with Puck-ish chirping of sopranino sax, in their joyful interpretation of Corea's Children's Song No. 6. In contrast, bass clarinet rumbles eloquently in a sensitive treatment of the traditional Black Is the Colour. Jim Gilchrist