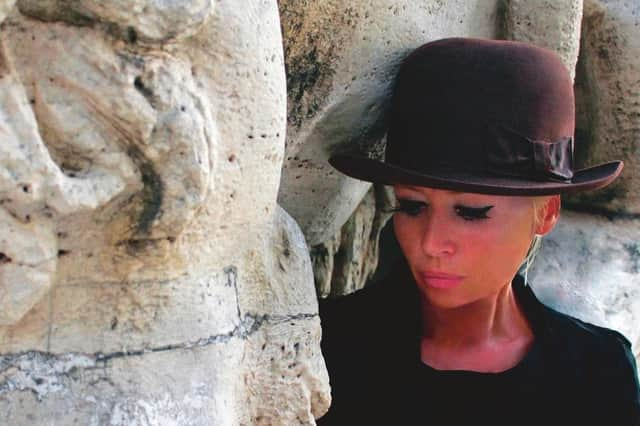 It was impossible to miss Wendy James when she launched her pop career fronting Transvision Vamp, but the full glare of the mainstream spotlight was, and still can be, an intimidating place for a young woman, even one as fierce as James, and the band burned out within a matter of years.
Thirty years on, James retains that look-at-me charisma but has long since taken charge of her musical career, producing a couple of solo albums but nothing, to date, as ambitious as Queen High Straight, a double album which succeeds in maintaining a standard across 20 eclectic tracks, brought vibrantly to life by a crack band including Bad Seeds drummer Jim Sclavunos and veteran trumpeter Terry Edwards.
James easily carries off the chic glamour of the French New Wave on the cover shots and tries on numerous classy retro styles for size across the album, from the bossa nova-influenced title track to the country & western amble She Likes To Be (Underneath Somebody). But it's all essentially pop music, be it couched in the classic soul tones of A Heart Breaking Liar's Promise, the carefee 60s pop of Cancel It… I'll See Him on Monday or western swing number I'll Be Here When the Morning Comes.
There is a lightness of touch, even to the socio-political-slanted Free Man Walk, throughout but also a playful boldness in the arrangements, whether the lilting time signature and warm brass of Bliss Hotel or the punky saxophone on the strutting Freak In, and even glimpses of the old Transvision Vamp defiance on the punky Ratf***ing.James is not the only erstwhile enfant terrible popping her head back over the parapet this week. Liar, Flower is the latest outlet for the breathy frenzy of Katie Jane Garside, one-time frontwoman of Daisy Chainsaw, with whom she endured a brief burst of fame in the early 90s.
With characteristic disregard for the zeitgeist, Garside and her guitarist partner Chris Whittingham emerge from long-term self-imposed isolation on their sailboat home just as the rest of the world reckons with lockdown.
But Geiger Counter suggests little has changed in Garside's unhinged musical world. She is a woman of many voices from childlike gurgle to feral screech, which she unleashes on grungey tantrums and unsettling lullabies played on autoharp, with a diversion into the gothic vaudeville of Little Brown Shoe and Baby Teeth.
Mugginton Lane End, the debut solo album by Trembling Bells frontwoman Lavinia Blackwall, carries over some of the prog folk stylisation of her former band – not least in its epic coda When Will All Come to Light. But elsewhere Blackwall's articulate soaring soprano is set to a poppier palette, be it the Beatley canter of John's Gone, the rapturous Keep Warm, the chiming Troublemaker, with its celebratory memories of summers past, or the pine-fresh Ivy Ladder, redolent of the classic rootsy pop tones of Christine McVie.
Glasgow-based troubadour Findlay Napier continues a strong run of themed albums with The Ledger, recorded in partnership with vocalist/fiddler Gillian Frame and multi-instrumentalist Mike Vass, and inspired by folklorist Norman Buchan's Scotsman column on traditional Scottish song, which ran weekly in the late 50s and early 60s.Napier's grandfather Findlay Cumming diligently collected the clippings, pasting them into the eponymous ledger. Napier and co have selected ten songs from this archive repertoire, reproducing the cuttings in the CD booklet and applying loving care to the music, which spans plaintive ballad Bonnie George Campbell, an evergreen yearning Scots language version of Barbara Allen, haunting transportation lament Van Diemens's Land, coloured with pizzicato strings, the martial beat of Twa Recruitin' Sergeants and the fragrant brief encounter of The Road to Dundee. Fiona Shepherd
Gustav Holst: The Cloud Messenger, Op 30 & Five Partsongs, Op 12 (Delphian) ****
In Gustav Holst's The Cloud Messenger, an evocative and pivotal choral and orchestral work completed in 1910 that largely disappeared from public view beyond the 1930s, we hear an embryonic study of the coloristic style that was soon to emerge in the more famous Planets Suite. Based on an Indian love story by the Fifth century Sanskrit poet Kālidāsa, Holst envelops traditionally English choral textures within imaginative orchestral colourings that swing dizzily between post-Wagnerian sensuality, Debussyesque delicacy and a spectral exoticism that is progressive and distinctive. Fort directs a gorgeously intimate performance by The Choir of King's College London and The Strand Ensemble, whose forces need just a little more girth for the most heightened moments. But this is an invaluable contribution to Holst scholarship. Ken Walton
Stefano Bollani: Piano Variations on Jesus Christ Superstar (Alobar) ****
Italian piano virtuoso Stefano Bollani was transfixed as a boy by seeing the rock musical Jesus Christ Superstar on TV. The story and its Lloyd Webber /Rice score has stayed with him, as this bravura solo performance demonstrates. Following a gentle prelude, the riff of Heaven on Their Minds starts as a staccato left-hand figure that accumulates harmonic muscle as he puts the melody through hoops, indicating the exuberantly inventive shape of things to come. Strange Thing, Mystifying, for instance, becomes a gliding, western-accented ballad, while the clearance of the temple seethes with anger. The familiar fanfare that opens Simon Zealotes gives way to a boogie romp while King Herod's Song is re-shaped marvellously into a strutting stride excursion. All of it solo piano – except when Bollani intones the lyrics in the penultimate Superstar, roping in family for the chorus, before a brief but tender epilogue. Jim Gilchrist