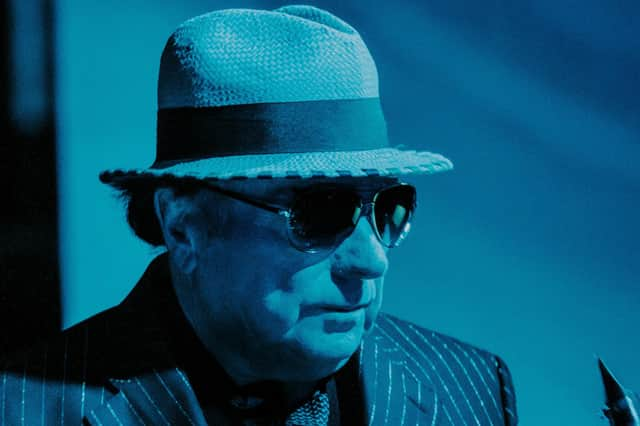 Van Morrison
Van Morrison: Latest Record Project Volume 1 (Exile/BMG) ***
The Coral: Coral Island (Run On Records/Modern Sky UK) ****
Colonel Mustard & the Dijon 5: The Difficult Number 2 Album (Button Up Records) ***
The title of Van Morrison's 42nd album may sound like a "who's counting?" shrug of the shoulders but Latest Record Project actually finds him in defiant form, not least on the title track where he makes a chippy plea to be judged not as a heritage act but on his new material – and there's plenty of it.
Latest Record Project is 28 tracks long and billed as "Volume 1", so hunker down because Morrison has been busy throughout a lockdown he has publicly opposed. Wisely, his anti-mask song Stand and Deliver is not included here but Deadbeat Saturday Night counts the frustrations of lockdown: "no life, no gigs, no choice, no voice" – well, one out of four ain't bad.
While one can sympathise with the vexation of a man who lives a huge portion of his life on tour being told to stay at home, Morrison doesn't mince his words on the likes of Stop Bitching, Do Something and the disparaging but unintentionally funny Why Are You on Facebook? Maybe because not everyone has the privilege of an outlet like Morrison's…
There are several other examples of songs which oscillate between fair protest and conspiracy theory, from the county amble of Western Man ("has no plan") to the paranoia parade of Double Bind and They Control the Media – although Morrison has also included a get-out clause about not reading too much into his intemperate rantings, called Only A Song.
Colonel Mustard and the Dijon 5
His band remain mellow, intuitive and freewheeling throughout, whether on the gentle garage soul of Where Have All The Rebels Gone, the bitter yet so sweet Tried To Do the Right Thing, cathartic strut of Thank God for the Blues, celebratory country soul of Up County Down and the playful pub crawl of A Few Bars Early, with its punchline that Morrison's timing is just right. A further twist in the tale is that Morrison has been dragged kicking and screaming into the world of livestream concerts in order to launch Latest Record Project.
Scouse psych pop heroes The Coral have also splurged musically on their tenth album, though their double concept album Coral Island is a far trimmer affair, featuring two contrasting impressions from the shores of their fictional coastal resort, peppered with delightful spoken word interludes from frontman James Skelly's 85-year-old grandfather Ian Murray, aka the Great Muriarty.
Skelly says he has tried to capture "the sound of old photographs" and the buzz of fairgrounds and arcades on Welcome to Coral Island. With customary melodic insouciance, the band evoke that summer feeling on the blithe beat pop of Lover Undiscovered and plangent twanging guitar of The Game She Play before closing off the season with Autumn Has Come. Second album The Ghost of Coral Island is given over to the characters left behind, from the soft eerie carousel on Golden Age to the echo of a Wurlitzer organ on Faceless Angel.
Although atmospheric enough as a standalone work, Coral Island is accompanied by a book written by keyboard player Nick Power and illustrated by drummer Ian Skelly.
Glaswegian party big band Colonel Mustard & the Dijon 5 paint the town yellow once again with their Difficult Number Two Album. The eclectic 11-strong ensemble share the good vibes with 90s house diva Mary Kiani, Still Game actor Gavin Mitchell and Alabama 3's Larry Love, while D.I.S.C.O.C.O.L.I.N celebrates the diversity of disco in the style of an 80s aerobics soundtrack.
The spoofy songwriting might be skin deep but the musical heft of their line-up, particularly the brass section, is felt on Gonna Be Myself Because That's Who I Am – a reminder that the natural environment for these catchy tunes is a packed, sweaty gig.
Violin Sonatas: Copland, Poulenc & Prokofiev (Delphian) ****
In June this year, New Zealand-born violinist Benjamin Baker will be part of the online line-up for the East Neuk Festival. Meanwhile, here he is in a new album with pianist Daniel Lebhardt, its music themed around the year 1942 – sonatas begun that year by Copland, Poulenc and Prokofiev. It was the midst of the Second World War, and each composer had his own experience and reaction to events. Copland's American pacifism shines through his Sonata with telling ambivalence, an eerie, sometimes biting tragedy softened by a signature optimism. Writing in occupied France, Poulenc's bittersweet tendencies are biased towards the bitter, though gorgeous lyrical strands prevail, especially the central Intermezzo. Prokofiev wrote his Sonata No 2, pending evacuation by the Soviet authorities, while scoring a film for Eisenstein. Originally for flute, its mood is remarkably easeful and unaffected. Baker's and Lebhardt's performances present all three works with poignant regard for their personal messages. Ken Walton
Vijay Iyer, Linda May Han Oh, Tyshawn Sorey: Uneasy (ECM) ****
New York pianist Vijay Iyer, whose sextet played a blistering set at the Edinburgh Jazz Festival three years back, generates a different potency in this spontaneously intuitive trio format with double-bassist Linda May Han Oh and drummer Tyshawn Sorey. Apart from a gleefully oblique hijacking of Cole Porter's Night and Day and Geri Allen's Drummer's Song, its glistening opening quickening into jagged riffing, the compositions are Iyer's, their powerful improvisational turbulence reflecting contemporary social injustice yet tempered by stillness and lyricism. As the pianist reflects in his notes, "the word 'uneasy' feels like brutal understatement, too mild for cataclysmic times." The title track sails out with sombre, stately lyricism before keyboard and drums engage in fiery sparring, the nervy cascades of Configurations cusp articulate bass and drum statements, while the closing Entrustment is a beautifully limpid piano drift over Sorey's reflective toms. Jim Gilchrist
A message from the Editor:
Thank you for reading this article. We're more reliant on your support than ever as the shift in consumer habits brought about by coronavirus impacts our advertisers.