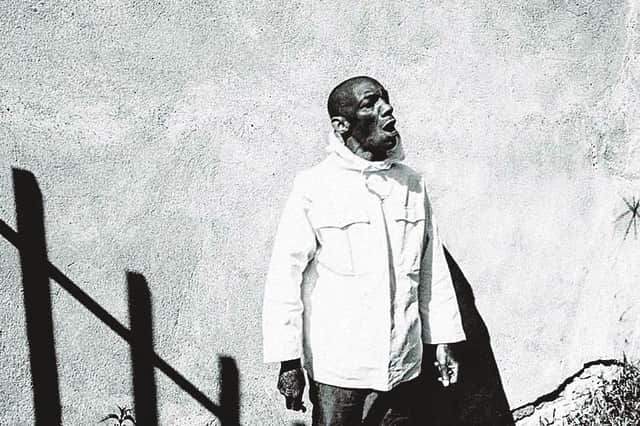 Tricky
Tricky: Fall to Pieces (False Idols) ***
Katy Perry: Smile (Capitol Reords) **
Dan Penn: Living On Mercy (Last Music Co) ***
Andrew Wasylyk: Fugitive Light and Themes of Consolation (Athens of the North) ****
Last year, Tricky published his memoir, Hell is Round the Corner, prophetically named after a track from his lionised 1995 debut album, Maxinquaye; while the book outlined a hard knock upbringing and a career of ups and downs, Tricky suffered the body blow of his life when his daughter Mina, also a musician, took her own life in May 2019.
Tragedy struck while Tricky was immersed in a prolific period of recording. While the zeitgeist moved on long ago, this trip-hop pioneer has continued to mine his brooding, eclectic electronic furrow, producing the 20,20 EP earlier this year and now his 14th studio album, comprising 11 short, sometimes sketchy tracks of claustrophobic mood music, with the leavening presence of his current vocal foil Marta Złakowska.
Close Now is typical of the minimal aesthetic, comprising doomy drone, Złakowska's light, blank vocal, and Tricky chanting "don't let it get you down." He mutters like the narrator of a film noir over a looped piano figure on Hate This Pain, while the backing track of Vietnam comprises solitary twanging bass.
In contrast, he hails the juicier club track Fall Please as "the closest I've got to making pop" – in Tricky terms, this means gentle, juddering techno with soft soulful vocals. Running Off is also more forgiving, with its looped sample of Spanish guitar, and breathy, coquettish guest vocal from Oh Land, while the hypnotic mantra Take Me Shopping makes atmospheric use of mellow cello, skittering beat and undulating guitar. But it's all music to draw the curtains for.
At the other end of the electro-pop spectrum, Katy Perry couches her troubles in mechanical party pop. Her sixth album, Smile, is a bland barrage of safe, slick, radio fare, punctuated by undeniable earworms such as last year's smash Never Really Over.
Elsewhere, she reheats the old tropes, from the happy/sad dancefloor reverie of Teary Eyes to the strident pop bombast of It's Not the End of the World. Harleys in Hawaii is a video concept dressed up as a generic R&B slow jam, and she nods to her country roots with the trad ballad What Makes a Woman and its tired images of "tissues for my issues and band aids for my heart."
Perry could do worse than take a musical masterclass from southern soul veteran Dan Penn, whose songs, including the classics Do Right Woman and Dark End of the Street, have been covered by the likes of Janis Joplin, Bobby Womack, Diana Ross and, most notably, Aretha Franklin.
Penn cut his teeth at the legendary Muscle Shoals recording studio in his native Alabama and soul remains the vehicle for the 78-year-old as he releases his first album of new music in a quarter of a century.
Living on Mercy is a musical comfort blanket of cosy production, reminiscent of some of Van Morrison's softer efforts. Penn's voice is a more mellifluous instrument, with a weathered fragility to his delivery, not unlike Brian Wilson's elderly efforts.
Blue Motel makes for a soothing, even soporific destination but there is a peppy personality to I Didn't Hear That Comin' and bluesy attitude to Edge of Love, while Penn flexes his heartbreaker credentials with Down on Music Row, a poignant soul blues about the loneliness of the long distance troubadour.
The solo compositions of Andrew Wasylyk, aka Idlewild bassist Andrew Mitchell, have been hailed on these pages before. Fugitive Light and Themes of Consolation, the final part of an instrumental trilogy inspired by the topography of eastern Scotland, might well be his best work yet, recalling the groovy psychedelic jazz sounds of crossover composers such as Roy Budd and David Axelrod with an atmospheric collage of hangdog trumpet, rippling clarsach and the melancholy swell of strings on the likes of Fugitive Light Restless Water.
Clara, Robert, Johannes: Darlings of the Muses (Analekta) ****
It's tempting to imagine the relationship between Robert Schumann, his wife Clara and their close friend Johannes Brahms as a cosy ménage à trois, but that can only ever be salacious conjecture. The facts tell us it was a certainly a close friendship – Brahms helping Clara with domestic affairs once Robert was committed to an asylum – but one that was ignited by mutual artistic passion. Clara, as a composer, could never command the same recognition as the men in her life, but Darlings of the Muses sets out to give her music its deserved place. So, between two great symphonic pillars – Robert's First Symphony and Brahms' First – we hear soloist Gabriela Montero espouse the Lisztian bravura and Chopinesque suppleness of Clara's Piano Concerto in A minor with Alexander Shelley and Canada's National Arts Centre Orchestra, cushioned by well-crafted solo improvisations. Ken Walton
Stevie Palmer: We Become the Sunshine (Greentrax Recordings) ****
It's been a few years since singer-songwriter Stevie Palmer's well-received debut album. This follow-up, co-produced by folk heavyweights Dick Gaughan and Ian McCalman, enlists sterling company including harmony vocals from Karine Polwart, guitar from Steven Polwart and empathetic piano work from Kim Edgar, as Palmer sings with articulate passion. Preoccupations shift between personal, environmental and life-affirming. Kirstan Harvey's fiddle adds to the faintly ominous current of Fly Away With You, Going, Going, Gone swings with deceptive cheerfulness despite intimations of disaster while Phil Cunningham adds Cajun accordion to a take on seasonal change in Winter and Me. The title track is an anthem of positivism, while Palmer and Polwart sing over Mary McMaster's harp in All Your Tomorrows and McFall's Chamber add plaintive string harmonies of their own to the closing Somewhere. Jim Gilchrist
A message from the Editor
Thank you for reading this story on our website. While I have your attention, I also have an important request to make of you.
The dramatic events of 2020 are having a major impact on many of our advertisers - and consequently the revenue we receive. We are now more reliant than ever on you taking out a digital subscription to support our journalism.