Album reviews: Suede | Ozzy Osbourne | LeAnn Rimes | Sudan Archives
Now in his fifties, Suede frontman Brett Anderson admits to feeling his age, but he and his bandmates certainly seem committed to going hell-for-leather into that good night on new album Autofiction, writes Fiona Shepherd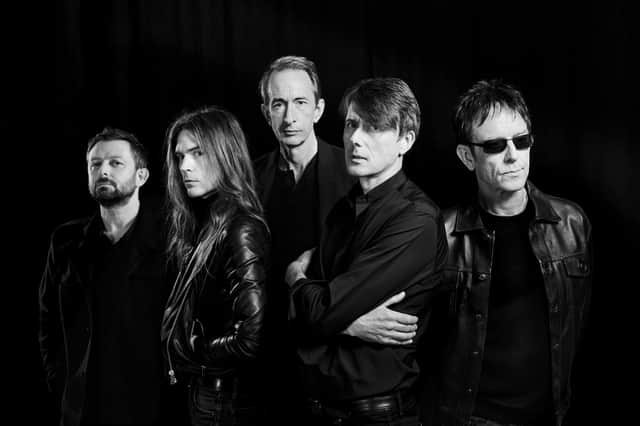 Suede PIC: Dean Chalkley
Suede: Autofiction (BMG) ***
Ozzy Osbourne: Patient Number 9 (Columbia Records) ***
LeAnn Rimes: God's Work (EverLe Records/Thirty Tigers) ***
Sudan Archives: Natural Brown Prom Queen (Stones Throw) ****
Thirty years ago, Suede swaggered into the spotlight, grasped the zeitgeist by the throat and owned their music press title as the Best New Band in Britain. Now their sinewy frontman Brett Anderson admits to feeling his age.
Following a post-reformation trilogy of what might fairly be described as mature comeback albums, Suede's ninth missive is partly his response to wrangling with his fifties – a self-styled "punk" album with their old mucker Ed Buller back behind the production desk.
Autofiction is more finessed than their back-to-basics description suggests, but the songs are certainly melodically direct and vigorous in delivery with Anderson going hell-for-leather into that good night, drummer Simon Gilbert flexing his muscles as effectively as ever and guitarist Richard Oakes unleashing a succession of gothic post-punk riffs in the Bauhaus/Banshees ballpark.
Ozzy Osbourne PIC: Ross Halfin
Lead single She Still Leads Me On is a pumping indie pop song with a decent dramatic chorus hook. The lyrics are inspired by Anderson's late mother but this requiem is delivered with an aggressive ardour.
Personality Disorder arrives on thumping drums and declamatory spoken word, before Anderson bellows "will you be my personality disorder?" This is his mid-life catharsis, still to some degree living dangerously by pushing his vocals in volume and pitch on the rockabilly road of The Boy on the Stage.
He gives himself a break on the gentler, expansive ballad Drive Myself Home and the prowling It's Always the Quiet Ones but ramps up the melodrama on What Am I Without You. The zeitgeist has long moved on but Suede continue to justify their revival with such forceful fare.
Ozzy Osbourne has been feeling his age for about 50 years but the rock don't stop on his umpteenth album. Patient Number 9 riffs on the rock'n'roll insanity theme mined with theatricality by Alice Cooper but approached more plaintively by Osbourne, whose expression of disorientation and suffocation on Nothing Feels Right has a more confessional ring and whose Darkside Blues has a haunted tone.
Osbourne teams up with a different metal guitarist for each song – Pearl Jam's Mike McCready shreds with alacrity on Immortal, Zakk Wylde brings the fuzz and the downtuned quake on Parasite, in which Ozzy imagines the ghost of his mother narking on, his Black Sabbath brother Tony Iommi serves up his usual quasi-classical inflections and meaty riffola and Eric Clapton broods away on One of Those Days.
Country powerhouse LeAnn Rimes is also in collaborative mood on her latest album, drawing her guests from the soul, blues, jazz and pop worlds. Ziggy Marley and Ben Harper guest on the lame reggae pop of The Only while Sheila E rattles up a controlled racket on The Wild, with a polyphonic, tribal incantation backing a strong, soaring vocal. Something Better's Coming features more choral uplift, with bluegrass seasoning, while title track God's Work stands at the intersection of country, gospel and pop. Rimes is at her most potent, however, on the sumptuous piano power ballad Spaceship.
Los Angeles-based singer, rapper and violinist Brittney Denise Parks releases her second album as Sudan Archives in much the same eclectic soul spirit as Lizzo. Natural Brown Prom Queen is a bold personal artistic statement, encompassing lithe R&B with early 80s electro inflections on Homemaker, the rapturous soul of Chevy S10 and woozy pop R&B of Ciara. Parks is a little more to the leftfield than her diva contemporaries but whether infusing the title track with African violin drone, celebrating black hairstyles on quirky electro pop number Selfish Soul or folding unexpected Celtic fiddle samples into psych funk rap track TDLY, she makes it all sound like a natural fit.
Haydn: Symphony No 103 & Theresienmesse (CORO) ****
Harry Christophers' relationship with the Boston-based Handel and Haydn Society has produced a refreshing series of recordings, particularly of Haydn's music. As a period instrument band and sizeable chorus, such couplings as this most recent one – the "Drumroll" Symphony No 103 and the Theresienmesse – are intriguing possibilities. Christophers opens with the symphony, the sceptre-like presence of the solo timpani inspiring a reading that progresses with soulful purity and precision. There's a minuscule flatness about the opening intonation, but in the light of the sparkle that fills the later Menuet and Finale it may be a conscious, anticipatory deliberation. The main course is the Mass, and a performance that fully captures its nobility and spiritual fervour. The chorus offers a suitably contained resplendence, complemented by the well-matched solo quartet of Mary Bevan (soprano), Catherine Wyn-Rogers (mezzo soprano), Jeremy Budd (tenor), and Sumner Thompson (baritone). A well-rounded release. Ken Walton
Sam Reider: Petrichor (Slow & Steady Records) ****
Sam Reider, accordionist with jazz-bluegrass fusioneers Human Hands, makes his solo piano debut with a very different kind of jazz, celebrating returning to his native San Francisco and happy re-acquaintance with his grandfather's 1918 Steinway. Informed by both classical and contemporary influences and with something of an old-fashioned piano recital about it, Reider's playing is richly expressive, whether pensive or bursting with spontaneous life. Petrichor denotes "the fresh smell of the earth after the first rain" and the title track is joyfully mercurial, dancing about a busy left hand. In contrast, Mirror Lake is a limpidly impressionist shimmer (and yes, Debussy comes to mind), a single note chiming continually under spare chording. Emahoy takes on a stately touch of blues à la Gershwin; blues, too, infuses Panoramic Highway, while the unabashed sentimentality of Kansas and the gorgeously concluding Land's End seem redolent indeed of homecoming. Jim Gilchrist