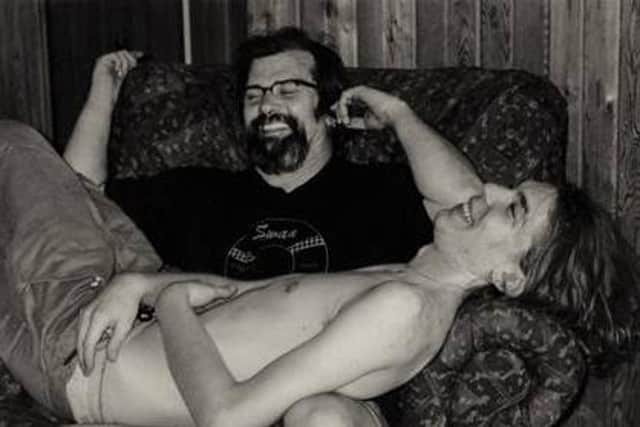 Steve Earle & the Dukes: J.T. (New West Records) ****
Barry Gibb: Greenfields: The Gibb Brothers Songbook Vol.1 (Capitol/EMI) ****
Chris Cornell: No One Sings Like You Anymore (UME) ****
Kerri Watt: Neptune's Daughter (Cooking Vinyl) ***
Behind us, a year to forget that will always be remembered; ahead, uncertain times peppered with hope. Steve Earle starts the new year in a mood of both deference and defiance, bidding good riddance to an annus horribilus during which his son, the musician Justin Townes Earle, passed away.
Earle, with uplifting support from his band The Dukes, pays tribute in "the only way I knew to say goodbye" – an album covering his son's songs, titled after his pet name and released on what would have been his 39th birthday as a legacy for his daughter.
J.T. is rough, ready and raw but eminently listenable – from the swinging bluegrass of Ain't Glad I'm Leaving to the front porch heritage hoedown of They Killed John Henry via the freewheeling country rock of Maria, where simple mandolin intertwines with pedal steel licks and Earle Sr's rugged but bruised delivery.
Earle has such a natural, unforced relationship with The Dukes that the results sound almost dispassionate, but these no-nonsense, spontaneous renditions, free from maudlin sentiment, ultimately pack more of an emotional punch. He doesn't labour the pain running through Turn Out My Lights, pays impish tribute to "a middle class queen" on Champagne Corolla and relishes the role of the barfly philosopher on the kerb-crawling prowl of The Saint of Lost Causes.
Harlem River Blues, a Springsteenesque gospel invocation of a sinner picking a good time to die, is one of Earle Jr's best-loved numbers but there is something almost bloody-minded in selecting a song with the lyrics "tell my mama I love her, tell my father I tried."
Earle Sr has penned his own reply. The closing Last Words recalls his first and last encounters with his son in a simple eulogy full of sadness, frustration and love set against a quiet storm of sombre piano and the foreboding swirl of guitar and fiddle.
The remembrance of loved ones also runs through Greenfields, with Barry Gibb interpreting Bee Gees classics in country company. Recorded in Nashville, these are slick pop productions rather than honky tonk reworkings but Gibb can hardly fail with this songbook and duet partners such as the inimitable Dolly Parton.
Alison Krauss elbows the memory of Barbra Streisand out the way to smooch with Gibb on a rapturous Too Much Heaven, Sheryl Crow is not far behind with a Bacharachian take on How Can You Mend a Broken Heart and there's a nicely gravelly turn by Olivia Newton John on Rest Your Love On Me.
Rival Sons frontman Jay Buchanan does a plum job of covering the transcendent To Love Somebody while, saving the best for last, the peerless Gillian Welch and David Rawlings offer a romantic bluegrass twist on early Bee Gees number Butterfly.
The late Soundgarden frontman Chris Cornell was an archetypal rock god in the Robert Plant/Paul Rodgers mane-shaking vein but, as his posthumous covers album No One Sings Like You Anymore attests, he was a versatile vocalist, inspired by pop, punk and soul as much as rock.
His barnstorming version of Lorraine Ellison's Stay With Me Baby, already aired on HBO series Vinyl, is Cornell at his tough and tender best, while Janis Joplin's Get It While You Can is an ace showcase for his raspy soul and Carl Hall's You Don't Know Nothing About Love affords him the opportunity to deliver some testifying rhythm'n'blues.
Glaswegian singer/songwriter Kerri Watt also moves fluently between genres from rock chick to Paloma Faith attitude to the chirpy but fateful Caledonian country of Jessie on her slick, commercial debut album, recorded way back in 2018 with metal producer Machine and a host of Austin's top session players.
The Maxwell Quartet: Haydn, String Quartets Op 74 & Folk Music form Scotland (Linn) *****
For their recent Scotsman Sessions film, the Maxwell Quartet offered up a chirpy Scots traditional jig and reel, arranged for string quartet, as a sideways teaser to their newly released album of Haydn's three Op 74 quartets. The resultant album is a tantalising mix of both styles. Haydn never travelled to Scotland – these quartets, like the Op 71 set previously recorded by the ensemble, were written following the composer's first London visit – but he did arrange Burns' songs for the Edinburgh publisher George Thomson, and there's a tangible compatibility between his snappy Viennese classicism and the engaging charm of Nathaniel Gow's classically-conceived Coilsfield House or the rustic verve of the more upbeat dances included. The Haydn performances are a paragon of stylistic finesse, the Maxwell's crisp precision complemented by moments of aching tenderness. They get to the heart and soul of Haydn's paradoxical affections. The quirky Scots stuff is the icing on the cake. Ken Walton
Kim Edgar: Held (Quietly Fantastic Music) ****
Edinburgh singer-songwriter and pianist Kim Edgar describes her fourth album as a musical hug for difficult times – some of them her own, following her father's death. Auspicious support includes guitarist Kevin McGuire, drummer (and producer) Mattie Foulds and cellist Su-a Lee, with Karine Polwart and Rachel Sermanni on backing vocals. Behind Edgar's lightly poised articulation and authoritative piano work, a warm-toned brass section raises some faintly Beatle-ish echoes. The opener, Lower, sets the tone, with dark brass and drums carrying lyrics hinting at need and addiction. In contrast, 1,2,3,4,5, a childlike counting song, becomes an anthem of positivity with Edgar and Polwart sharing lead vocals against jubilant fanfares. Perpetual Light is a tremulous secular benediction, with gentle harmonising from Polwart and Sermanni, before the title track, a beautifully wistful piano solo, closes an album informed by frailty and loss, but also by great warmth and resilience. Jim Gilchrist
A message from the Editor:
Thank you for reading this article. We're more reliant on your support than ever as the shift in consumer habits brought about by coronavirus impacts our advertisers.
Joy Yates, Editorial Director