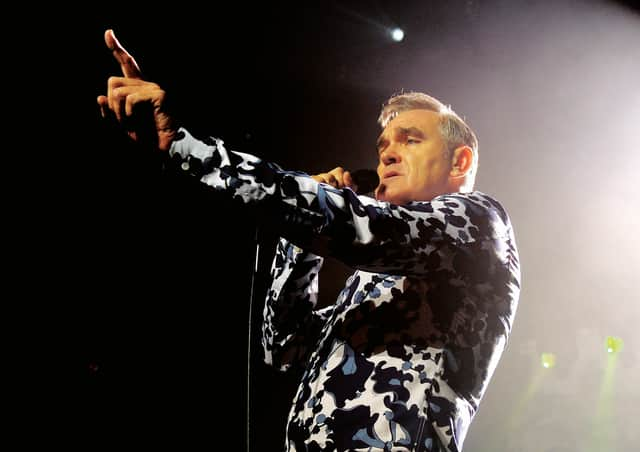 Morrissey PIC: Kevin Winter/Getty Images
Morrissey: I Am Not A Dog On a Chain (BMG) **

Tony Allen & Hugh Masekela: Rejoice (World Circuit) ****

Catholic Action: Celebrated by Strangers (Modern Sky) ****

Bobby Conn: Recovery (Tapete Records) ****


Now in his seventh decade, Morrissey remains as prolific as ever, whether he is generating new music or fresh controversy. His 13th solo album, I Am Not A Dog on a Chain, dubbed pugnaciously by the man himself as "too good to be true…too true to be considered good," has been punted as a change of direction, when it is more a slight sonic tilt towards synthesizers.

His coy flirtation with electronica can be heard in the mellow arpeggios of baroque synth pop number, Love Is On Its Way Out, but lyrically he serves thin gruel, alternating between a couple of headlines, including a reference to trophy tourism.

Another recent single, Bobby, Don't You Think They Know? features Thelma Houston of Don't Leave Me This Way fame adding her testifying fire to abstruse intimations of dark secrets and a quick Hammond organ throwdown to distract from the overcooked mediocrity.

Morrissey dials down the drama on the sprightly title track but sharpens his pen to skewer the press, advising his dear readers to "listen out for the what's not shown to you and there you'll find the truth."

Elsewhere, he offers lyrics to raise a smirk but nothing to swell the heart. What Kind of People Live in These Houses? speculates "t-shirts or blouses?" to a carefree chiming tune, while eight-minute odd odyssey The Secret of Music deploys a succession of Sesame Street-style rhyming couplets ("panpipes save a life", "each song ends with a gong" etc) in a failed bid to interrogate or demonstrate the power of music.

In contrast, two legends of Afro jazz come together on Rejoice. This collaboration between pioneering Afrobeat drummer Tony Allen and the late, legendary South African trumpeter Hugh Masekela took more than 30 years to come to fruition, but when their schedules collided over the past decade, they took to the studio to improvise with a bass player, later adding the shimmer of vibraphone and sparing saxophone.

Allen's intuitive, loose-limbed drumming behind Masekela's warm, keening flugelhorn creates the irresistible snaking groove of Agbada Bougou, bluesy bebop of Slow Bones and spare township jazz of Coconut Jam, while Masekela signs off on a high, paying space jazz tribute to Allen's former paymaster Fela Kuti on Never (Lagos Never Gonna Be The Same) and the 44th president of the USA on the peppy little paean Obama Shuffle Strut Blues.

Glasgow indie quartet Catholic Action manifest as the sonic offspring of Franz Ferdinand on their second album. Celebrated By Strangers boasts great tunes and hooks front and centre plus swagger to spare. I'm No Artist shakes some punk-funk action with steely Carlos Alomar-style guitar on top and One of Us repurposes the old Freaks chant.

However, frontman Chris McCrory has signalled a desire not to make disposable or escapist album – as if those were bad qualities for music. Happily, Catholic Action couch their social conscience in fun tracks such as the strutting declamation of People Don't Protest Enough.

Arch stylist and underground agitator Bobby Conn is an old hand at the same game. Recovery is his glam disco concept record on "the American obsession with self-help… as a cruel and cheap substitute for helping each other," which satirises the wider notion of recovery crudely encapsulated by the notion of making America great again.

He lambasts such kneejerk nostalgia on Good Old Days but isn't much happier living in the unsettling funk netherworld of Disposable Future. At least Bobby's world, be it the conscious soul with an acid funk twist of Brother or the anthemic art rock of On the Nose, is quite the blast. Fiona Shepherd



The Call of Rome: Music by Allegri, Anerio, Joaquin and Victoria (Coro) *****


For composers of sacred music during the Renaissance the main action was in Rome, where Papal power provided the critical gathering point for top European talent. This latest disc from Harry Christophers and his sterling vocal outfit The Sixteen celebrates "The Call of Rome," with motets and responsories by key Vatican stars, among them Josquin Desprez (the sprightly virtuosity of his Gaude virgo), Tomás Luis de Victoria (the gorgeous O vos omnes, among other Holy Saturday responsories) and the polychoral riches of Felice Anerio (the dramatic Regina caeli laetare). But the real fascination among these vibrant performances is the famous Miserere by Allegri, Christophers replacing today's customary version with one reflecting the improvised evolution of the work over centuries of Sistine Chapel usage with the entire piece becoming a vivid, living organism. Ken Walton


Kenny Barron / Dave Holland Trio featuring Johnathan Blake (Without Deception) ****


Pianist Kenny Barron and double-bassist Dave Holland, both internationally celebrated figures, have a working relationship spanning more than three decades. Their last album together was called The Art of Conversation and they might easily have called this one As We Were Saying, such is its sense of continuing colloquy, here joined by the drummer Johnathan Blake. The feeling of joyful empathy is evident from the opener, Barron's bossa-propelled Porto Alegre sees bass and piano loping easefully together, drums snapping vigorously at their heels. The vivaciously dancy title track with its catchy hook is a model exercise in real-time musical communication, Barron's piano skipping and cascading alongside Holland's warm-toned bass, while other stand-outs include the suitably urgent pacing of Speed Trap and Pass It On with its swaggering drum intro, rollicking bass and gospel-ish piano. Jim Gilchrist