Album reviews: Modern Studies | The Dears | Gretchen Peters | Andrew Wasylyk
Modern Studies seamlessly blend folk, pop and improv, while The Dears max out on melodrama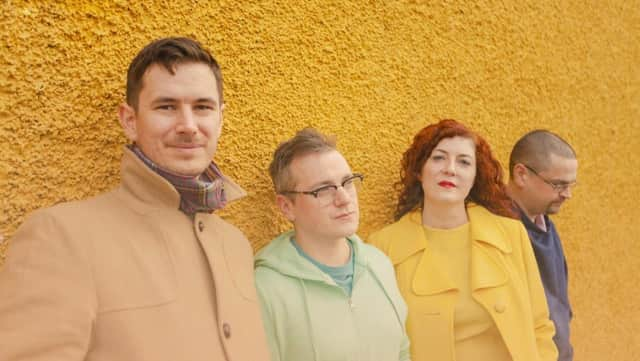 Modern Studies: The Weight of the Sun (Fire Records) ****
The Dears: Lovers Rock (Dangerbird Records) ****
Gretchen Peters: The Night You Wrote That Song: The Songs of Mickey Newbury (Proper Records) ****
Andrew Wasylyk: Andrew Wasylyk (Via Bandcamp) ****
Anglo-Scottish quartet Modern Studies make mood music of the highest order, drawing on the members' collective experience in the folk, pop and improvisational realms. Their previous album, Welcome Strangers, was one of the best of 2018 and, in anxious times like these, their soft, seamless blend of folk, prog and soulful elements, sculpted in the warm acoustic of cellist Pete Harvey's Perthshire studio, is the perfect prescription.
The calming combination of Emily Scott's soothing alto and Rob St John's mellow baritone feels as natural as the holistic family harmonies of Clannad on the comforting folky invocation Photograph.
While St John's crooner tones come to the fore on modest anthem The Blue of Distance, their vocals are almost a murmur on Corridors, an extra layer of rich texture folded into one of their typically integrated arrangements, where melodies are teased out seductively to create ravishing, propulsive pieces such as She and subtle variations in instrumentation temper the flavour of the music, be it the muffled funk bass on Brother, a sprinkling of mournful Bacharach-style horn on Jacqueline or the eerie strings hovering in the background of psych folk reverie of Back to the City.
Brooding indie rockers The Dears may eschew the celebratory appeal of fellow Montreal collective Arcade Fire for darker territory but they make just as mighty a sound on their latest album, unleashing the torrid melodrama of Heart of an Animal as an opening statement of intent, before kicking back a little on the stealthy yet unsettling I Know What You're Thinking and It's Awful.
The melodic guitar twang of Is This What You Really Want? lightens the mood while The Worst In Us makes disgust sound catchy, before it disappears into the indie prog twilight. E Street Band saxophonist Jake Clemons (nephew of Clarence) joins the anti-party on dystopian bossa nova number Stille Lost.
It's immersive, intense stuff but there is a glimmer on the horizon as the muscular, purposeful guitar and stormy drum rolls of We'll Go Into Hiding resolve into a brighter, pastoral landscape and the cleansing rallying cry that "it's gonna be alright."
In his time, proto outlaw country artist Mickey Newbury penned the Elvis standard An American Trilogy, helped kickstart the careers of Kris Kristofferson and Townes Van Zandt and was lauded by John Prine as "probably the best songwriter ever."
Now fellow Nashville songwriter Gretchen Peters pays her respects to Newbury with The Night You Wrote That Song, a gentle collection of some of his best loved numbers, including an aching take on metaphysical hippy classic Just Dropped In (To See What Condition My Condition Was In), originally immortalised by Kenny Rogers in the late 60s.
The honky tonking Why You Been Gone So Long is the album's sole uptempo moment; elsewhere, Peters sticks to delicate arrangements and intimate, husky delivery, foregrounding the thoughtful heartworn sentiment of She Even Woke Me Up To Say Goodbye, timeless balladry of Wish I Was, understated storytelling brushstrokes of San Francisco Mabel Joy and sentimental sweep of Three Bells For Stephen.
Prior to releasing the follow-up to his SAY Award-nominated album The Paralian, Andrew Wasylyk, aka Idlewild bassist Andrew Mitchell, has revisited some "new-old" material for this fine self-titled EP, with half the proceeds going to the Tiny Changes charity, founded in memory of Frightened Rabbit frontman Scott Hutcheson.
All six songs are lovingly arranged, with Mitchell's beguiling melodies dappled with woodwind, strings, and judicious backing vocals to create the baroque power pop of Sour Love, evoke Roddy Frame in expansive mood on Paces of the Heart and tap into dreamy Beck-like territory on A Cure for Willingness.
Beethoven: Complete Piano Sonatas (Orchid Classics) *****
Perfectly timed for this year's Beethoven 250 celebrations, Orchid Classics have now released a box set version of Jonathan Biss's recordings of the complete piano sonatas which have been building at the rate of one new CD a year since 2011. Biss's readings of these are remarkably consistent throughout, crisp and intelligent with a flair that feels more intrinsic to the music than artificially enforced; but there is also an awareness of the evolutionary fascination that routes itself from the Haydnesque Op2 sonatas written during his early Vienna years, through the turbulence and triumph of the Waldstein to such extraordinary late masterpieces as the Hammerklavier and the intensity of Op 111. This is a classy tribute to a symbolic tranche of the Beethoven canon. Others have majored more on the element of volatility and surprise. Biss gives us complete integrity informed by intelligence and poise. Ken Walton
Will Pound's A Day Will Come (Lulubug Records) *****
This salute to pan-European culture from harmonica and melodeon virtuoso Will Pound is a beacon of positivity in these benighted times. It opens with his melodeon bringing in a sprightly Latvian tune, taken up with gusto by English piper Jude Rees, Scottish musicians Jenn Butterworth on guitar and fiddler Patsy Reid, and bassist John Parker. Ranging from Ireland to the Balkans, the album is a joyous celebration of cultural amitié. Guests include the American-Irish fiddler Liz Carroll, in a sparkling, harmonica-led Irish set, and percussion star Dame Evelyn Glennie, who joins Pound in a time-signature-defying excursion through Romania and Bulgaria. Pound himself shines as a soloist, including a wonderfully jittering Slovakian-Slovenian harmonica set, while much exhilarating ensemble work includes a Polish-Finnish set, its spirited playing intertwining with an animated reading in English and Polish by poet Bohdan Piasecki. Jim Gilchrist