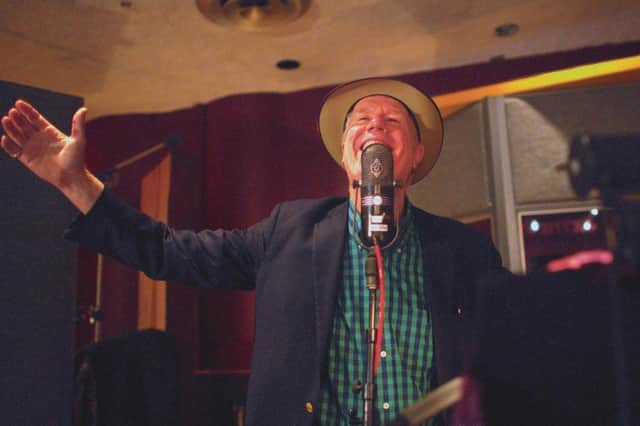 Loudon Wainwright III: I'd Rather Lead a Band (Thirty Tigers) ***
Alicia Keys: ALICIA (RCA) ***
Public Enemy: What You Gonna Do When the Grid Goes Down (Def Jam) ****
Man of Moon: Dark Sea (Cosmic Pool) ****
Earlier this year, Loudon Wainwright III responded to the Covid crisis with Toilet Roll Blues, the latest pithy ditty in a 50-year career of topical comical chronicling. His latest album, however, is a nimble sidestep into 1920s tea dance territory.Inspired partly by his father's record collection and closer in spirit to his son Rufus's preoccupation with the popular music of the pre-rock'n'roll era, I'd Rather Lead a Band is Wainwright's agile, affectionate take on the American songbook, recorded in a three-day whirl with swing bandleader Vince Giordano, his group the Nighthawks, who clearly know their way around a vintage dancefloor, and producers Randall Poster and Stewart Lerman, who won a Grammy for their work on the Boardwalk Empire soundtrack.
The songs of Irving Berlin, Fats Waller, Louis Prima and Hoagy Carmichael are suited to Wainwright's wit, which is more impish than wicked on this outing. He captures their carefree escapism but also succeeds in investing some of his own character without trampling over the songs. The finger-popping How I Love You contrasts with the languorous ache of A Ship Without a Sail, and an expertly paced and phrased Ain't Misbehavin'.
For every stone standard, such as My Blue Heaven from Ziegfeld Follies, and Carmichael's Heart and Soul, there are lesser known discoveries like the jaunty lindy hop of I'm Going to Give it to Mary with Love and the indignant You Rascal You, which could have been written by Wainwright himself.
These songs originally soundtracked the Jazz Age but also the Great Depression – who's to say they can't resonate during a global pandemic?
Alicia Keys has added some simple, appreciative words for the key workers to her delayed seventh album ALICIA. Good Job celebrates the positive contributions of the past six months, while the ballad Perfect Way to Die mourns the negative, with Keys in fine husky form, singing from the perspective of a mother whose son has been shot by the police.
ALICIA is a smart distillation of everything Keys does best, from the dreamy cosmic jazz opening of Trust Without Love to the smooth, seductive soul of Authors Of Forever. Tanzanian artist Diamond Platnumz matches Keys' aching vocals on dub reggae number Wasted Energy, Ed Sheeran contributes another undemanding earworm with Underdog and Keys continues to keep it soft, subtle and smoochy via collaborations with smooth operators Khalid and Miguel.
Public Enemy return to Def Jam Records for the first time in over 20 years and waste no time mustering friends old and new to mark the mood. There is an element of nostalgic celebration with Run DMC and Beastie Boys Mike D and Ad-Rock pitching up on a reworking of Public Enemy Number 1, while the new guest verses of Fight the Power 2020 serve as a righteous reminder of how little social and racial progress has been made over the past three decades.
These confirmed Bernie Sanders supporters rip into Trump on State of the Union and urge their fellow citizens to get off their phones and back on the streets on GRID. Mix in some blistering rap rock in the second half of the album and the respectful requiem of Rest in Beats, and it's clear that these hip-hop veterans have covered that waterfront.
Edinburgh-based power duo Man of Moon, comprising singer/guitarist Chris Bainbridge and precision-drilled drummer Michael Reid, have been a live fixture for some time, but only now unleash their debut psych rock onslaught, encompassing the fidgety electronica and bouncy bassline of Strangers, Krautfolk of Black Snow and the heavier sludge sound of When We Were Young. One for those about to rock.
Vaughan Williams: Job & Songs of Travel (Hallé) ****
Sir Mark Elder's series of Vaughan Williams' recordings with his Hallé Orchestra has been one worth following. Here he couples the warm-hearted Songs of Travel – settings dating from 1901-1904 of poems by Robert Louis Stevenson – with the colourful late-1920s ballet Job: A Masque for Dancing. The Songs of Travel are in their orchestrated form, some by the composer himself, others by his close amanuensis Roy Douglas, adding a pungent, often playful frisson that is echoed by bass-baritone Neal Davies' characterful interpretations. In Job, from its gaunt, serpentine opening and jaunty flute solo to the grotesqueries of Satan's Dance, the gracefully archaic Pavane and slithery pastoral density of the Epilogue, Elder's vision is a fusion of easeful authority and genuine empathy for Vaughan Williams' rarefied sound world. Ken Walton
Django Bates: Tenacity (Lost Marble) ****
Marking both his 60th birthday and the centenary of his hero, Charlie Parker, pianist Django Bates re-assembles his Belovèd trio with double-bassist Petter Eldh and drummer Peter Bruun, joined by Sweden's formidable Norrbotten Big Band. Bates was a founder member of Loose Tubes, and that fondly remembered orchestra comes to mind as the Swedish outfit surges and swirls around the trio. Bates's arrangements embrace the Parker canon with affection but without over-reverence – listen to him dwelling over the conclusion to Parker's A Leu Cha and his piano forays and springy bass between big band rejoinders in Donna Lee. Bates's own compositions include the album's longest track, The Study of Touch, a Norrbotten commission, with glittering piano steering through interludes of calm and vividly-toned turbulence, with soprano sax from Håkan Broström and tenor sax from Karl-Martin Almqvist. Jim Gilchrist