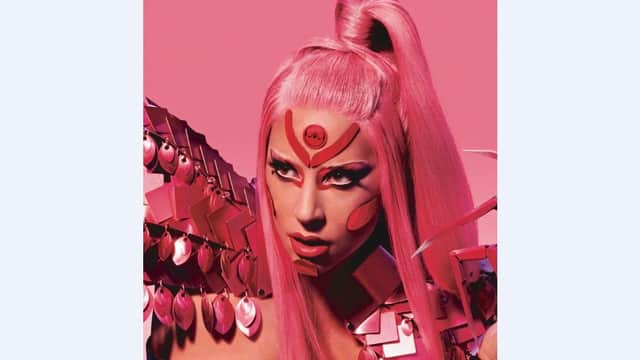 Lady Gaga
Lady Gaga: Chromatica (Interscope) ***
The 1975: Notes on a Conditional Form (Dirty Hit/Polydor) **
Starless: Earthbound (Last Night from Glasgow) ****
Erland Cooper: Hether Blether (Phases) ***
Following the stripped-back, persona-free Joanne and the committed AOR emoting of A Star Is Born, Lady Gaga heads back to the dancefloor for a cathartic party on her sixth album, set in the cyberpunk soundworld of Chromatica. It's a woolly notion which might make sense as part of a live extravaganza but the album listener will be too busy enjoying the consistently catchy, upbeat, escapist dance pop to care much for conception.
Following a quick orchestral flourish, it's straight down the rabbit hole with Alice. The search for a heady wonderland is a theme Gaga has been recycling since her debut single Just Dance, but this is as efficient an iteration as any. The relative strength of the tunes keeps interest afloat through the heavily processed perky synth pop Stupid Love and the Daft Punk-a-like discotronica of Ariana Grande collaboration Rain On Me.
Just as the scenery starts to look samey, she unleashes a couple of bangers – the anthemic Enigma and gleefully overwrought Replay. Elton John is happy to buy into the melodrama on the ravey Sine From Above but another superstar looms large over proceedings. Gaga has never sounded more like her reluctant musical godmother Madonna, so much so that the semi-rapped Babylon comes across as a blatant pastiche of Vogue.
Where Gaga is strong, streamlined and focused, The 1975 continue to stumble all over the place in search of an identity on their fourth album. Notes on a Conditional Form is an 80 minute trawl of frustrated artistic aspirations, which opens with a brief burst of clarity as climate campaigner Greta Thunberg makes a solemn but stark appeal to her peers to be bold ("there are no grey areas when it comes to survival") before the band kick in with the soundtrack to the revolution in the form of unhinged punk rampage People.
What follows is an underwhelming collage of navel-gazing ambient electronica, occasionally tinged with pop R&B flourishes, breezy drum'n'bass or Enoesque strings. Subtle flecks of banjo embellish the gentle summer amble of The Birthday Party, guest Phoebe Bridgers drifts along with the bland whimsy of Jesus Christ 2005 God Bless America, and the band oscillate between fluffy, upbeat pop tunes such as Roadkill and more nebulous fare such as the hazy, lysergic electronica of Shiny Collarbone or aqueous instrumental Having No Head. Frontman Matt's dad, the actor Tim Healy, contributes a moment of coherent conventionality called Don't Worry but even this sweet tune is smothered in unnecessary vocal effects.
Love and Money man Paul McGeechan flexes his composer/producer credentials once more in his Starless guise, blending classy composition, exquisitely rendered by the Prague Philharmonic Orchestra, with haunting songs which get under the skin. Earthbound features an array of expressive guest vocalists, including the contrasting tones of Julie Fowlis and Emma Pollock and a number of McGeechan's 80s Scotpop contemporaries. Former Big Dish man Steven Lindsay delivers the smooth, bittersweet pop of Breakdown, while Chris Thomson, with whom he formed Friends Again in the early 80s, is the man for the smoky melancholy of the Blue Nile-indebted Spellbound.
London-based Orcadian composer Erland Cooper may not be able to command the resources of an international orchestra but he does draw on the inspiration of Peter Maxwell Davies as he rounds off a trilogy of albums inspired, respectively, by Orkney's birds, sea and now land. Hether Blether traces the story of a girl lost off the coast, only to re-emerge on a mystical island, using poetry from John Burnside, as whispered by Kathryn Joseph, with local voices woven through the electro-acoustic cadences. Cooper sings of his hope of preserving the coastline for future generations on Peedie Breeks – local slang for "children" – before coming to rest with the meditative shimmer of Where I Am Is Here.
Shostakovich: Violin Concertos (Hyperion) ****
Here are two violin concertos by Shostakovich written with the same soloist in mind, David Oistrakh. They are similar but different. The longer and more heavily scored First Concerto dating from the mid-40s and reflective of the Soviet fears and strictures imposed under Stalin's rule, contrasts with the freer expression of the Second, composed in the mid-1960s under the more liberal cultural climate of Khrushchev, evident in the jauntier spirit embedded within the opening movement. On the other hand, both open with cellos and basses, whose ominous forebodings lurk throughout both works, albeit to varying degrees.Alina Ibragimova embraces their allied heavy duty personae honestly and convincingly in these performances with Vladimir Jurowski and the rather clumsily-titled State Academy Symphony Orchestra of Russia "Evgeny Svetlanov," finding plenty sun-filled moments to offset the gloom. Ken Walton
India Electric Co: The Gap (Shoelay Music) ****
Not one for pigeonholers, this second album from Devonians Cole Stacey and Joseph O'Keefe, aka the India Electric Co, inclines more to classy pop than folk, but it's a beguilingly concocted mix, with a cinematic sweep to its arrangements. Stacey's softly passionate singing is artfully set amid fiddle, mandolin, guitar, piano and much else, while drummer Russell Field contributes to a couple of tracks. Their sometimes enigmatic songs draw inspiration from poets as diverse as Robert Frost and Sarojini Naidu and the album engages from the get-go, opening dramatically with Statues, Stacey's urgent vocals over a pizzicato fiddle riff and staccato drumming, while Five Senses adopts a taut tango rhythm, morphing briefly into jig-time. Parachutes, with its thrumming piano and Irish-style fiddle lacing through Stacey's vocals, is reminiscent of The Gloaming and there's an excursion into traditional song with Fortune Turns the Wheel, sung over strings and accordion. Jim Gilchrist