Album reviews: Katie Melua | Laura Veirs | Song Club | Yllwshrk
Katie Melua's new album may have a prosaic title, but the sage, exquisitely embellished songs it contains are anything but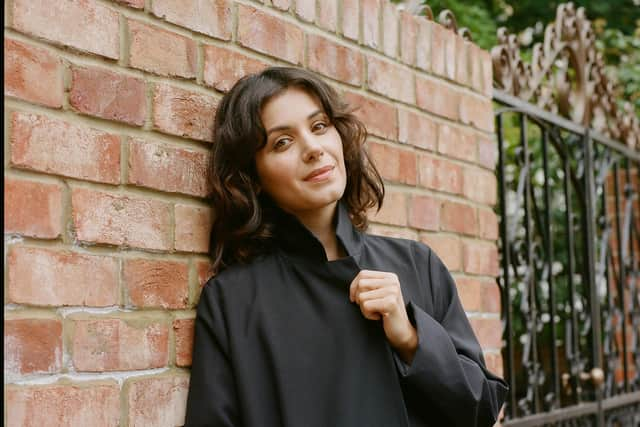 Katie Melua
Katie Melua: Album No.8 (BMG) ****
Laura Veirs: My Echo (Bella Union) ***
Various Artists: Song Club (Songwriters Garden/Absolute Label Services) ***
Yllwshrk: I AM ALADDIN (EOA Recordings) ****
Following Travis's 10 Songs, the literal album title trend continues with Katie Melua's Album No.8, an undeservedly workaday description of a loving piece of work which continues Melua's maturation as a writer of thoughtful, lyrical songs.
Melua was an old soul when she debuted at 19 with Call off the Search; now in her mid-thirties, she is penning age-appropriate paeans to love as it is lived rather than fantasized, against the backdrop of the dissolution of her own marriage. "I think we've given love too much airtime," she sings at one point.
There is balm for those who are separated from loved ones on Heading Home and a bittersweet acceptance that love is wilting on the classic singer/songwriter fare of Your Longing Is Gone.
The cover of the Song Club album
In English Manner, a seemingly carefree clifftop stroll develops into a poetic rumination on a love triangle, while Leaving the Mountain is a delicate, romantic evocation of a trip with her father back to their Caucasian roots, which unfolds in the intimate, observational style of Laura Marling's Goodbye England (Covered In Snow).
Her soft tones are tenderly serviced by her producer Leo Abrahams, and her sage songs are exquisitely embellished throughout by the Georgian Philharmonic Orchestra. Mellow clarinet and disco string flourishes garland Voices in the Night, while the tremulous strings rising elegantly over gently picked guitar on opening track A Love Like That are reminiscent of Minnie Riperton's pastoral soul vignettes.
Melua could find common cause with Portland-based singer/songwriter Laura Veirs, who has described her latest album as "my songs knew I was getting divorced before I did".
The ten tracks on My Echo started life as poems, with the likes of Freedom Feeling imagining release from humdrum habit and alternative possibilities, while the musical accompaniment brings sonic harmony to emotional dissonance. It's as if Veirs is casting off her burdens through the medium of indie chamber music – all with her now ex-husband Tucker Martine present in the producer's chair.
The results are sophisticated but unlaboured. Soothing guitar work is interwoven with mournful brass and Veirs' pure, multi-tracked voice on I Sing to the Tall Man. Another Space and Time imagines better times for California and everywhere, while the luminous piano ballad End Times, written before lockdown, makes prescient reference to forest fires.
The Song Club project, meanwhile, emerges directly from lockdown. Squeeze frontman Chris Difford has opened up his impressive contacts book - Judie Tzuke, Beth Nielsen Chapman, Nick Heyward, Graham Gouldman - to curate this compilation of songs inspired by photographs of frontline workers taken by nurse Hannah Grace Deller, with all proceeds going to the Royal College of Nursing.
There is a pleasing bedside manner to Julia Fordham's airy bossa nova contribution Sunday, while several of the submissions are in the pop country style often favoured by Difford himself. Inevitably there are recurring themes around frontline workers as superheroes and the toll of caring on dedicated staff.
Deller herself takes interconnectivity as the theme for her fragrant pop song Six Degrees while, happily, there is room for some much-needed wry humour in the shape of Bill Lloyd's Sick of the Sight of You.
Anglo-Scottish outfit yllwshrk make full use of their classical and compositional backgrounds as members of London Contemporary Orchestra to produce their audacious debut. I AM ALADDIN has already drawn comparisons with Radiohead and Jeff Buckley for its dramatic dynamics and the ravishing vocals of Glaswegian Sam West.
Singer/songwriter Hannah Read, jazz pianist Fergus McCreadie and their LCO compadres add to the atmospheric aural tapestry which incorporates visceral torch song, elements of jazz fusion and neo-classical flourishes to create an impressively stylised calling card.
Edinburgh 1742: Barsanti & Handel (Linn CKD 626) ***
Francesco Barsanti was born in Lucca, spent the majority of his life in London, but made his mark in Scotland as master of the Edinburgh Musical Society from 1735 to 1743, where his ten Op 3 Concerti Grossi were published in 1742. To witness the Scots musical connection, skip to the Old Scots Songs centrally positioned in this soothing appreciation of Barsanti's music by Peter Whelan and his Ensemble Marsyas. With Colin Scobie on violin and Elizabeth Kenny on baroque guitar, the gentility of the initial songs is finally cast aside by a boisterous "Cornriggs are bonnie" (though never so eccentric as Concerto Caledonia's Baroque'n'roll account some years ago). Otherwise, besides a workaday Handel overture, Whelan's focus is on the Op 3 concertos not included in his earlier Barsanti disc. Their craftsmanship is unarguable, their character unsurprising and predictable, but the animated refinement of these performances provide the justice they deserve. Ken Walton
Ross Ainslie: Vana (Great White Records) ****
Ross Ainslie, piper and multi-instrumentalist, repeats the format of his Sanctuary album, with a near-seamless flow of music designed to be listened to, story-like, from beginning to end. Inspired by his sojourn at a retreat in India, he re-assembles his powerful Sanctuary Band, including violinist Greg Lawson, guitarist-drummer Steve Byrnes and Hamish Napier on keyboards, this time including the effective deployment of jazz saxophonist Paul Towndrow (occasionally bringing to mind Moving Hearts) and contributions from Runrig guitarist Malcolm Jones. The result combines riverine flow with well-timed punch. Ainslie's whistles sound as mellifluous as ever – with one particularly lovely air joined by fiddler Duncan Chisholm, Lawson's violin at times gypsyish, elsewhere gliding like a Middle Eastern string orchestra while saxophone emerges joyfully from amid whistle and banjo (Damien O'Kane) lines. Moments of high drama, too, see slamming syncopation and a flaring of Highland pipes. Jim Gilchrist
A message from the Editor:
Thank you for reading this story on our website. While I have your attention, I also have an important request to make of you.
The dramatic events of 2020 are having a major impact on many of our advertisers - and consequently the revenue we receive. We are now more reliant than ever on you taking out a digital subscription to support our journalism.
Joy Yates, Editorial Director